Podcast: How the Toronto Raptors' Parent Company Uses Live Events to Build Fan Loyalty (Episode 157)
Maple Leaf Sports & Entertainment's Duncan Fraser discusses how tailgates and other gatherings create a community of fans.
July 30, 2019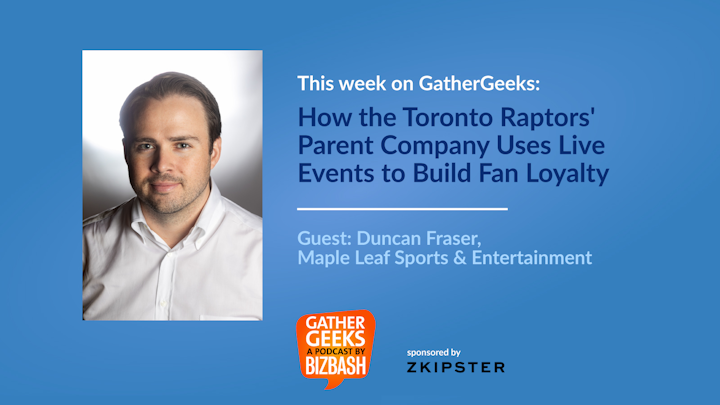 Photo: Phillip Van Nostrand
Hosts: David Adler, Beth Kormanik, Alex Carter
Guest: Duncan Fraser
In the latest Canadian edition of GatherGeeks' "Sparking Change" series of episodes, BizBash C.E.O. David Adler and Zkipster's Alex Carter chat with Duncan Fraser, director of the event experience team at Maple Leaf Sports & Entertainment in Toronto. He shares different ways the organization engages fans who can't attend games, using a variety of live events and experiences to generate team loyalty and a captive audience. Fraser also shares how social media has changed their event approach, tips for working with sponsors, how fans differ from typical event guests, creating events for V.I.P.s, and more. 
Sponsored by Zkipster. Running time: 42:12.
Show Notes
Roundtable Discussion: why events need to think beyond the "wow" moment; how his department is structured; why stadiums are focusing on elevated food and beverage; the coolest events he produced this year
Further Reading:
Follow Fraser on Twitter
https://twitter.com/d_fraser
This Episode Is Sponsored By:
Zkipster
Building a memorable experience for your guests means planning every detail right. Zkipster is the guest management platform designed to help you create perfect experiences, from impressive online invitations to seamless check-in at the door. Get started at zkipster.com with a free test event.