This Week In Toronto: Tristan Thompson's Epilepsy Fund-Raiser, the Spoke Club Celebrates Rosé, Candice & Alison's 10-Year Anniversary Bash
BizBash's new Toronto column from Calvin Barr covers the week's biggest event news.
July 31, 2019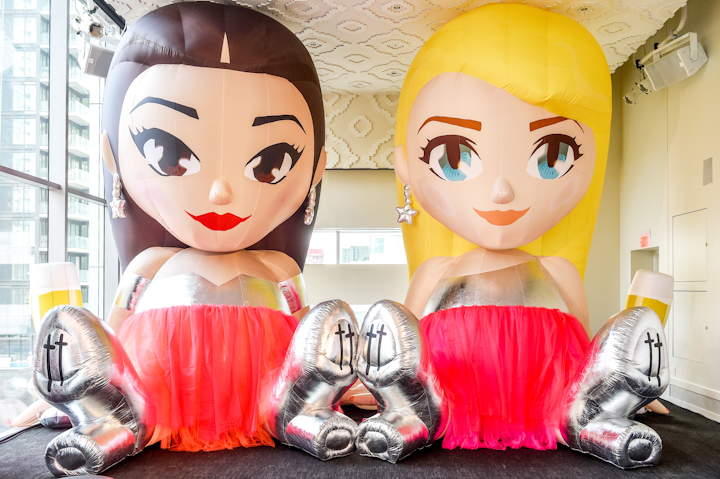 Photo: George Pimentel
TORONTO—Welcome to BizBash's Toronto-based column, where Calvin Barr covers the week's biggest local news. Got a tip? Get in touch!
Moves and Milestones
Spark Inc. has launched a new blog on tips, tricks, and insights into event best practices via Instagram. The company has specialized in live event productions, including corporate, charity, award, and training presentations for more than 15 years. The blog is now available on the company website. 
Strategy Daily: One of the G.T.A.'s largest gourmet pizza chains is changing its look. Pizzaiolo, whose branding often reflects traditional Italian pizza-making, is bringing on Good&Ready marketing agency to bring a contemporary, custom-designed flare to its online presence and 41 locations by 2020. Catering by Pizzaiolo is available online.
In Case You Missed It
Toronto will host its first official Movie Expo at Exhibition Place's Enercare Centre from September 20-22. The event is billed as an unprecedented opportunity for attendees to connect with Hollywood veterans from all sectors of the film industry. More than 250 booths and more than 35 keynote speakers are expected to participate, including Klaus Badelt (Pirates of the Caribbean), Penney Finkelman-Cox (Shrek), and Thang Le (Star Wars). "It has long been recognized that Canada has always fallen under the shadows of our American neighbors in the film industry," explained co-founder Taz Garcia. "It is our mission to bring the same opportunities up to Canada and house them all under one roof in a condensed intensive three-day networking, talent discovery, and exhibition."
News
Two of Toronto's foremost luxury event planners celebrated a major milestone on July 25. Candice & Alison's 10-year anniversary party took place at Malaparte, the TIFF Bell Lightbox's sixth floor event space. The event was hosted and catered by Oliver & Bonacini. To match the cocktail brights and polka dot dress attire, the indoor-rooftop hybrid space was transformed with hot neon and white decor, and a sea of shimmering helium balloons with anime-style caricatures of founders Candice Chan and Alison Slight. Two patio bars served a menu of Volcan De Mi Tierra Tequila, Belvedere, Hennessy, and Glenmorangie-infused cocktails, while Oliver and Bonacini served a wide selection of savory bites. At toast time, the Chan and Slight launched Shattered Glass, a premium sparkling wine, and the company's first product launch.
Nadège Patisserie, a boutique sweets shop, opened its fifth store last week, after celebrating the 10-year anniversary of its flagship Queen West store two weeks ago. Lauded for its speciality macaroons in particular, Nadège has wowed Toronto foodies with its traditional French pastry-making combined with contemporary dessert designs. A cryptic Instagram post from earlier last week announced a new, unspecified G.T.A. location, engaging a number of followers who hoped it would appear in their neighborhood. It was subsequently revealed that a new kiosk would launch in Sherway Gardens on July 26. The company offers diverse catering menus tailored for a wide range of corporate and personal events.
Venue Buzz
The Spoke Club celebrated patio season by hosting a "Rosé All Day" Sunday Brunch and rooftop party, produced by Ink Entertainment on July 28. The South Patio, a private, dining, and standing cocktail space with a cityscape view, opened a brunch buffet featuring rosy summer wine selections at 10:30 a.m., with afternoon table service running through 11 p.m. Toronto DJ Natalie River led the entertainment, and the club followed up with a rooftop rosé tasting led by local wine expert Angela Aiello (a.k.a. Super Wine Girl), as part of its Spoke Cellar Series on July 29.
A Turn of Events
A CBC report indicates the popularity of mocktails may be growing, as observed by staff at Toronto's PrettyUgly. Findings published by the Canadian Medical Journal suggest that the steady rise in alcohol-related emergency room visits since 2003 may be a contributing factor. See BizBash's story on the non-alcoholic cocktail trend at events here. 
Overheard 
"Bringing out the mentality of that kid who's just there to have fun and experience something really allows you create this amazing captive audience in a world where—speaking as a millennial—we're so distracted by everything." 
—BizBash's GatherGeeks spoke to Dustin Fraser, Maple Leaf Sports and Entertainment's director of the event experience team, about using live sports events to engage with fans. 
On The Scene
Toronto beer lovers posed with Canada-theme letters at Toronto's Festival of Beer, which returned to Bandshell Park at Exhibition Place July 26-28. 
Want to be featured in this column? Tag #bizbashto on Instagram.
What's Next?
The annual Amari Thompson Soiree will take place at the Globe and Mail Centre on August 1. Now in its sixth year, the gala is spearheaded by N.B.A. star Tristan Thompson and Epilepsy Canada. The event was inspired by Thompson's brother Amari, one of more than 40,000 people in the G.T.A. affected by an epileptic disorder, for which the evening raises funds. Etalk's Tyrone Edwards is set to host the V.I.P. event, which includes an auction featuring premium Toronto Raptors and Toronto Maples tickets. World of Dance finalist Briar Nolet will be delivering a special performance for the crowd, following her reveal of her own struggles with epilepsy during her time on the show.
The Civic Holiday long weekend in Toronto will be a loud one—and not just because of the fireworks at Canada's Wonderland. The eighth annual Veld music festival will run from August 3-4 in Downsview Park. Cardi B, Kygo, Skrillex, and Tiesto are headlining with more than 30 high-profile dance, electronica, and hip-hop artists. And after a hiatus in 2018, Drake's OVO Fest comes to Budweiser Stage's 16,000-seat outdoor auditorium from August 4-5. The event will have an appearance from the rapper himself. Both Veld and OVO will offer day and full weekend passes online.