This Week In Toronto: NKPR's TIFF Countdown Event, FanExpo Celebrates 25 Years, a Street Safety Pop-Up
BizBash's new Toronto column from Calvin Barr covers the week's biggest event news.
August 28, 2019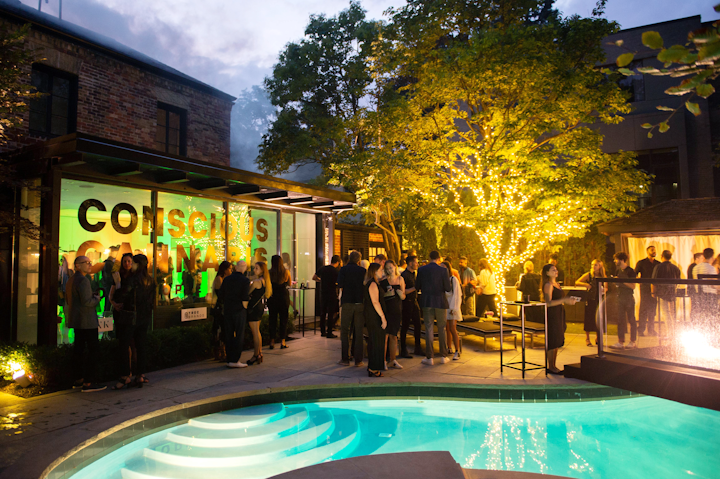 Photo: Ryan Emberley
TORONTO—Welcome to BizBash's Toronto-based column, where Calvin Barr covers the week's biggest local news. Got a tip? Get in touch!
Moves and Milestones
Toronto-based designer Anisha Kumar will present her first show for Toronto Fashion Week on September 4 at Fashion House. With designs created for women of all body types and backgrounds, the collection is based on traditional Indian clothing, which frequently leverages vibrant color schemes commonly, combined with gray, black, and white palettes. Stay tuned for BizBash coverage of Toronto Fashion Week.
In Case You Missed It
Design Exchange hosted a Save & Splurge expo on August 20, in partnership with Toben Food By Design, which provided a catered lunch. Speakers offered strategies for planners and designers looking to create memorable corporate and personal event experiences, while operating within a budget. Designs by Baum Event Company, Rebecca Chan Weddings and Events, Megan Wappel Designs, Swoon Events, Laura & Co. Events, and Event Rental Group were among the teams presenting design ideas. 
Global News: A pop-up installation along the Danforth this weekend aimed to promote public safety in areas heavy with vehicle and pedestrian traffic. The two-day project re-purposed two curb lanes to extend walking room for pedestrians and set up protected bike lanes along sitting areas on the street.
News
NKPR held its 11th annual Film Festival Countdown event for TIFF on August 21 at the home of company president Natasha Koifman. This year, the event partnered with Trec Brands, which specializes in cannabis lifestyle products, entertainment, and socially conscious community engagement. The evening included samples of Trec's Wink and Blissed brands, film-theme cocktail creations by Hounds Vodka, cannabis-infused cooking by Gusto Green, a massive candy display, and catering by A&W, Makers Pizza, and McDonald's. NKPR also held its annual TIFF Cocktails 101 mixer at Thompson Toronto on August 26.

FanExpo marked 25 years of fandom celebrations at the Metro Toronto Convention Centre from August 22 to 25. Thousands attended for a weekend full of costumes, celebrity autographs, intimate Q&As, and long-standing annual events like the Cosplay Masquerade Ball. Star Wars was a highlight this year, with life-size Lego displays from the space saga extending to Union Station, a Star Wars-theme Canadian citizenship ceremony, and original movie props provided by Ripley's Believe It or Not. FanExpo also partnered with GarfieldEats—an interactive food delivery app that recently launched in Toronto, based on Jim Davis's famously anti-Monday cartoon cat.
Venue Buzz
Hart House, one of University of Toronto's most distinguished buildings, will commemorate its 100th anniversary with a series of arts and culture events through spring 2020. The fall lineup includes a September open house, a theatrical production of The God of Gods, a forum on the future of feminism, and a gala fund-raiser. The venue offers open spaces and individual rooms for corporate and private events bookings, surrounded by its 20th-century architecture. 
A Turn of Events
VentureBeat: The first event focused on mental health in the gaming industry will take place at Design Exchange this fall. The International Gaming Summit on Mental Health, taking place October 9 and 10 around World Mental Health Day, was launched by gaming industry veteran Mark Chandler, who has worked at studios like Epic Games and previously organized the GamesCon event in Toronto. 
Overheard
"You really need to look at what people care about right now. Before, we couldn't really integrate something like cannabis into an event. Now we're able to give people the opportunity to explore something at the event that they may not have been able to before."
—Natasha Koifman, president of NKPR, spoke to BizBash about creating new event experiences during busy event seasons like TIFF.
On The Scene
Cosplayers from across North America attended FanExpo, Canada's largest comic and pop culture fan convention, which took place August 22 to 25. A fan dressed as Spider-Man posed at the CN Tower sign. 
Let's see what's happening at your events. Tag #bizbashto on Instagram.
What's Next?
Tonight, Business Babes will hold its second rooftop Toronto summer social at Lavelle. The organization's mission is to create community support, as well as online and offline resources for women entrepreneurs and professionals. Events also will take place in Vancouver, Victoria, San Diego, and Seattle. Lavelle offers event catering and design on its 16,000-square-foot, 16th floor space.
Black Creek Community Farm will host its third annual Dinner at the Farm event on September 12. The al fresco dining experience brings together chefs from across the G.T.A., menus focused on locally grown fruits and vegetables, and live music. The event raises funds for the eight-acre community farm, which provides organic, sustainably distributed produce throughout Ontario.