This Week In Toronto: City Celebrates 'Scott Pilgrim' Anniversary, Nuit Blanche Lineup Announced, Toronto Islands to Host End-of-Summer Parties
BizBash's new Toronto column from Calvin Barr covers the week's biggest event news.
August 21, 2019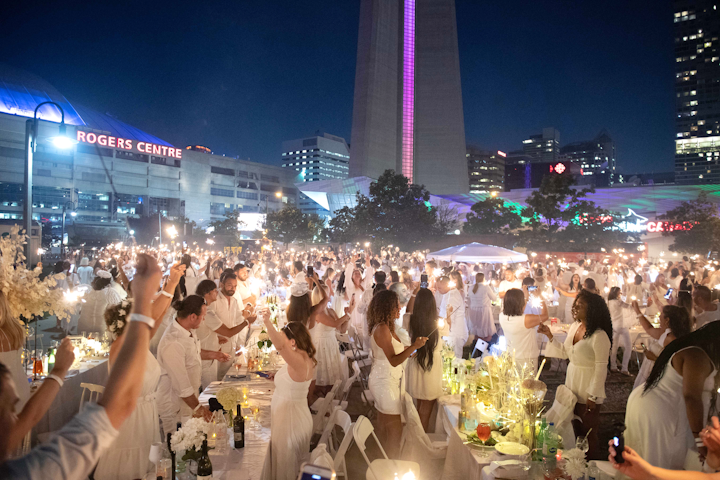 Photo: Ryan Emberley
TORONTO—Welcome to BizBash's Toronto-based column, where Calvin Barr covers the week's biggest local news. Got a tip? Get in touch!
Moves and Milestones
The Canadian Society of Professional Event Planners (CanSPEP) has named Deborah L. Kerbel vice president of education. Her Thornhill-based company, Deborah L Kerbel, specializes in corporate and commercial event design. 
In Case You Missed It
More than 2,000 people turned out for Toronto's eighth annual Diner en Blanc event at Roundhouse Park and Steam Whistle Brewing on August 7. The international all-white soiree, which originally launched in Paris, kept its location secret, as always, until the last moment. However, organizers later revealed that they had been working to secure the CN Tower-adjacent green space for five years. The glamorous evening featured a series of pop-up photo displays, best-dressed contests, and catering, decor, and sponsorship by Food Dudes, Acqua Panna, Tonic Blooms, Charlie's Burgers, Carte Blanche Bar, and Cellar 82. 
Just before Fan Expo Canada, the city marked the 15th anniversary of the Scott Pilgrim series. On Sunday, Toronto Comic Arts Festival celebrated the Toronto-based teenage superhero and musician with a screening of the film at the Royal Cinema, followed by a themed party at Revival Bar. Series creator Bryan Lee O'Malley attended the event, which also featured collectors editions, a cosplay contest, and a DJ. Stay tuned for a recap of the biggest Fan Expo moments next week.

News
The 14th edition of Nuit Blanche, an all-night, city-wide art exhibition, will take place October 5. Nearly 90 art installations will take over 88 venues in the G.T.A., including the Drake Hotel, Art Gallery of Ontario, Artscape Daniels Launchpad, and Royal Ontario Museum. According to organizers, this year's theme is about continuum and the perpetual rebirth of experience and ideas. The City of Toronto is producing two displays; one about the relationship of creation to destruction at Fort York National Historic Site, and another examining social marginalization in Scarborough.
The Canadian Meetings and Events Expo took place at the Metro Toronto Convention Centre from August 13 to 14. More than 350 event experts from more than 700 companies brought their insights into event execution, logistics, and R.O.I. to the conference and trade show. This year's expo featured a learning lounge conducting half-hour education sessions led by industry pros, a headshot salon from Pinpoint Photography, and book signings by keynote speaker Debbie Travis and N.H.L. star Wendel Clark. Event Professionals Francois Brunet, Shannon Valeriote, Zaman Ishaad, Tuesday Johnson-MacDonald, Alissa Hurley, Candace Schierling, Reggie Lang, and Bettyanne Sherrer were inducted into the Hall of Fame.
Venue Buzz
Stackt Market will host Toronto's inaugural Mural Festival from August 30 to September 1. The 100,000-square-foot space's shipping container-based architecture offers a market, café, brewery, and pavilion in King West. Based in Montreal, the urban art festival brings various artistic communities and cultures together to participate in workshops, discussions, and creative collaborations. Moonshine, which specializes in lunar-related events featuring African and electronic music, will collaborate with Hennessy for a block party.
A Turn of Events
Bloor Street could become busier with outdoor events by next summer. CBC reports that a new neighborhood project aims to link five kilometers from the Annex to St. Clair West into a green space corridor. The proposed Green Line would include public art, plazas, community gardens, parks, and bike paths.
Overheard
"[Chef Michael Mortensen] overhauled the food program here and is proud to say he makes everything—from the charcuterie to the cookies —in-house. 'I am inspired by what we feed the horses, so we will smoke dishes in hay sometimes,' he says, drizzling caramel on an ultra-moist pistachio cake.
—Toronto Life reviews a day at Woodbine Race Track. The track opened a deluxe clubhouse earlier this summer.
On the Scene
The Canadian National Exhibition opened on August 16. 
Let's see what's happening at your events. Tag #bizbashto on Instagram.
What's Next?
The fifth annual Toronto Cider Festival will run August 23 to 25 at Sherbourne Common. More than 35 ciders will be available, including the G.T.A's Brickworks Ciderhouse, Heritage Estate, and Lost Craft. Friday will open with a V.I.P. country music night, featuring performances from Alessia Cohle and DJ Moonshine. Saturday, billed as a waterfront day drinking party, includes a live art show, sample food and cider pairings, a bartending competition, and live music by Stereo Flavour Entertainment.
With Toronto Island finally flood zone free, beach lovers will have the opportunity to give summer 2019 a proper send off. Artscape will throw a mermaid-theme "Til Sunset" beach party at its Gibraltar Point location on August 25. In partnership with Fierte (Pride) Montreal, which just had its 13th festival, the event will feature an afternoon of DJs, dancing, drag shows, barbecue, and specialty cocktails, courtesy of Sauza Tequila. The following weekend, Electric Island runs its final long-weekend live E.D.M. event for the season at Hanlan's Point.