This Week In Toronto: Chotto Matte Opens, the Gladstone Celebrates Pride, Yorkville Murals Festival Announced
BizBash's new Toronto column from Calvin Barr covers the week's biggest event news.
June 19, 2019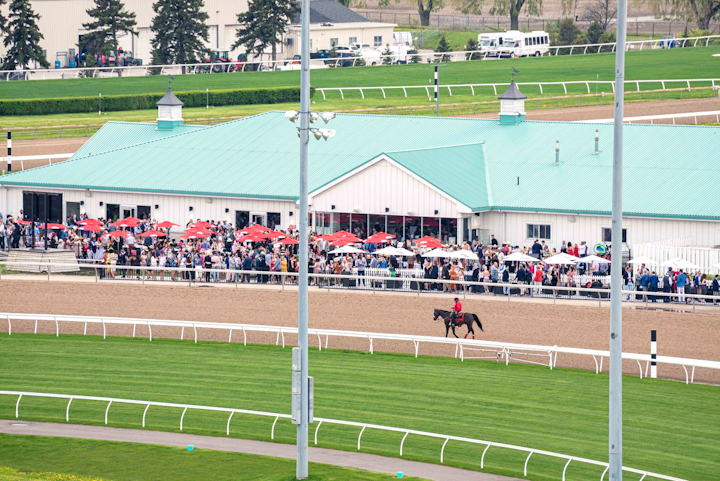 Photo: Courtesy of Woodbine Racetrack
TORONTO—Welcome to BizBash's Toronto-based column, where Calvin Barr covers the week's biggest local news. Got a tip? Get in touch!
Moves and Milestones
Following the announcement of the tourism revamp plan for Toronto's waterfront, Exhibition Place has named Don Boyle the new chief executive officer. Boyle will play a key role in the grounds' five-year redevelopment plan, scheduled from 2020 to 2025. He previously served as the City of Toronto's director of parks, forestry, and recreation for nine years.
Strategy Daily: B.B.D.O. and Cossette won the Best of Show titles at the 2019 Marketing Awards on June 13 at the Carlu. Their respective "Paralympic Network" and Montreal Children's Hospital Foundation rebranding campaigns earned the two agencies the titles.
In Case You Missed It
The Yorkville Exotic Car Show held its ninth edition on June 16. The section of Bloor Street parallel to the village shut down for the afternoon to showcase a luxury lineup of classic and specialty cars brands, including Lamborghini, Porsche, Ferrari, and Aston Martin. An estimated 100,000 people turned out to support and raise money for Prostate Cancer Canada.
News
Last night, Chotto Matte launched its long-anticipated new location at Brookfield Place. Following openings in London and Miami, the restaurant will offer Torontonians its critically acclaimed Nikkei-style cooking, a fusion of Japanese and South American cuisine. The establishment is the brainchild of chef Kurt Zdesar.
On June 14, Woodbine Racetrack held the grand opening of a new 16,000-square-foot clubhouse inside the E.P. Taylor turf course. The venue's 6,000-square-foot patio, which brings fans right up to the track, is furnished as an outdoor lounge, complete with 11 digital screens that provide a 360-degree-view of the racing action. Horse-racing takes place April through December on select evenings and weekends, and the clubhouse is available for event bookings, with in-house catering and custom menus.
Right before Pride weekend, the Gladstone Hotel will open the 10th annual "That's So Gay" art exhibition on June 20. Two collections curated by Toronto-based artists and activists James Fowler and Syrus Marcus Ware will fill the venue with work by more than 30 queer artists and photographers across Canada. The West End hotel regularly hosts a number of popular L.G.B.T.T.I.2.Q.Q. events, including the Working Women queer comedy showcase, the Queer Makers Market, and the F*ck Sh*t Up trans and non-binary cabaret.
Venue Buzz
The M.R.G. group revealed plans for its latest downtown urban attraction: Par-Tee Putt, a restaurant and mini-golf adventure launching in late June. The 7,000-square-foot space will feature three golf courses with designs inspired by cartoonist Rube Goldberg and Toronto's own Canadian National Exhibition. Guests will also have access to dexterity games like beer pong and skeeball, as well as a variety of family-friendly dinner options. M.R.G. group is behind a number of well-known downtown nightlife and event spaces, including Adelaide Hall, Rock 'n' Horse Saloon, and the Porch.
A Turn of Events
Canadian Press: Following the Toronto Raptor's historic championship victory, McDonald's has revealed that more than 2.5 million orders of french fries were given away during the season. The promotion was offered across the province whenever the Raptors scored more than 12 three-pointers on a "free fries" game day.
Overheard
"Sponsors have jumped on board raising 3.5 millions dollars for the Children's Aid Foundation and the different charities in the Toronto metropolitan area. It's not because of how good we are, but since we're on a pedestal, why not use it to make something good happen?"
— Toronto Blue Jays star Joe Carter spoke to the Loop about the Raptors victory and hosting his 10th annual golf tournament.
On the Scene
The Toronto Raptors celebrated their first N.B.A. title with a parade in downtown Toronto on Monday. 
What's Next
Toronto Fringe Festival returns for its 31st edition from July 3 to 14, with bold, new theatrical entries. The festival will have 161 shows at 46 performance spaces all over the G.T.A. including the first-ever Fringe-produced shows at the Streetcar Crownest. Jake Epstein, star of Beautiful: The Carol King Musical, and  Canadian playwright and director Nina Lee Aquino are among the guests revealing new work this season. Laura Mullin and Chris Tolley, hosts of the CBC's PlayME, will present coverage of the shows, theater venues, and the festival's history in a new podcast.
With the city's enthusiasm for its many Toronto Raptor murals established, another high-profile outdoor art exhibit will be arriving in the fall. Ink Entertainment announced the launch of the Yorkville Murals celebration, which will run at the 99 Yorkville courtyard from September 13 to 15. The first mural was completed in 2018 at the Taglialatella Galleries by graffiti artist Risk. This year, walls from Sofia Restaurant & Bar, Christian Louboutin, and Spaces will also be part of the festivities, which will include a cinema space, artist panels, and pop-up parties.