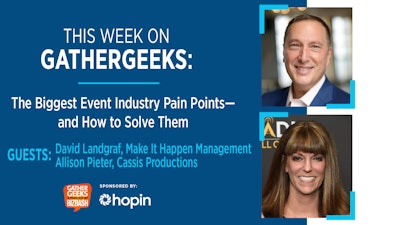 Host: David Adler
Guests: David Landgraf, Allison Pieter
In this episode of GatherGeeks, BizBash founder and chairman David Adler sits down with industry veterans David Landgraf, the founder and chief experience officer of Make It Happen Management in New York, and Allison Pieter, the founder and president of Cassis Productions in Los Angeles. The group shares real-world pain points—and solutions—for the event industry, diving into topics like the impact of new technology, whether traditional events have given way to unproven experimentation, the frustration of supply chain issues and labor shortages, and more. They also discuss whether the so-called "great resignation" is having an impact, how budgets and costs have changed, their insights into the future and much more.
Sponsored by Hopin. Running time: 43:34.
---
This episode is sponsored by: Hopin
Host your most interactive online event yet. Hopin is a virtual venue with multiple interactive areas that are optimized for connecting and engaging. Attendees can move in and out of rooms just like an in-person event and enjoy the content and connections you've created for them. The results? High show-up rates, low drop-off rates and happy attendees.
Bring your virtual event strategy to life, and engage and inspire your community on Hopin's virtual event platform—used by over 120,000 companies worldwide.