Video: See How Projection Mapping Turned This Venue Into a Work of Art
As the cost comes down and technology improves, experts say we will see more of this 3-D video technique.
April 13, 2017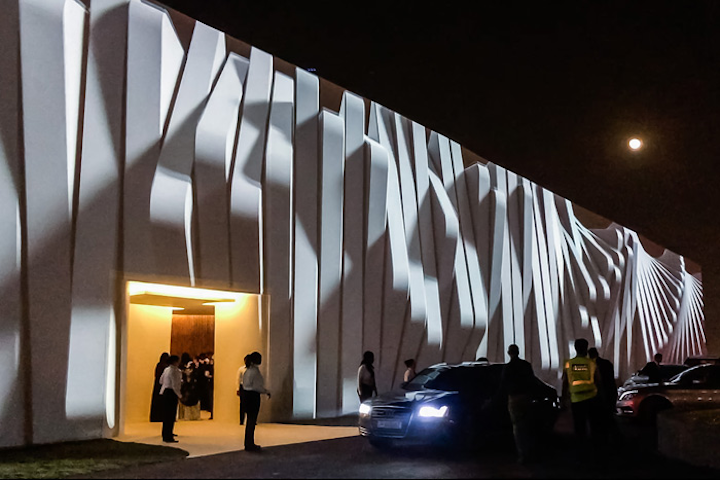 Photo: Courtesy of Megavision Arts
Projection mapping is a creative way to transform buildings and walls into visually stunning elements of decor. This technique turns flat surfaces into displays for 3-D videos. But what if an event is outside, without any walls?
That was the challenge for David Corwin of Megavision Arts for a wedding for a member of Qatar's royal family in November. The wedding for 1,200 guests was to take place in a 53,000-square-foot tent erected on an empty lot on the outskirts of Doha. Fahad Signature, the event's planner and designer, asked Corwin to design a 3-D projection that would be "very modern, artistic, and magical" and that would create a faux entrance, disguising the tent.
The solution: Crews built a 30- by 360-foot plywood wall in front of the tent and covered it in white muslin fabric to serve as the projection surface. The result was that as the guests drove up to the event, they saw a massive, undulating 3-D black-and-white animation accented with a custom musical score.
"It was a one-day art installation that was used as a way to amaze and entertain and to give this elusive 'wow' factor that people are looking for. People were saying, 'What is this thing out in the desert?'" says Corwin.
While in this case they chose to build a solid wall and cover it in fabric, Corwin says a similar projection surface can be achieved using just scaffolding and fabric. "We are not limited to an existing building or surface or infrastructure," he says. That flexibility, coupled with a steady drop in costs, means planners now have more options to incorporate projection mapping into events. "We've finally gotten to that place where the technology of projectors and the software necessary to manipulate them has gotten exponentially better as the price has come down. So we are now finally able to do these giant installations at much more cost effective price points," he says.
Bart Kresa Design also helped design the animation.
Featured Venues/Suppliers: