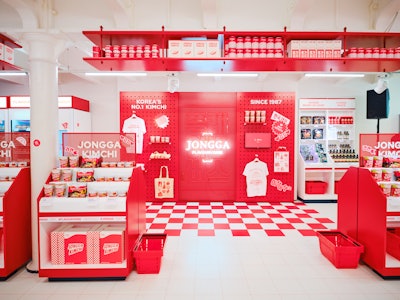 Photo: Courtesy of Amplify
LONDON—In South Korea, kimchi is a staple of many meals—but the popular side dish, made from salted and fermented vegetables, most commonly napa cabbage or Korean radish, may be less known to Western audiences. So when Jongga, one of Korea's top kimchi brands, was expanding to London, the company knew it needed to go big to make an impact.
The result? The Jongga Flavourverse, a multi-room, immersive experience that introduced Londoners to the sights, sounds, and flavors of South Korea. "Jongga Kimchi is a storied brand with a rich heritage that is inextricably tied to Korean culture," explained Aaron Taylor, associate creative director at global creative agency Amplify, which worked with Jongga on the ambitious activation. "Given the array of brand and cultural stories that we needed to tell and our audience's lack of knowledge surrounding the brand, we knew that a singular space that held all of the experiences wouldn't cut it."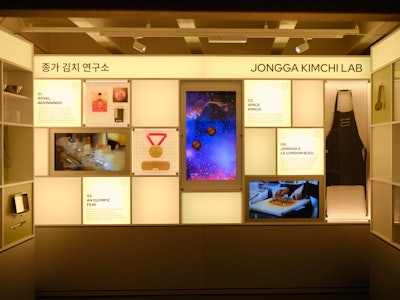 The free and open-to-the-public activation popped up from Sept. 16 to Oct. 8 at Covent Garden at The Stables Gallery, next to the popular Seven Dials Market. It comprised three distinct rooms, each offering immersive and experiential moments, all designed to showcase the rich history and heritage of Jongga Kimchi. "Our main aim was to segment the pop-up in a way that was easily digestible for our audience from a communications standpoint," noted Taylor. "We wanted guests to enter each space and, based on the spatial design and experiences within, instantly understand the brand benefits."
That strategic thinking led the team to create the three vastly different rooms. The highlight was Kimchi Alley, an eye-catching space inspired by Seoul architecture that featured a rotating residency of top London-based chefs, who each fused Jongga Kimchi with their signature cuisine. Each chef had their own weeklong residency in the space; the lineup included South Korean chef Judy Joo, who kicked off the activation with her restaurant Seoul Bird, followed by cult favorite Bad Boy Pizza Society, and finishing with chef Robin Gill and his restaurant Darby's.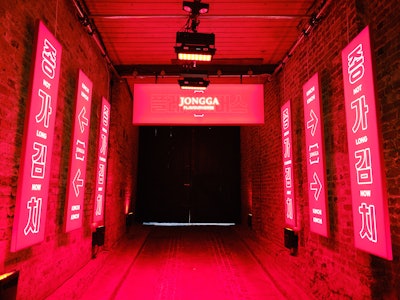 The chefs were purposely chosen to reach Jongga's target audience of millennials and Gen Z, noted Gareth Waughington, strategic partnerships account director at HUNTER, the PR firm for Jongga and its parent company, Daesang. "HUNTER created a clear partner selection criterion for Jongga," he explained. "Alongside authenticity and health benefits, versatility is a primary message for the brand. Blending different global flavors through the trend for 'chaos cooking,' as well as tapping into the current love for Korean cuisine, we wanted to show how Jongga can be used wonderfully within fusion food. We needed chefs whose menus could naturally incorporate kimchi—both at the pop-up and featured at their own restaurants for a limited season to drive additional buzz."
The dishes also had to be accessible to inspire visitors to recreate them at home, Waughington added. Menu highlights throughout the month included creamy mac and cheese kimchi noodles, Bibim-inspired kimchi pizza slices, smoky short rib and kimchi slaw buns, and more. "Following their Jongga Flavourverse residency, the Jongga Kimchi specials are appearing at each of the chefs' restaurants for 20 days, alongside additional Jongga dishes developed for the occasion," he noted.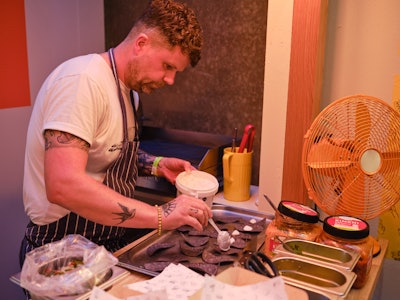 The second room, the Kimchi Lab, gave guests a deeper look at the importance of kimchi in daily Korean life. "An immersive projection room, an incredibly detailed scale model of a traditional Korean village, and more brought the brand's heritage and innovation to life through mediums that guests could easily connect with," Taylor explained.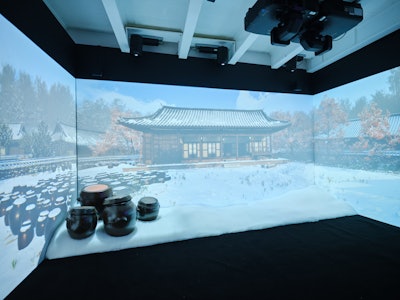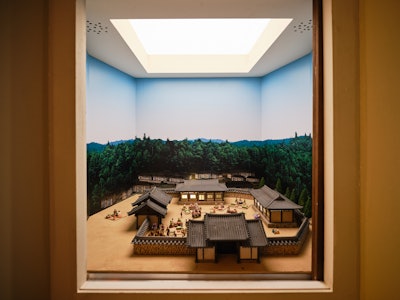 The final space, meanwhile, was located behind a sliding door and through a hidden fridge. Taylor described it as an "eye-popping kimchi superstore filled with limited-edition streetwear and dozens of kimchi products." Called The Mart, the space included the interactive Kimchi Match test. Amplify worked with a UX designer to develop a series of taste- and personality-based questions; completing the quiz matched guests with two of 20 potential products and earned them 30% off whatever they matched with. "This represented one of the many ways in which we took brand attributes and crafted experiences around them to make the information more digestible for our foodie audience," said Taylor.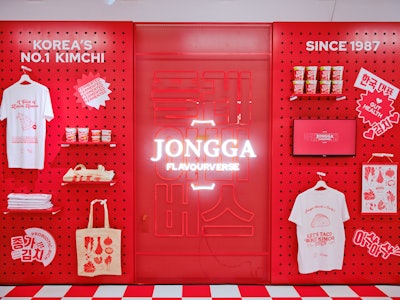 Installing the multi-room experience across three large, distinct buildings was no easy feat, noted Annie Vũ-Streader, executive producer at Amplify. "We brought a large amount of materials on site across the six-day install, at some points extending all the way up to the roof," she said. "To ensure sufficient space and prevent any damage to the materials, we had to time each element carefully—essentially playing Tetris until everything was in place."
But to the team, the hard work was worth it. "Some of our favorite moments involved the transition between rooms and seeing the surprise on guests' faces as they continually stepped through spaces that looked nothing like what came before," said Taylor. "We carefully crafted each of these moments to keep our audience on their toes and fully immerse them in the worlds we created."