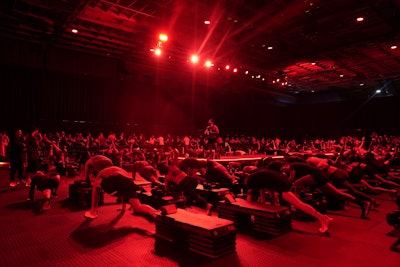 LOS ANGELES—On Oct. 6 and 7, to celebrate its 25th anniversary, global fitness brand Barry's hosted its largest workout classes to date at Red Studios in Hollywood. Over 225 guests including celebs like Patrick Schwarzenegger, influencers, and longtime members sweated it out in a class taught by the brand's CEO, Joey Gonzalez.
Produced by Los Angeles-based experiential marketing agency ENTER, the 17,000-square-foot space was reimagined as Barry's iconic "Red Room" and was equipped with Woodway treadmills and spots for all of the attendees. Upon check-in, guests fueled up with Celsius Essential Energy, the lifestyle energy drink sponsor of Barry's 25th Anniversary. Following the class, guests entered the recovery area, which hosted activations by Liquid I.V., Therabody, FaceGym, and 4AM Skin, and cold plunges by Edge Theory Labs.
In addition to the classes, Barry's also hosted a party on Oct. 5 for over 1,000 celebrities, VIPs, and Barry's fans. The celebration included a drag show performance, followed by a set from DJ and Barry's regular Diplo.
"We wanted to celebrate the incredible cultural impact, significance, and longevity of Barry's over the last 25 years by doing something that had never been done before," said Vicky Land, senior vice president of brand and communications at Barry's, about the off-site event. "The classes also provided an opportunity for the global community to meet and connect with Barry's global CEO, Joey Gonzalez, and other fan-favorite instructors from across the country."
She added that Red Studios had the "most ideal floor plan and layout" for hosting classes and the party, offering "an ample amount of space" to recreate Barry's Red Room on a massive scale. "Plus, having a location in the heart of Hollywood right down the street from our first-ever studio in WeHo was important to us."
Mimicking the vibe of the brand's trademark dimly red-lit studio was the biggest challenge for Barry's team. That included making sure "the right red lighting and the sound levels were reflective of the regular Barry's experience," Land explained.
"We added a runway stage for the instructors to ensure every client had visibility to the instructor. We also spent a great deal of time working through the wayfinding experience so that clients could easily find their spot in the sea of 225 treadmills and benches—225 people transitioning from the tread to floor needed to be seamless," she said. "It was challenging to curate an intimate, connected studio feel while in such a massive space, but we did it."
Keep scrolling to see more from Barry's 25th anniversary celebration...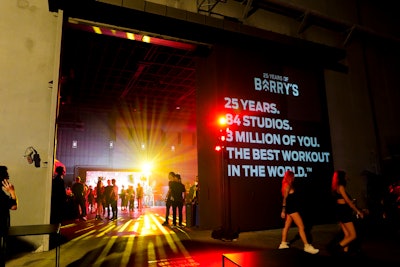 Photo: Presley Ann/Getty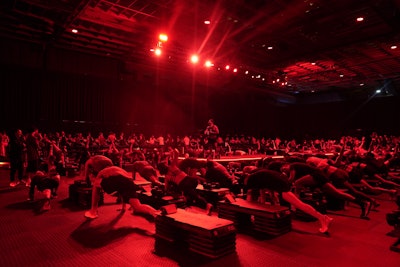 Photo: Presley Ann/Getty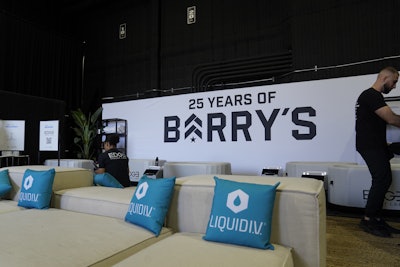 Photo: Presley Ann/Getty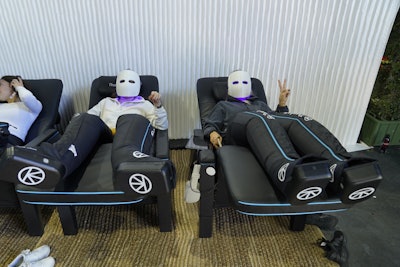 Photo: Presley Ann/Getty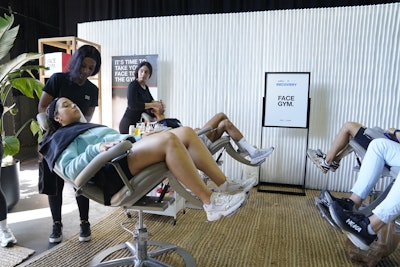 Photo: Presley Ann/Getty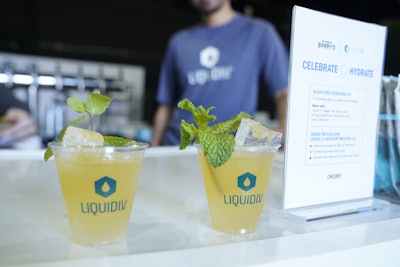 Photo: Presley Ann/Getty