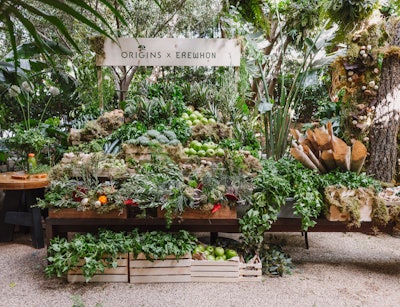 Photo: Courtesy of Origins
WEST HOLLYWOOD, CALIF.—LA-based Erewhon Market is not your average grocery chain. I mean, have you seen the viral "Hailey Bieber Strawberry Glaze Smoothie" that runs consumers a cool $18?
While not everyone may get the chance to sip on the sumptuous bev from the grocer—which puts an emphasis on minimally processed, good-for-you goods and only has 10 locations, all in California—BizBash is presenting anyone with internet access an inside look at the luxury grocer's event with plant-based skincare brand Origins. With that, feast your eyes on the secret gardenlike oasis the brands collectively created at The West Hollywood EDITION's Ardor Terrace.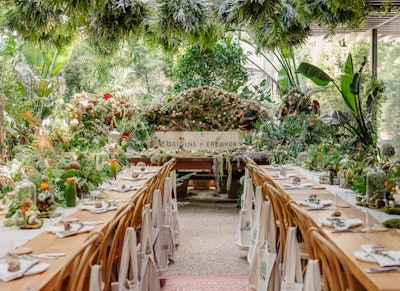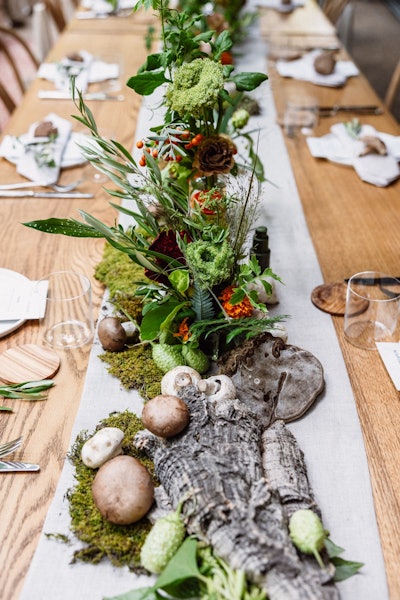 The invite-only affair centered on a bespoke, botanical-based brunch, of course, that nodded not only to Erewhon and Origins' emphasis on the benefits of veggies and herbs, but also celebrated new product partnerships. Dr. Andrew Weil, a pioneer in integrative medicine, created the Mega-Mushroom Restorative Skin Concentrate for Origins, made with reishi and fermented chaga mushrooms to hydrate the skin. And in the spirit of hydration, Weil also developed the Origins Mega-Mushroom Juice for Erewhon, a thirst-quenching blend of chaga, reishi, and tremella mushrooms, pearl powder, sea moss, green apple, cucumber, and kiwi, among other fruits, veggies, and superfoods.
Thirty-six tastemakers and members of the press "had the privilege of being among the first to discover the details of this exciting partnership, try the juice, and celebrate Origins as the first beauty company to collaborate with Erewhon on a cold-pressed juice," said Melody Rault, the director of consumer engagement at The Estée Lauder Companies, on the Origins account. The event was produced by New York-based experiential agency NOUN.
The partnership, which launched last month, comes at a time when Erewhon has emerged as the physical rendering of the adage "Health is wealth." Here, organic foods are sure to cause sticker shock, though instead of turning off consumers, high-priced items claiming to have the highest health benefits have shot the market to social media stardom. In a display of how the pandemic has changed scrolling habits, LA influencers are now filming themselves perusing grocery store aisles where items are only affordable to the rich and famous (Gwyneth Paltrow, Miley Cyrus, and Jake Gyllenhaal are known to frequent Erewhon) as opposed to hitting up exclusive nightclubs. Don't believe us? There are over 49.6 million videos mentioning "Erewhon" on TikTok.
"We know that our consumers' beauty and wellness journey is expanding beyond vanity, and believe that tapping into the health enthusiasts and highly influential shoppers at Erewhon is an innovative and modern way to introduce them to Dr. Andrew Weil for our Origins Mega-Mushroom skincare line," Rault said on how Origins has been able to capitalize on the grocer's stardom.
Thus, it was only appropriate that a social media campaign accompanied the brunch, where Erewhon and Origins "partnered closely to create content surrounding the launch of the juice," Rault explained, and also "collaborated with select influencers to create 'Erewhon hauls,' trying the new Mega-Mushroom juice for the first time and our Mega-Mushroom Skin Concentrate on TikTok."
Rault noted that a lot of the press garnered from the event was "purely earned media"—and it's no wonder; just have a look at the event imagery. A mix of fall foliage and a tablescape, where a stunning array of moss and mushroom varieties served as table runners, was nothing short of photo-worthy. As a fun touchpoint, one bountiful corner of the venue was filled with crates of fresh fruits and veggies, where guests could fill up their reusable bags in a farmers marketlike moment that nodded to both brands' emphasis on health and wellness.
It was that shared brand value that Rault attributed to the event and overall success of Erewhon and Origins' co-branded products. "Collabs are all about synergy," Rault said. "This partnership did just that. [It] reinforced the idea that both of our brands care for the wellness of people and the planet, constantly working with the best natural ingredients harvested from the earth."