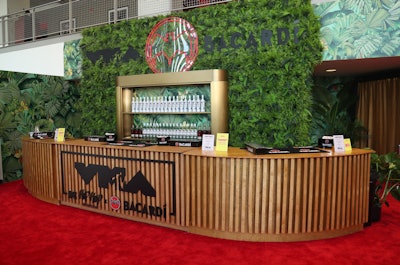 NEW YORK—When your brand rhymes with party, it inevitably gets name-checked in lots of songs—from Mariah Carey to Run-D.M.C.
To celebrate that connection to music, Bacardi partnered with MTV and Paramount Brand Studio to honor 50 years of hip-hop culture and the songs, artists, albums, and videos that have defined the genre, as the VMA Awards' first-ever spirits partner.
"We're focused on recruiting the next generation of rum drinkers, and we knew the VMAs would allow us to engage with our community through multiple touchpoints," explained Bacardi Rum's North American vice president, Lisa Pfenning. "It's much bigger than just the ceremony itself. There's a cultural conversation that happens in the lead-up to the show and long after the broadcast ends."
Taking a 360-degree approach, the rum brand kicked off its VMA campaign in late August, leading up to the ceremony, which took place Sept. 12 at the Prudential Center in Newark, N.J.
Bacardi decided to focus on the 50th anniversary of hip-hop because it was an "authentic way" to integrate the brand into the award show. "Bacardi has long been embedded in the world of hip-hop, inspiring some of the most memorable lyrics, movements, and music video moments," Pfenning said. "Simply put, Bacardi is hip-hop culture. We saw this anniversary as the ideal way to integrate our brand into the VMAs, reflective of what we stand for and how we've evolved over the years."
Before the show, on Sept. 8 in New York, the brand hosted a vintage pop-up experience—a fully shoppable retrospective of hip-hop fashion from the '80s to today that was curated by Stadium Goods and vintage purveyor Metropolis. The one-day event featured Bacardi x VMA merch and a secret speakeasy that served specialty cocktails.
"Hip-hop is so much more than just music. It's a whole style and culture," Pfenning said about the pop-up idea, which was a continuation of the BACARDÍ SNEAK3ASY event that took place this summer.
During the broadcast, Bacardi presented a performance that paid tribute to hip-hop, featuring legends like LL Cool J, Nicki Minaj, and Lil Wayne. There was also a sponsored fan pit on the pink carpet where talent could take photos and do interviews. The rum brand kicked off the show with a custom ad spot starring rapper Don Toliver and producer DJ Premier, which highlighted the evolution of the genre and how Bacardi has always been a part of it; it was produced by Paramount Brand Studios and 305 Films.
Plus, attendees sipped on a signature cocktail—the Mojito Mo-Problems—which was made with Bacardi Superior rum, club soda, lime juice, and mint and passion fruit syrups, and garnished with fresh mint leaves. (Throughout the night, Taylor Swift could be seen sipping a special off-menu cocktail: a mix of Bacardi Superior rum and coconut water.)
Keep scrolling to see more from Bacardi's VMA campaign...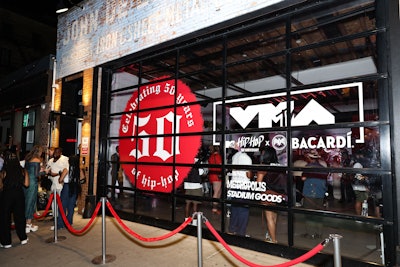 Photo: Jamie McCarthy/Getty Images for BACARDÍ Rum
Photo: Roy Rochlin/Getty Images for BACARDÍ Rum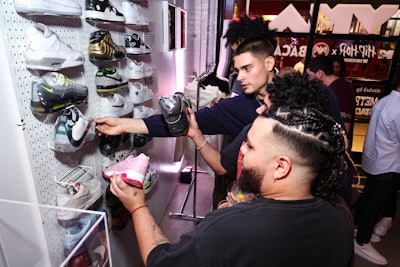 Photo: Jamie McCarthy/Getty Images for BACARDÍ Rum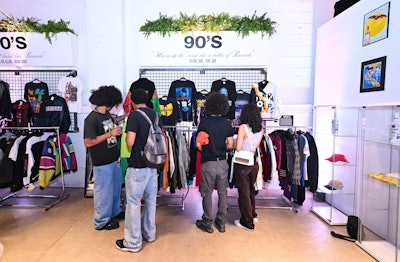 Photo: Roy Rochlin/Getty Images for BACARDÍ Rum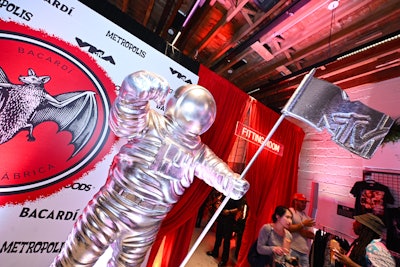 Photo: Roy Rochlin/Getty Images for BACARDÍ Rum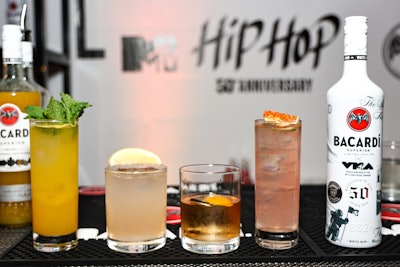 Photo: Jamie McCarthy/Getty Images for BACARDÍ Rum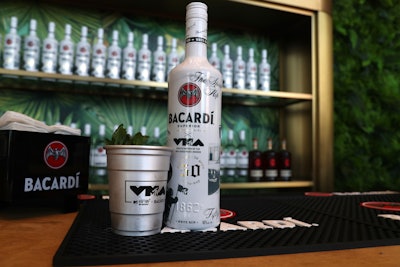 Photo: Manny Carabel/Getty Images for MTV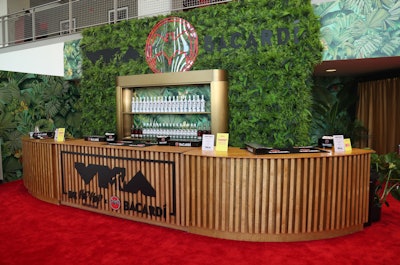 Photo: Mike Coppola/Getty Images for MTV
Photo: Manny Carabel/Getty Images for MTV