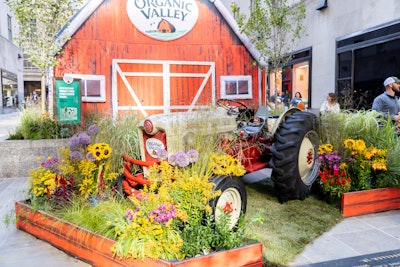 NEW YORK—On Sept. 20 and 21, in conjunction with Climate Week NYC, food brand Organic Valley brought a small pop-up farm to the Channel Gardens in Rockefeller Center.
The immersive two-day activation, which was open to the public, included experiences like milking a cow—the fake kind—with an Organic Valley farmer, posing for photos on a vintage tractor, sampling some of the brand's cheese, and signing a pledge to help support small organic family farms.
The brand believes that these types of farms can actually help reverse the effects of climate change through organic practices and pasture-based philosophy, and has begun work on a project (known as the Organic Valley Carbon Insetting Program) to help sequester carbon and lower on-farm emissions.
The activation was also part of the company's larger "Protecting Where Your Food Comes From" campaign, which highlights the relationship between the farmers and the land, with the aim of protecting small organic farms.
Organic Valley was also the exclusive food program sponsor of Climate Week NYC 2023, an event that takes place annually alongside the U.N. General Assembly and brings together international leaders from business, government, and civil society to showcase global climate action.
"We wanted to contrast the center of the Big Apple with the heart of small organic family farms, and it paid off," said Organic Valley's chief brand officer Jaclyn Cardin.
Inspired by the native ecosystems that make up the Organic Valley farms that are located across the country, the activation's farmscape included a wide variety of grasses and other native perennial plant species that encourage and attract pollinators. The brand collaborated with Rockefeller Center's gardening team and landscape design firm Manscapers to create the setting.
"We were amazed to see that within a day from installing our grasses, we saw bees return to the area," said Cardin. "This is what our farmers experience themselves when they plant similar grasses and plants. But to see that happen in the middle of an urban setting was a wonderful confirmation that pasture done right makes a real, tangible difference."
She added that the biggest challenge "was authentically bringing a rural environment to an iconic urban destination. That meant navigating the rules and permitting of local, state, and private entities, while maintaining as much of a farm feel as possible."
Even though Organic Valley's cows spend 50% more time outside than the USDA standard, the brand didn't want to bring one to NYC. "We want to keep them in their natural environment, which are the luscious green farm pastures, and not in situations like the middle of Manhattan that could cause stress to them," Cardin explained.
Keep scrolling to see key vendors and more from Organic Valley's activation...
VENDORS:
Brand Ambassadors: PTL Events
Catering: Acquolina Catering
Custom Animal Topiaries: Creature Creations Studios
Design and Production: HangarFour Creative
Dinnerware: Maison de Carine
Landscape and Floral Design: Manscapers
Printing: Varick Street Litho
Rentals: Taylor Creative
Scenic Design: ABunch
Security: Roundtable Solutions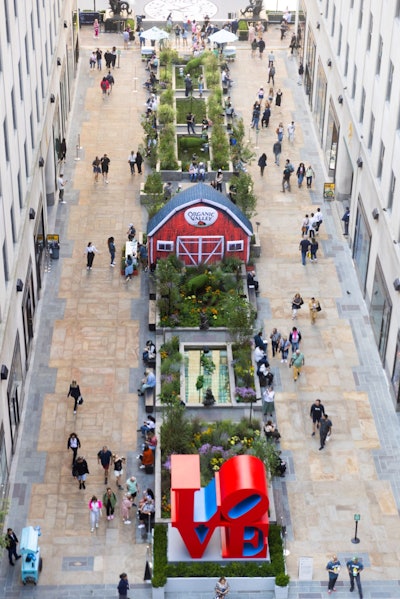 Photo: Courtesy of Organic Valley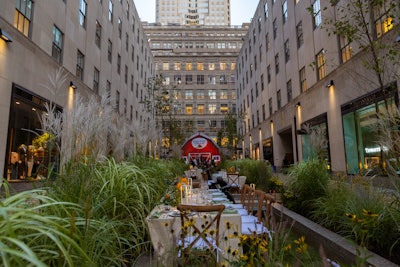 Photo: Courtesy of Organic Valley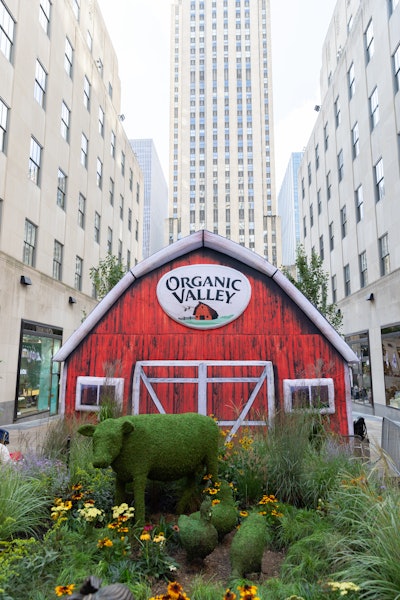 Photo: Courtesy of Organic Valley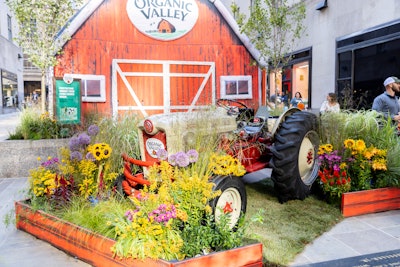 Photo: Courtesy of Organic Valley