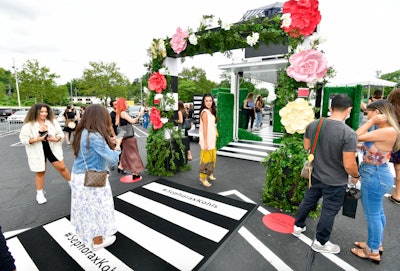 RAMSEY, N.J.—Brands and agencies have gotten creative with activations since the pandemic—and we love to see it. With many restrictions in place, producers have been pushed to innovate with low-touch event strategies that still provide that coveted high-impact experience. A recent example comes from Sephora.
On Aug. 20 and 21, the beauty brand held a brand activation—its first in-person event since the pandemic hit—in a Kohl's parking lot to celebrate the launch of the two brands' partnership. (Skincare and makeup mavens will be able to spot Sephora's signature black-and-white stripes in more than 200 Kohl's stores across the U.S.) Produced by New York-based TH Experiential, the two-day event took a mobile-first approach, with the end result being a beauty maze in which guests used their smartphones to navigate the touch-free, interactive experience.
The experiential design and production agency didn't just take a wild leap of faith on the concept, though. They did their research. "We conducted a 700-person survey inclusive of all cultural backgrounds, genders and generations to better understand how consumers want to engage with brands post-COVID. Feedback shows it is clear that mobile-first, touchless experiences are key for today's physical events, with 49% of respondents wanting the option to navigate events from their mobile device," explains TH Experiential Partner Nicole Falco.
As the Gen Z saying goes: The TH Experiential team understood the assignment. Influencers, press and attendees received push notifications on their devices through geo-location beacon technology, alerting them with opportunities to interact with product displays, meet the founders of Sephora, make their own shareable content and even request songs from the live DJ.
The outdoor maze also featured eight different QR code-generated experiences, which allowed guests to engage with both brands, take fun quizzes and get that coveted Instagram moment. Due to the nature of the low-touch, outdoor experience, the event naturally enforced a safe environment with easy social distancing and crowd control.
To drive attendees inside the Kohl's store after completing the maze outside, TH Experiential added gamification elements that incentivized attendees to find the eight brand and product touchpoints, scan and "collect" the QR codes, then redeem them for spin-the-wheel prizes in the store.
"We saw this experience resonate with both the press and influencers, as well as consumer audiences, really reinforcing that post-COVID, mobile-first experiences are the new norm. We were also able to collect data on the backend tracking both participation and preferences around brands and products," said Falco, adding a piece of advice to fellow event pros looking to recreate a similar activation: "Challenges to keep in mind include building for both iOS and Android audiences, and designing the experience to be as fun and intuitive as possible."
The experience took roughly eight weeks of planning and drew 1,000 attendees during its two-day run. TH Experiential looked to vendors such as B Floral (floral installs), Smart Department (fabrication) and C2 Imaging (graphics) to bring the launch to life, in addition to partnering with other beauty brands such as Beauty Blender, Makeup by Mario, Dr. Dennis Gross Skincare and Nest Fragrances that were included in the maze. For an event marketing strategy, TH Experiential and Sephora took advantage of the activation's social media-friendly setup and brought in press and influencers to assist in promoting the event to their audiences.
Keep scrolling for a closer look at the cool pop-up experience.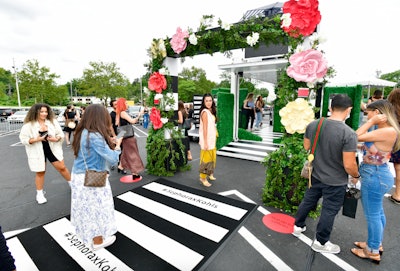 Photo: Eugene Gologursky/Getty Images for Sephora at Kohl's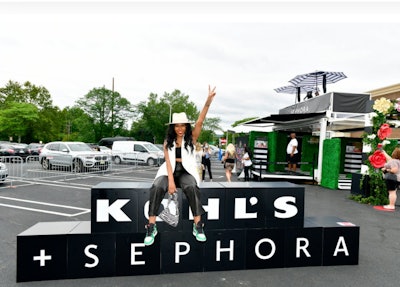 Photo: Eugene Gologursky/Getty Images for Sephora at Kohl's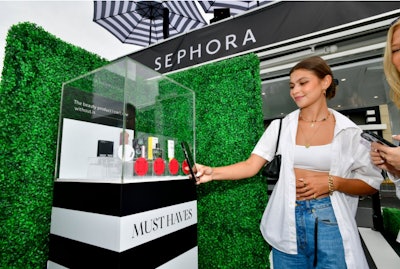 Photo: Eugene Gologursky/Getty Images for Sephora at Kohl's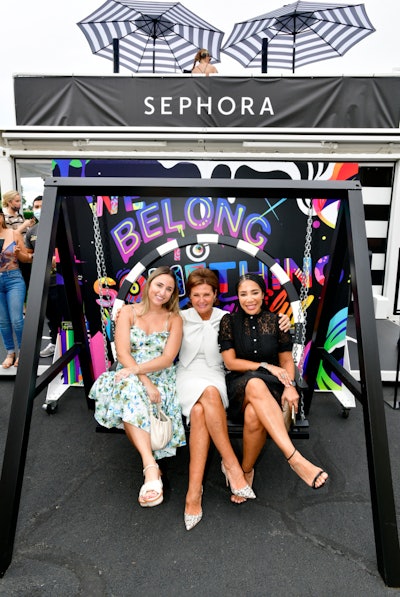 Photo: Eugene Gologursky/Getty Images for Sephora at Kohl's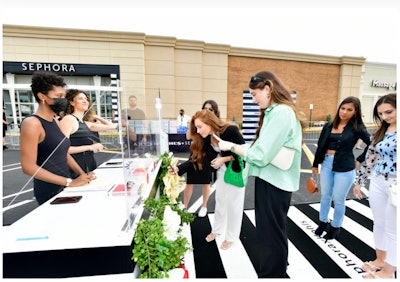 Photo: Eugene Gologursky/Getty Images for Sephora at Kohl's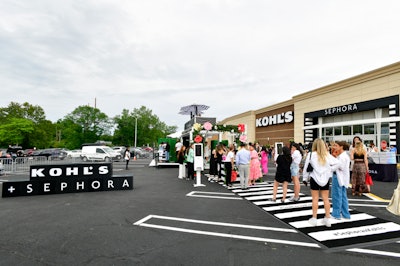 Photo: Eugene Gologursky/Getty Images for Sephora at Kohl's