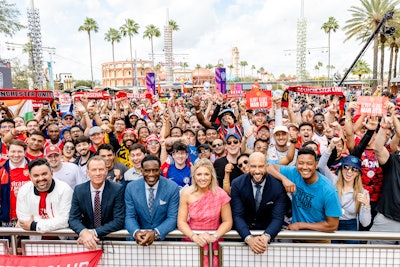 Photo: Lotus Eyes Photography
ORLANDO, FLA.—The fandom for world-class soccer is alive and well in Florida. At the eighth Premier League Mornings Live fan festival, held Jan. 21-22 at Universal CityWalk in Orlando, attendees showed up as early as 4 a.m. It was all in an effort to guarantee entry to this free event, which celebrates Premier League fans and is an opportunity to expand the league's fanbase within the U.S.
"Despite the early hour, the fans were full of energy," said Jessie Lomma, president and head of production at brand experience agency HudsonGray, which has partnered with NBC Sports and the Premier League to create all eight fan fest events held since 2018. "And [they] produced an electric environment that only intensified once the matches began."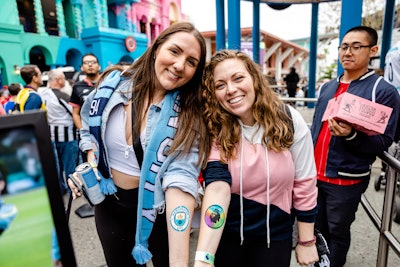 During the events, NBC Sports live broadcasts its show Premier League Mornings Live with on-air talent, including Rebecca Lowe, Robbie Mustoe, Robbie Earle, and Tim Howard. The Orlando event follows iterations held in New York City, Boston, Miami, Austin, Los Angeles, Philadelphia, and Washington, D.C.
And with matches starting as early at 7:30 a.m. local time, it's no wonder eventgoers were up for the festival before dawn. More than 9,600 fans attended the Orlando event across the fest's two days. They enjoyed eight massive LED screens for live match viewing (ADA accessibility included dedicated viewing areas and close captioning on screens), plus many on-site consumer activations from league partners like Nike and EA Sports. Fans also had a chance to experience talent meet-and-greets, player visits, free merchandise, club mascots, and take photos with the Premier League trophy.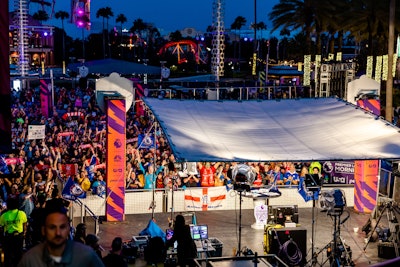 So why Orlando? Lomma said several factors go into choosing a destination for these fan events, including the existence of Premier League supporter clubs and a city's typical climate on the event dates.
"Orlando scored high on all factors considered," she explained. "In addition, having Universal Orlando in the NBCUniversal family was a huge opportunity to expose the Premier League and the beauty of it to thousands of people that wouldn't know unless they happen to come to the park or be around CityWalk."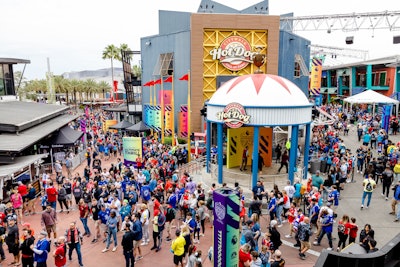 Lomma and her team purposefully color blocked the fan fest decor to complement CityWalk to achieve a cohesive look, "as if the fan fest were a permanent installation within the park," she said. Designing big and bold goes a long way, she added—"[it's] challenging to make a statement in outdoor venues with a mass of attendees. Sight lines and color contrast in branded elements should be carefully considered."
Yes, producing an event of this scale at a busy theme park was no easy feat. "Because our event was in a public space, we navigated multiple days of overnight load-ins and had to adhere to stringent safety requirements, including engineering for all structures, no matter the size, and strict wind-rating standards," Lomma said.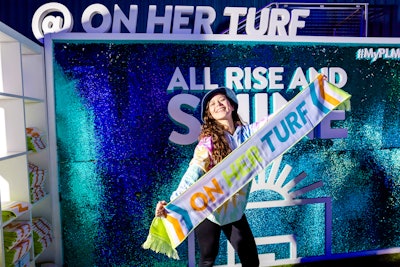 For other planners working on large, complex, consumer-facing events, Lomma advised not sparing expense on safety, including security, crowd management, and staff training. "The quality of the guest's experience is more important than maximizing the venue's capacity," she said, adding that "small consumer touchpoints are as valuable and often have a greater ROI than large touchpoints."
Keep scrolling for key vendors and more details from inside the Orlando fan fest...
VENDORS
Audio, video, and lighting (non-broadcast): Full Production Services (FPS)
Brand ambassadors: PPL Events
Graphic printer: Color Reflections
Registration, event app, and Nike Arena programming: Wasserman
Scenic fabrication: Mecca Design