10 Engaging Entertainment Ideas for Your Next Virtual Event
Planning a virtual event? Break up your schedule of keynote speakers, panels, and educational workshops with these out-of-the-box virtual event entertainment ideas that are sure to keep your attendees' attention.
May 25, 2020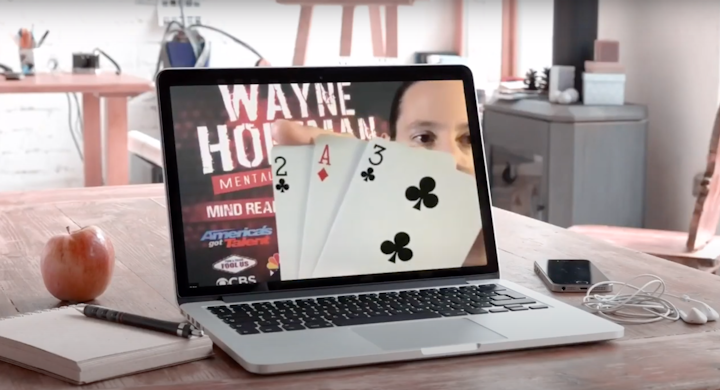 Photo: Courtesy of Hoffman Entertainment
No event is complete without an entertainment aspect—and that goes for virtual events, too. As the industry shifts its focus to find digital alternatives to live events until they can resume, keeping virtual guests engaged has become a hot topic. One way to keep your attendees' attention? Out-of-the-box entertainment ideas that aren't just for looks.
For a starting point to selecting the best entertainment for your virtual event, look to these 10 ideas that encourage participation and leave a lasting impression.
Mind-Reading and Magic Show
"Magic and mentalism are two art forms that effortlessly translate from live to virtual without losing any impact," says Wayne Hoffman, a nationally renowned mentalist and illusionist, and owner of Hoffman Entertainment in Florida. Titled Distant Deceptions, Hoffman's two-in-one virtual mind-reading and magic show (from $1,500) can last anywhere between five minutes and one hour, providing brief or extended entertainment to virtual event attendees. "This show allows participants to experience the thrill of an interactive magical experience as part of another event or as a full stand-alone show," says Hoffman.
Similarly, magicians such as Dewayne Hill and Eric Wilzig—both rising to fame after their appearance on America's Got Talent—are taking their talents to the digital sphere, with online offerings for virtual events.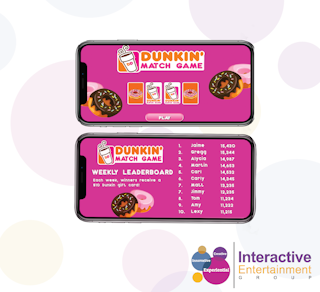 Brand Smart Games, another one of Interactive Entertainment Group's offerings, allows brands to create customizable mobile games that encourage customer engagement.Photo: Courtesy of Interactive Entertainment Group
Trivia Game Show
Another option is to throw some friendly competition into the mix with a virtual trivia game show. New York-based Interactive Entertainment Group, for example, offers a live host who controls the 60-minute game from a shared screen platform to display the game board with customizable questions, while up to 1,000 guests can participate by using their smartphones to answer questions. The entertainment group also allows customization for companies to spotlight their own brand or sponsors. "In light of COVID-19 and social distancing, our options for having fun have been limited," says Patricia Dukofsky, vice president of business development for Interactive Entertainment Group. "But this is a chance for groups to engage socially and incorporate some fun and morale-boosting [activities]."
For even larger virtual events, audience engagement platform SocialPoint allows up to 5,000 players to participate in its digital trivia game (from $500), which also features a live host and custom branding, in addition to a leaderboard and 650-plus question options across topics such as pop culture, movies, television, music, sports, geography, and science.
Cocktail Tutorial
For its virtual Money Moves Summit, Create & Cultivate called upon recipe book authors and influencers Adrianna Adarme and Cassie Winslow to lead two at-home cocktail-making sessions, engaging its audience of nearly 7,000 attendees with made-from-scratch frozen strawberry margaritas and pink grapefruit and chamomile Palomas. The quick, 10-minute sessions offered a boozy break from the daylong event's informative panels, educational workshops, and celebrity keynote speakers, while also getting eventgoers out of their dining room chairs to keep energy levels up for the remaining few hours of the digital conference.
Event pros can produce prerecorded DIY sessions to share with their guests by calling upon their go-to cocktail experts to lead the way, or, thanks to bartending businesses that have embraced digital—like New York-based Liquid Lab, Pour Up Atlanta, and Los Angeles's Mobile Mixologist—planners can provide attendees with a more personalized experience, including ingredient kits and recipes sent straight to their homes in time for the event.
Related: See How Create & Cultivate Tackled an All-Day Virtual Conference
DJ Battle
If you've been to a BizBash Live event, you're familiar with Quiet Events. But recently, the global company known for silent discos has a new focus: virtual DJ battles. Featuring three DJs blasting tunes from your choice of genres, the hourlong battle encourages attendees to talk to the DJs (you may even get a shout-out) in addition to each other via the chat function—not to mention it pairs perfectly with dancing shoes. "We quickly created a patent-pending platform that mimicked our party as close as possible, keeping people entertained while they couldn't go out," says Quiet Events founder and CEO William Petz. "To our surprise, the response has been incredible, with hundreds of people tuning in weekly to support their favorite DJ!" Intrigued? Here's how it works: 
Comedy Show
Michigan-based Funny Business Agency boasts virtual comedy shows to boost energy levels at virtual events. With live or prerecorded comedy performances—or a hybrid of both—the entertainment agency accommodates nearly all platforms, including Zoom, GoTo Meeting, Microsoft Teams, and Webex. Planners can choose from a variety of shows, from celebrity comedians and clean stand-up to sketch comedy and more. Like-minded businesses such as Treuer Laughs, based in Chicago, offer similar digital packages.
Wellness Session
An increasingly popular way to keep attendees' energy levels up or minds at ease during virtual events has been the inclusion of wellness sessions, from morning meditation to an afternoon HIIT workout. For Create & Cultivate's recent Money Moves Summit, the brand tapped Melissa Wood-Tepperberg, founder of Melissa Wood Health, plus celebrity holistic health coach Koya Webb to lead the Morning Moves session. Wood-Tepperberg guided guests through a light 30-minute no-weight workout, while Webb led viewers through a 20-minute meditation session via Zoom. Meanwhile, for a virtual wellness festival dubbed Stay Well Weekend, fitness influencer and founder of Love Sweat Fitness Katie Dunlop garnered a list of 24 fitness influencers and instructors through her current network as well as reaching out over social media platforms.
For those not looking to go down an Instagram rabbit hole to find the perfect influencer for your event, wellness- and fitness-focused businesses, like Colorado-based The Healing Collective and mobile meditation studio BEtime (offering at-home meditation kits), can be called upon for virtual events.
Related: Why This Virtual Wellness Festival Went 100-Percent Live
Family Feud
From Teambonders, planners can secure Family Feud-style entertainment for their virtual event of up to 1,000-plus attendees. With a timeframe of one to one-and-a-half hours, The Virtual Feud Game Show features a host who will read out the survey to the participating family teams and then start the 60-second clock and utilize the platform's meeting-based private chat function to engage the rest of the virtual eventgoers.
Interactive Entertainment Group also offers Family Feud-inspired virtual entertainment, accommodating up to 60 participants during the one-hour game.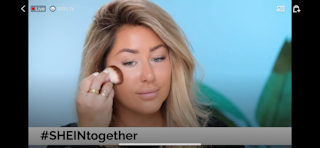 During SHEIN's virtual fundraiser, the global fashion brand included entertainment such as a beauty tutorial from renowned makeup artist and social media influencer Chrisspy, using SHEIN's online makeup collection.Beauty Tutorial
For planners targeting younger millennials or Gen Z with their virtual event, a beauty tutorial from a local influencer may just be the way to go. Global fashion brand SHEIN recently hosted a virtual fundraiser chock-full of enough entertainment to fill three hours, which included a beauty tutorial from renowned makeup artist and beauty influencer Chrisspy, who guided guests through a 10-minute makeup tutorial using SHEIN's products. Tip: Just hit send!
While key influencers vary from market to market, event pros may just be surprised by the number of influencers that are responsive to their Instagram DMs. When searching for influencers to join in on her virtual wellness festival, Dunlop said, "Finding people to collaborate can be really challenging. I had no idea what to expect, but it was so incredible to see that everyone we reached out to immediately said yes to be a part of it and give their time." 
Related: How This Fashion Brand Drew Over 1 Million People to its Virtual Fundraiser
Photo and Video Booth
Going virtual doesn't mean your attendees have to sacrifice that coveted Instagram moment. United Kingdom-based VideoBooth Systems announced the launch of its Virtual VideoBooth Online platform this month, allowing eventgoers to capture and share videos, photos, or GIFs from home. "We wanted to respond to the huge shift in the events industry, which has seen live face-to-face events postponed due to social distancing," said managing director Jon Stones in a press release. "Our clients are now taking their events online, and we want to support them with a platform to gather attendee video feedback, testimonials, and photo content."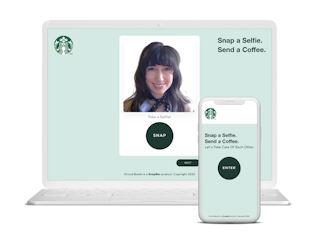 The SnapBar's new virtual photo booth allows businesses to add their own branding and backdrops for attendees to snap a selfie and share it during a virtual event.Photo: Courtesy of The SnapBar
Similar businesses that once relied on in-person events are hopping on the trend too: The SnapBar in Seattle, for example, has taken its products online with its new virtual photo booth that offers brands full customization options. And based in Australia, The Photo Booth Guys boasts a cloud-based photo booth for virtual events, including whimsical backdrops and branding capabilities.
Karaoke 
New York-based creative and digital studio Little Cinema—which also recently launched a virtual photo booth product—can send your attendees their own wireless handheld microphone to get the party started with a virtual karaoke session, during which guests are encouraged to make requests, sing along, and share on social.
For even more virtual event resources, check out BizBash's newly launched Virtual Event Guide, featuring sponsored platforms, partners, and programs for your virtual experiences.