Why This Virtual Wellness Festival Went 100-Percent Live
Worried about producing your virtual event without pre-recorded content? Here, Love Sweat Fitness founder Katie Dunlop shares how she pulled it off for her recent three-day virtual health and wellness festival.
May 18, 2020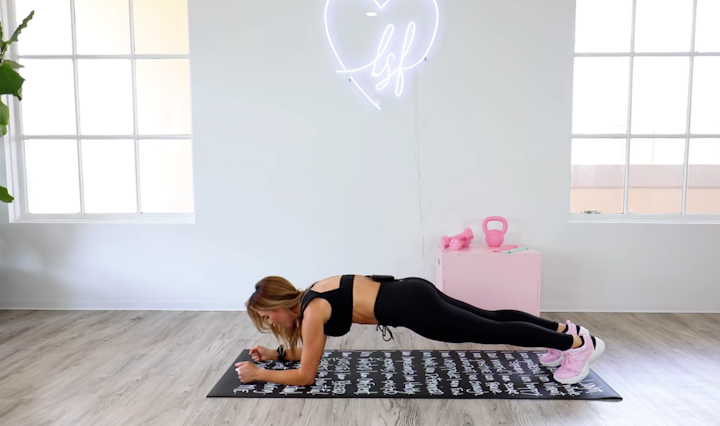 Photo: Courtesy of Love Sweat Fitness
As the industry navigates the "new normal," event professionals are diving deeper and deeper into the virtual sphere, producing digital gatherings that far surpass the reach and scale of typical live events. Events that once drew hundreds of guests are now bringing together thousands online, and those that catered to thousands of attendees are nearing the seven-digit mark. No pressure, right? 
But on the flip side, "You'd be surprised how smooth it can run and operate," said Love Sweat Fitness founder Katie Dunlop, who recently hosted a three-day virtual health and wellness festival that was—wait for it—streamed entirely live from start to finish. Featuring a mixture of yoga and meditation sessions, HIIT workouts, mental health-focused panels, cooking demonstrations, and, of course, happy hours and DJ-led dance parties, the weekend-long virtual event flaunted a festival-esque lineup of 24 fitness- and wellness-focused instructors and drew nearly 7,000 attendees—not to mention it was planned in two weeks. She said, "That's the beauty of virtual!"
"We wanted Stay Well Weekend to truly feel like a festival experience," Dunlop explained. "Going 100-percent live was the only option for us to bring that excitement to all those who joined. It was also important for us to have entirely new and fresh content, nothing pre-recorded or pre-packaged from a previous live [event]." 
The key to hosting a livestreamed event, according to Dunlop? Preparation, preparation, preparation. "Our team put a lot of work into ensuring that we could have a continuous live experience without technical errors. This can obviously be challenging when you have people coming on and off the stream," she said. "We had to evaluate the best streaming partner that would allow for us to pull this off and brief everyone involved on what we needed from them to ensure everything was smooth. We also focused on building a daily schedule that felt full but also was very intentional in terms of which classes or panels came up in which order. We knew that having back-to-back HIIT workouts wouldn't make sense. It was our hope that those attending could feel comfortable joining us for as many sessions as possible, which took some work to lay it out correctly. [During the event], we had waiting music and slides in between sessions to share who was coming up next, so that when people were attending there wasn't just dead time."
It also doesn't hurt to strategically curate a lineup of livestream experts, which was the case for the fitness brand founder. "We were really lucky to have a lineup filled with total pros. Everyone had been livestreaming often, so we were confident in their abilities. Our team provided a run of show with technical tips. Other than that, we wanted them to be themselves, be authentic, and showcase their personality and talents."
The virtual event, which was hosted on Zoom, also boasted a philanthropy angle, raising nearly $17,000 for hunger-relief organization Feeding America (exceeding the initial goal of $15,000). "We thought of it as an opportunity to provide something for people outside of our immediate community by raising money for Feeding America. Festival season was basically completely canceled, so we wanted to create that experience for people at home, but then also do something good from it, too."
Overall, Dunlop said, "I was so pleased with how smooth the event ran. Every hand off was seamless; we luckily didn't experience any technical errors and were able to provide a daily experience I know everyone was proud of. There were so many questions of 'something might go wrong,' but people will understand that there are those issues. At the end of the day, you just have to go for it."