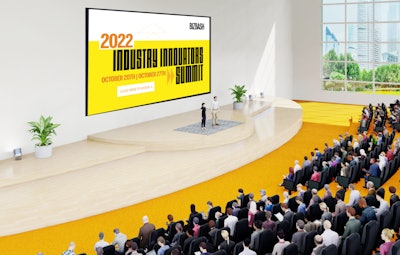 Screenshot: Shannon Thaler/BizBash
BizBash's Industry Innovators editorial feature—a five-part series highlighting industry movers and shakers across catering; experiential agencies and producers; event planners, designers, and producers; vendors; and event tech—was brought to life on vFairs' platform Oct. 20 and 27.
Dubbed the Industry Innovators Summit, experts named on each list transformed the narratives posted on the pages of BizBash into discussions that delineated just how far our industry has come. The pros also revealed how the advancements that have taken place in the past two years alone foreshadow all the innovation that's still left to come.
Here are some of the highlights from each session...
The Great Buffet Debate: Catering Trends That Should Be on Your Radar
BizBash managing editor Sarah Kloepple teamed up with vFairs' director of event programming Candice Davis to helm a discussion on what's top of mind for the people that are quite literally the tastemakers of this industry: Thomas Whelan, the assistant general manager at Levy Convention Centers; Robin Selden, a managing partner and the executive chef at Marcia Selden Catering; and Kashif Browne, the executive chef at Ridgewells Catering.
It was ever-present that mindsets on F&B's role at events have shifted. Browne said it best: "Food is a universal language. We can have a thousand people in the same room that don't speak the same language, and the food does it all—it brings us together."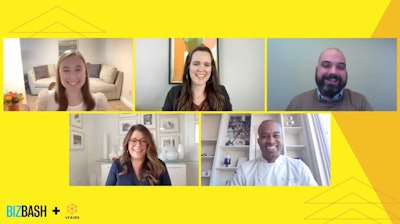 If one thing was clear from the discussion, buffets have taken a backseat to curated dishes that are part of the event experience, not to mention a focus on sustainability initiatives that make each person feel special by catering to their dietary needs.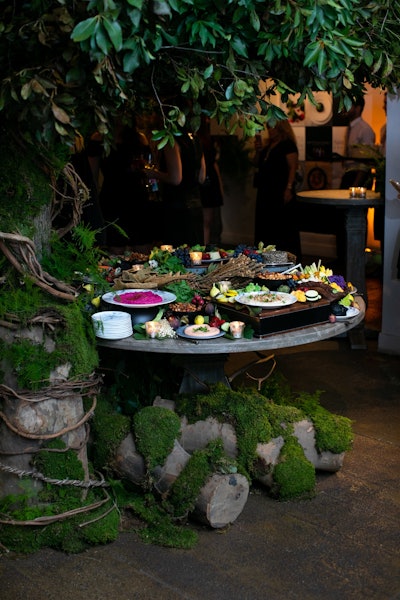 "Chef-attended stations" have been swapped for "installations that actually are culinary-driven," Selden added, noting that the shift in making chefs like herself "part of the design [process] ... is very exciting."
It's a demonstration of food's networking power, Whelan pointed out. A bonus? When a menu boasts your favorite foods and puts effort into considering people living vegan lifestyles or gluten-free, for example, "it's a major marketing component that people don't really consider."
It all boils down to the corporate social responsibility (CSR) of inclusivity, Whelan said, emphasizing the "estimated 30% of this next generation coming out of schools is either vegetarian, vegan, or flexitarian."
And while each prof on the panel confirmed the rumblings that yes, more sustainable and free-from foods are, in fact, more expensive, they also agreed on the sentiment that "you get what you pay for."
"It's absolutely more expensive when you want something different," Selden said, but pointed to partnering with local farms, bakers, and bread makers as a way to put your money somewhere where it's actually going to "support the local people in our communities, and help them stay alive."
Break Through the Noise: How to Grab Attention and Make Headlines in a Saturated Market
It was only fitting that BizBash founder David Adler led a discussion on making headlines. He began by asking the panelists about the ways in which their "breakthrough ideas came from the serendipity effect."
Aja Bradley Kemp, the founder and chief experience officer at Conversate Collective, said hers came from observing a lack of community during the many years she spent living in Australia. "I had seen once I moved back here to the U.S. in 2015, the community that surrounds women with natural hair is very different than what you get overseas," Bradley Kemp told Adler and co-moderator Tricia Binder, the co-founder and president of Muros.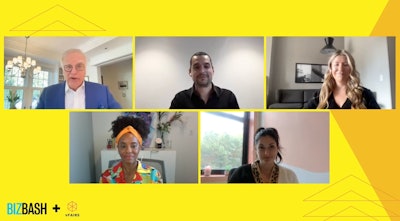 "Women here [in the U.S.] have more freedom to wear their hair however they choose," she added, noting their increased ease of access to products and education. "I knew that this was something that was lacking in the Australian market for both Black women—women of color—but also white women who have curly hair." The result? The Love My Curls Festival, which brought together hundreds of Australian women in 2019 to "bond over the excitement and the love, but also the challenges that come with natural and curly hair," and introduced them to U.S. hair care brands that would better support their natural curls, including the likes of Cantu, Mixed Chicks, and Shea Moisture.
Ultimately, the profs agreed that what makes such an event stand out to press, eventgoers, and anyone looking on via social media is its authenticity in everything from the lightbulb moment of the idea to the execution.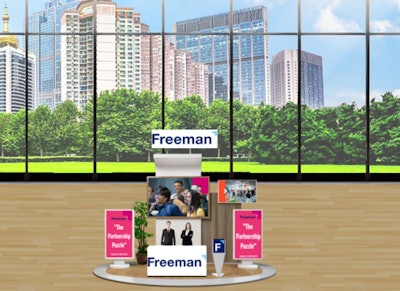 For MoonLab Productions CEO and founder Cassandra Michler, authenticity is in her brand DNA. She shared how an experience in Bali, where she "re-established [her] own personal missions and purpose in life," is now reflected in five "MoonLab Missions." Now, Michler said at least one of those pillars—women empowerment, sustainability, mental health and wellness, giving back, and diversity and inclusion—must be incorporated into any event the Santa Monica, Calif.-based production company produces, ensuring authenticity.
However, Justin Lefkovitch, the founder and CEO of full-service experiential company Mirrored Media, said he achieves authenticity through a strategy of storytelling. How does he do it? By taking touchpoints that everyone knows and loves (think: event entryways and photo booths) and putting a unique spin on them, with each element of the user experience being informed by an event mantra.
He cited the recent launch party for Bose QuietComfort Earbuds II that Mirrored Media produced, where the entrance hall was transformed into an immersive sound tunnel that tied back into the idea that "sound is power." (And the formula really worked—check out the piece on the event, which was posted to BizBash earlier this month.)
The Event Industry Today: Navigating Floral and Labor Shortages, Supply-Chain Issues, Creative Blocks, and More
When BizBash's senior editor Shannon Thaler asked TED's head of conferences Monique Ruff-Bell about when she first noticed challenges such as labor shortages and supply-chain issues taking effect, she said "when we went back to in-person."
She dealt with it by looking local, and utilizing vendors and suppliers that were more local to the event rather than "shipping from anywhere and everywhere."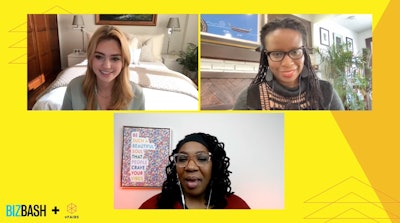 But beyond logistics, Ruff-Bell, along with fellow panelist and industry consultant and speaker Deanna Nwosu, emphasized the importance of fostering creativity within your team to overcome challenges that are out of our control.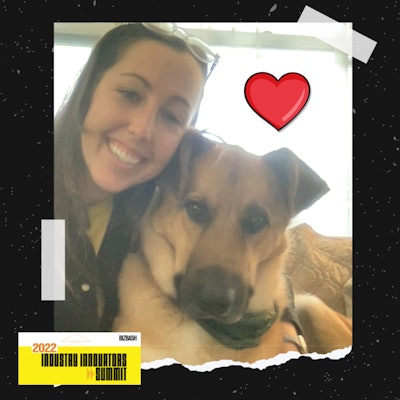 "Creative blocks are a result of working in a silo," Nwosu pointed out, reassuring that the solution is "a simple framework." "When you go out and seek, that's when you will find," she said, encouraging event profs to merely "open your eyes" and allow basic things we all do—like spending time with family or watching TV shows on Netflix—to be a source of inspiration.
And as a people manager, Ruff-Bell emphasized just how creative your team can get with "just the space to think, and the bandwidth to open their minds." Thus, every month, TED employees gather for "a brainstorming session where money is no object," and team members don't have to worry about the departmental constraints they work with everyday. "I let it be free like that because I need their mind to be open to not always thinking about 'but,'" Ruff-Bell explained, noting the plethora of creative ideas that are born out of "starting big-picture" as opposed to "starting small and then trying to make it bigger."
"What causes you to not be able to innovate? Constraints and perfectionism," Ruff-Bell said, adding that at times, the perfectionist mindset "can be the killer of innovation, because you have to take risks."
The Partnership Puzzle: Navigating Industry Relationships Today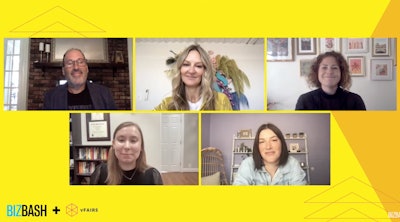 When Kloepple and co-moderator Amanda McKillip—the senior vice president of event production at Freeman—questioned panelists on what it takes to maintain positive working relationships, their responses may not have shocked you.
Dawn Crothers, the founder of women-led rental company Something Vintage said it's "about setting expectations." Beyond "never wanting to over-promise and under-deliver," she attributed service to attracting long-term clients. "If there's a problem with shipping, we let [clients] know right away. No one likes a surprise," she said.
Masha Berenboym, the founder and owner of Artists Creating Entertainment echoed the sentiment. "Transparency, loyalty, and honesty," she told Kloepple and McKillip when asked about how she's managed to maintain a relationship with clients throughout the pandemic. She referred to this "no ego" mentality as a sixth sense that's important to tap into "beyond the other five senses" when working to produce a to-do.
Interactive Entertainment Group founder Gregg Dukofsky, meanwhile, spoke on the importance of building strong in-house relationships, noting that it's helped the national event production company be more efficient despite shorter lead times. "Our production team, sales team, logistics team, work side by side to ensure everyone is in constant alignment," he said.
What in the Web3: Breaking Down the Latest Tech Advancements
During the final panel session in the Industry Innovators Summit, execs from Zoom, Proto, Webex Events, and Decentraland reminisced on just how far the industry has come since 2019, plus how event tech has served as a launching pad for meetings and events.
When Adler asked Dr. Giovanna Graziosi Casimiro, the senior events producer at Decentraland, about how event tech has brought the industry to new heights, she said: "Now we're talking about a global community" that's "shifted mindsets" and "redesigned how we socialize."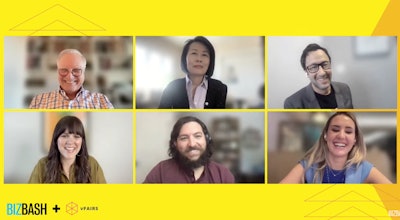 Wei Li, the head of Zoom events and webinar at Zoom, added it's the "many things that are made much easier," citing how event hosts can use greenrooms, build out production studios, and create rich content—all in real time. Meanwhile, for attendees, "they can choose to either sit back and consume the event, or engage with tools that are made possible thanks to tech," such as polls, Q&As, and chat functions.
And since the event tech space has become so saturated in such a short period of time, panelists agreed that customer service is now the differentiator. Li attributed Zoom's success to its "ease of use." "The people should not feel intimidated [using it]," she added.
It goes to show that there's room for everyone. Event tech "shows the art of the possible," said Nolan Ether, Webex Events' content marketing leader.
And David Nussbaum, the founder and CEO at Proto, cited a case where industry-centric tech could be used outside of the industry. Nussbaum shared an anecdote where he used Proto's hologram-like projection technology to film his folks, who are both in their 80s, so they "can continue to engage with [their] great-great-grandchildren" and beyond.
"It's a communal experience," he added of the endless possibilities associated with event tech.