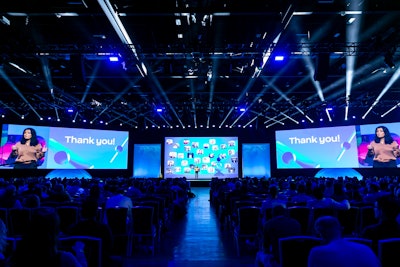 Photo: Courtesy of Zoom
SAN JOSE, CALIF.—Tech giant Zoom brought back its annual user conference, Zoomtopia, Oct. 3-4 at the San Jose McEnery Convention Center. And with two major announcements from the company that were unveiled in 2023—including the launch of Zoom Sessions in January and the more recent announcement out of IMEX about Zoom's integration with Swoogo—we were curious to know how the company would display its products this year at Zoomptopia, and the insights its events team could share post-event.
Following a successful hybrid event in 2022 (the 2021 event was fully virtual), Zoomtopia 2023 was about showing attendees how they could use the event tech products they were seeing in use, in real time.
"Last year was our first step into producing a massive hybrid event, and this year was all about perfecting it and bringing it to our customers," said Robin Bunevich, product marketer for Zoom Events & Webinars. She added, "Earlier this year, we launched a new product called Zoom Sessions, which is our single-session event platform, and it's becoming very popular among marketers and folks that are looking to have a more high-end webinar experience."
For 2022's event, Bunevich said they used a lot of Zoom's proprietary technology, and this year they were able to productize it. "It's really exciting that we can have these products available to our customers to host as big of a hybrid event that we just had."
Zoomptopia 2023 had about 10 times the amount of virtual attendees as it did in-person attendees (at the time of publication, Zoom was not sharing the total attendance number externally), and the goal was to produce the best hybrid experience for both audience types. There were experiences for the in-person audience only that were not streamed, such as a concert with Ludacris. However, the sessions that were streamed to the virtual audience were educational.
"We wanted [virtual attendees] to be able to participate and have equal access, in terms of asking questions to the moderator and the panelists in each of the sessions," Bunevich said.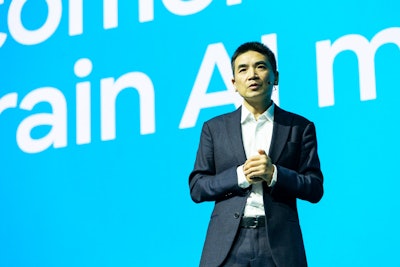 Attendees were able to do this through a mobile app, where they could post questions and chat with other attendees. As a stage moderator, Bunevich was able to work with a virtual emcee to take questions from the virtual audience. "We had a back and forth that made everybody feel that they were part of the same conversation," she said. "We were also able to show some of their questions on video and see their faces."
She added, "That can really bring the two audiences together, but they're each having their own experience. I think that we are acutely aware of those different experiences, but we want them to be the best possible experiences."
One challenge that hybrid helped alleviate, Bunevich said, was working on a tight budget.
"I think one challenge that all marketers and event producers are facing today is budgetary," she said. "I would say, talking to my colleagues in the industry across the board, event budgets as a whole are being slashed. So we were working on a tight budget, and what that meant was less people were able to travel to the event. So having the hybrid capabilities to bring people in virtually actually helped our budget."
It also helped in the case of some speakers not being able to attend in person due to COVID. If those people were feeling well enough, they were brought in virtually to speak. "I think one of the great parts about having a hybrid event and having those capabilities is that you have a backup plan if needed."
Other takeaways for planners? Think about your audiences. "Have experiences just for your in-person crowd; it's OK if you only have some of those experiences for people who make the effort to travel," Bunevich said. "You want to give them something special. You don't want people to come to an event and say, 'Hey, I could have been at home.' So make sure you're thinking of your at-home audience and your in-person audiences differently—but thinking about them equally."
That's partly why Zoom decided to partner with Swoogo, which will bring its in-person event technology (such as call for papers and its speaker resource center) to Zoom Events. "It'll be a bidirectional integration between the two platforms, which we believe will allow customers to have a best-in-class hybrid event experience," Bunevich said. "Swoogo seamlessly integrates with Zoom, so it's a really easy setup process. Using the platforms together can give event organizers the feeling that they have the competence that they need to pull off a hybrid event."
She added, "I know a lot of people say hybrid is really hard, and it's really expensive, but if you have the right tools, it can be done easily, and it can actually save you money, which it has done for us in the past. I know a lot of people are looking to do that."