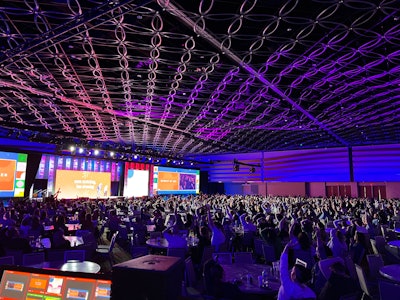 Photo: Courtesy of Media Stage
In celebration of Tech Week 2023, we've rounded up some of the year's most exciting tech conference activations. Here are seven ways event producers are utilizing tech to engage attendees and produce cutting-edge activations.
Lenovo and Ducati's simulator at Canalys Channels Forum EMEA
At Canalys Forum EMEA produced by TBA Group, which took place at W Barcelona Oct. 3-5, the primary objective was to refresh the approach and elevate the programming from a traditional technology conference to a three-day event infused with innovation, energy, and various creative touches. Lenovo partnered with Ducati by producing a simulator to showcase its success in reshaping motor sports with technology. Leading the charge with precise analytics and advanced modeling, attendees could witness key developments in technology, edge computing, artificial intelligence, and high performance.
"To push the boundaries of innovation, brands cannot limit themselves to only using the latest technology," said Guy Horner, CEO of TBA Group. "Facilitating basic interactions with other event attendees requires brands to think deeper about human engagement levels and how networking plays a part in this. Technology is all about connectivity, and we help build the connections using the most suitable and relevant tech."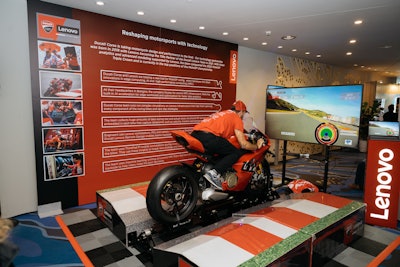 edgefactory's Smart Hospitality Suite at ASMS 2023
From June 4-8, edgefactory teamed up with Thermo Fisher Scientific to produce its hospitality suite inside the George R. Brown Convention Center in Houston at the American Society for Mass Spectrometry's annual conference, ASMS 2023. Using over 400 LED tiles, product station walls were built featuring headlines and product imagery on giant 10- by 8-foot LED walls placed strategically throughout the suite. The suite gave 6,000 visitors the chance to engage with scientists and see firsthand the exciting new software and hardware to support research in mass spectrometry. The content was synced around the room across the 400 LED tiles and 30 lighting fixtures. Every half hour, there was a visualization experience revealing the theme "Powering What's Next," followed by branding visuals. The convergence of digital signage, LED technology, and playback technology all worked in unison to produce a memorable innovation.
"LED paneling now comes in many shapes and angles that can be incorporated to add interest—even curves," shared Brian Cole, CEO of edgefactory. "Convex screens can immerse attendees and accommodate larger audiences, encouraging them to move around the booth. These displays provide incredibly bold colors and contrast that can make well-produced content really pop. The more content moves, the more attention will be retained, which is a better opportunity to engage with attendees."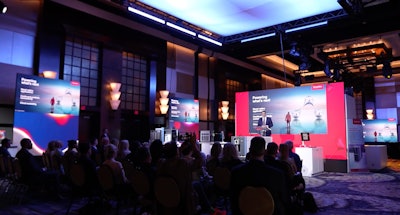 Hybrid Giveaway Strategy at CX Circle NYC by Contentsquare
On Sept. 28, CX Circle NYC by Contentsquare produced an immersive customer experience-driven event targeting digital professionals in marketing, e-commerce, product, analytics, and operations at SECOND in New York City. The event attracted a hybrid attendance of 900 (650 virtual and 250 in person), with 10 sessions and 20 speakers reaching 276 unique clients from 123 brands. Social media-centered giveaways were a popular program geared toward remote attendees, where winners were able to customize their own Nike sneakers to level up the digital experience theme. In-person attendees received various swag and were able to personalize CX Circle tote bags and baseball caps with their favorite patches inspired by past CX-branded event posters.
"Given this was the first year we hosted CX Circle in a hybrid format in the U.S., we knew we had to make a strong first impression by highlighting our unique brand personality and creating a personalized experience that resonated with our audience," shared Casey Pennella, senior manager of field marketing, North America, at Contentsquare. "We engaged attendees digitally and personally, whether it was through our social media contest, creative design, high-touch activations, or giveaways. No matter what, we met our attendees where they were."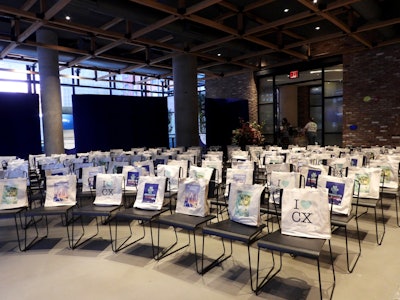 Zen-Themed Stretch Breaks at Vision Source Exchange
Optometry practice network Vision Source hosted Vision Source: The Exchange April 19-22 and drew 2,500 attendees to see 70 presenters, 25 sponsors, and over 90 presentations and videos at the Henry B. González Convention Center in San Antonio. Media Stage and EGR International collaborated to develop the program strategy and highly tech-forward visual design. A fresh idea on a typical conference stretch break was the "Zenterstitials" programming helmed by EGR's Charlotte Frederick, a certified wellness expert, who led transitions through the show in the form of three-minute breathing, stretching, and yoga exercises from the captivating main stage constructed by Media Stage, which included two LED walls; ultrawide projection screens; delay screens; a line array sound system; a multi-camera IMAG setup; custom scenic set pieces; and a robust lighting complemented with movers, stage wash, and backlighting.
"Within the corporate meeting space, you absolutely need to be thinking of new and creative innovations," said Patrick Brochu, director of show services at Media Stage. "Not only to set yourself apart from the competition, but also to keep your audiences engaged at all times."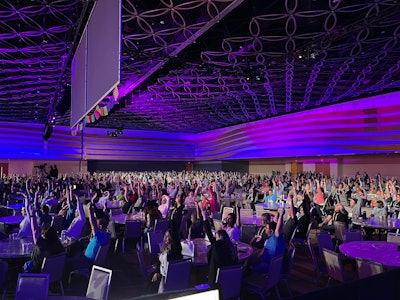 A Lead Gen-Driven Beauty Bar at HLTH 2023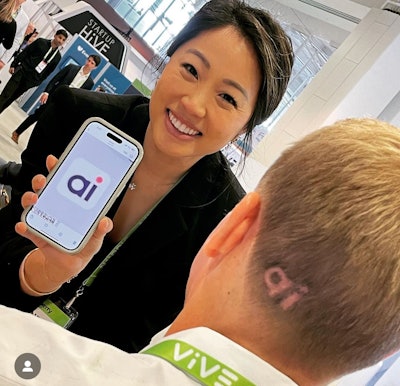 The Las Vegas Convention Center welcomed 10,000 attendees to HLTH 2023 Oct. 8-11, where tech marketers MLR and business processing outsourcer Ubiquity collaborated to redefine the attendee experience. The teams joined forces to bring a wellness and beauty activation on the exhibit floor, where the space was designed to offer attendees a transformative visit with professional hair and makeup stylists. The strategy to use an online booking system for "appointments" and an automated waitlist system helped optimize the experience—while simultaneously generating business leads for both MLR and Ubiquity.
"After sponsoring various trade show events, introducing a salon with barbers, makeup artists, and hairstylists at our booth was a transformative decision," shared Matt Agronin, Ubiquity's chief marketing officer. "We experienced a significant surge in visitors, all eager to engage in the salon experience. As a global leader in business process and call center outsourcing, this initiative perfectly aligned with our commitment to delivering tailored solutions and fostering exceptional customer experiences."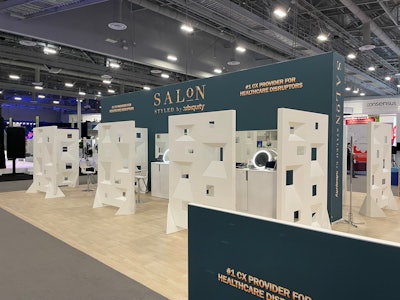 Extraordinary Productions' VR Storyboards at The Event Planner Expo
The Event Planner Expo brought over 2,500 attendees to the Metropolitan Pavilion in New York City Oct. 10-12. A total of 155 high-level exhibitors showcased different products, venues, activations, and services, which also offered plenty of networking opportunities. One of the standout activations was presented by Extraordinary Productions, which used in-house software paired with VR to produce an immersive event planning experience. An attendee would storyboard their dream party, which would then get entered into the program, and then the planner could visualize and experience the idea through a virtual reality environment.
"The Extraordinary Productions booth was so dynamic and exciting, engaging guests to experience the entire event planning process from inception, ideation, to creation," said EMRG Media and The Event Planner Expo partner Erica Maurer. "This activation pushes the envelope on what is possible to see your vision come to life, right before your eyes. It allows planners and event producers to see immediately what they like and don't like, and quickly pivot with their creative concept."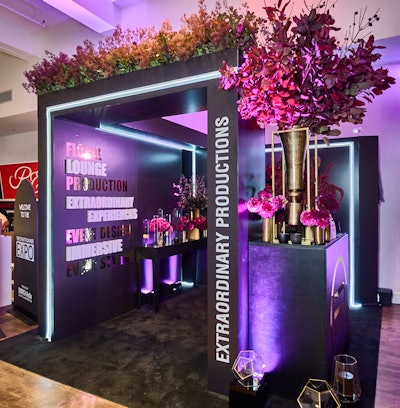 Interactive Gamification at RainFocus INSIGHT 2023
RainFocus INSIGHT 2023 was a hybrid event program centered on unifying event experiences. The gathering convened in person at Hyatt Regency Salt Lake City Jan. 30 to Feb. 1, with a post-event virtual summit Feb. 15. INSIGHT brought together leaders from event, marketing, and technology teams, and discovered ways to power innovative event experiences, from planning through delivery and measurement. The conference integrated gamification to drive event activations, with players earning points to then earn prizes. Attendees were presented with game trophies for completing actions like attending sessions, achieving certifications, visiting sponsor booths, participating in networking activities, filling out surveys, or engaging with on-site activations. To ensure the game was personalized to each attendee's event persona, the RainFocus platform was leveraged to create four distinct games based on whether they were attending virtually or in person, along with separating RainFocus employees into their own games.
"This allowed us to tailor the specific actions required to complete game badges, move up the leaderboard, and ultimately win prizes against attendees with the same attendee personas," shared Rodney Hart, RainFocus' vice president of events. "More than 1,100 badges were earned during the event itself—all contributing to a highly engaged audience and driving core event KPIs."