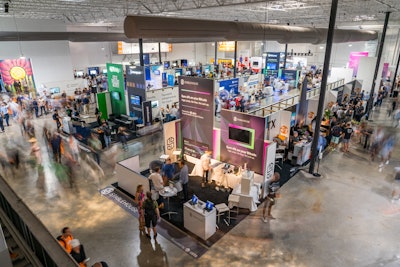 Photo: Courtesy of Bitcoin 2021
No, we're not investing in pipe dreams, but many of us have experienced digital and technological revolutions—and it seems obvious that we as the events industry need to be three or four steps ahead rather than 20 steps behind. Yes, all the excitement is currently around the so-called metaverse, but that's the least of our issues if we don't even have an established digital base to start a journey to this 24/7 world of community and commerce.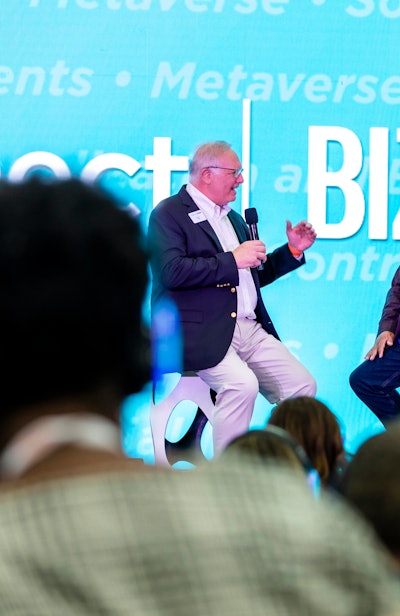 Spatial computing will be the biggest factor in bringing Web 3 and other augmented reality (AR) tech to a higher level for use at physical shows and soirees. With spatial computing, developers and designers can explore the world of extended reality (or mixed reality), where we can manipulate digital information in a non-digital format.
With AR and mixed reality, it's possible to add aspects of the digital world into our real-world surroundings. For instance, you might use an app on your phone to place a new cabinet from a furniture store into your home and see what it looks like in advance.
On the other side of the coin in a mixed reality world? Virtual reality (VR). VR gives us the option to place ourselves in a virtualized environment. For instance, you might've tried one of the headsets on the market today—like the Oculus Quest, Rift, or Go—to help you play games in a more exciting virtual space.
Who says live gatherings can't be enhanced in the same way to create experiences that will attract people? We're also beginning to see a time where content is no longer king—rather, contact is the differentiator. Serendipity is the secret sauce that will be enhanced greatly by spatial computing.
We have the most important element of all in the quest to tame the digital wilds: we have strong existing communities and marketplaces. We have the power to gather people in one place and connect them on a deeper emotional basis. Other tech innovators are salivating at the giant head start our industry has, and how we understand our communities' building habits over years, decades, and even generations.
As an industry, we don't want to make critical mistakes in our alliances or bigger-picture dreams. The New York Times suffered a dramatic stumble when they decided to give up their content for a little search engine called Google, and it took them decades to recover.
Here's my take on the meeting and event industry's unique position, plus how we should approach entering a 24/7 metaverse...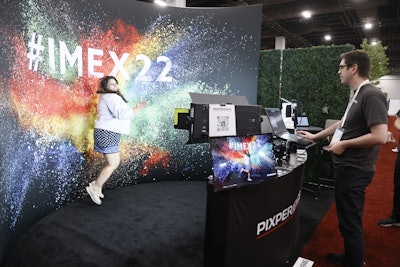 Live gatherings are the ultimate trust accelerator. Don't worry, digital is not there yet.
The pandemic has given us multiple canvases to gather people, but it's been proven that the centerpiece is the live experience. Wrapped around the IRL are digital events that are good for the top of the funnel, plus can be used after relationships are formed. Ultimately, all sorts of goals will be enhanced by technology—just as tech will also enhance live experiences. Every meeting and gathering I've heard of—from top media properties, to brands, to crypto—is in an era of experimentation.
My guidepost with technology is summed up in this line: "The purpose of technology is to make what was complex into a trivial matter." If you think about it, the creation of the microphone was an amazing tech advancement, similarly to the once-new idea of traveling using automobiles and airplanes, and even the invention of the wheel years before.
I predict that we're going to see streamlined processes put in place that will enhance progress. As a board member of the trade show industry's for-profit association SISO (Society of Independent Show Organizers), I'm trying to get a handle on where we're going, and it's clear that getting the basics down—like increasingly sophisticated yet simple registration, customer knowledge, and matching technologies using machine learning—is still a challenge. But the industry's moving toward more standards to allow us to speak to each other with apples-to-apples data.
It was almost unanimous that even the definition of "metaverse" was a confusing concept when it first came top of mind. It's clear that live events will be the beneficiary of Web3 thinking.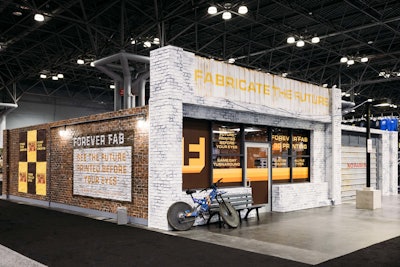 Think about new models.
Remember MTV and its format? The channel provided a formula for hundreds of record companies to create incredible and expensive content—and it was able to keep creative costs to a bare minimum. TikTok is another example of how creators are doing the same thing with next to no content costs.
We're no longer in MTV's heyday, so let's look to the hot new thing instead—the metaverse. At trade shows, for example, booths are getting more sophisticated by the day. But how do we use all the innovation at our fingertips to really enhance our live events like we never thought possible? The metaverse. In fact, the definition of "metaverse" is the collection of virtual shared spaces—the convergence of virtual and physical realities—so the key is to strike a combination of both.
Of course, there are outliers, and certain experiences are purely virtual. This also doesn't mean that we as organizers need to take responsibility for the investment because each stand or exhibit could become an extension of their own version of Web3.
Just think: digital doubles will allow a buyer of farm equipment to take a ride on a new tractor or to fly a jet plane. Ultimately, the advances in spatial computing experiences differentiate what can be done. It's democratizing production, making every teen, 20-, or 30- something-year-old into a 3D creator. Innovation in educational techniques is exploding as well, which has the power to turn the mundane into the experiential. No doubt this will translate to trade shows, where 3D and 4D experiences at any level of quality will be showcased, making exhibitors want to invest and experiment.
Event profs will be creating guided metaverse experiences that turn exhibits into windows to the products and services that'll transport them into new worlds. Imagine turning our live events into a digital petri dish that allows attendees to move from booth to booth, session to session, or social event to social event with every digital touchpoint used as a guide for potential buyers to take advantage of new technology. And because of the digital format, undiscovered approaches will reduce friction for faster transactions.
Be a collaboration artist and an experience creator.
Our job as organizers is to offer two different sides of ourselves at events: the experience creator and the collaboration artist.
The experience creator uses old- and new-school techniques to make an event memorable and to create what I call a "parasocial relationship" with attendees—a relationship that creates an atmosphere where attendees have the same wonder that a young athlete would have when he meets his sports hero. We've seen events achieve this level of status. (Hello, World Economic Forum, Dreamforce, C2 Montreal, Web Summit, TED, and Comic Con, just to name a few.)
Serving the audience 365 days a year at a high pitch is unsustainable. Instead—like these big-name events do—create a moment in time that keeps the experience special.
We learned that doing virtual events with high-production moments keeps the attention of the audience. Thus, the skill sets of the modern trade show requires flexibility not only in the thinking of the event organizers, but also in the creative direction of an agency or a product development team. That's what it'll take even just to conceptualize a well-thought-out experience that is memorable because of that parasocial relationship and inherent FOMO factor.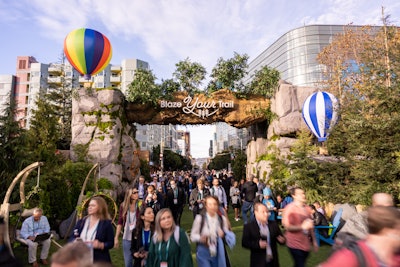 Harness serendipity by leveraging tech.
We're always finding ways to harness serendipity and turn our events in to a type of town square for commerce, connection, and content. But we need to be using technology to simplify matching services and to create more serendipitous moments by introducing a greater sense of intimacy at events. Tech can also be used as a collaboration tool that combines the inspiration that accompanies talking with peers and action.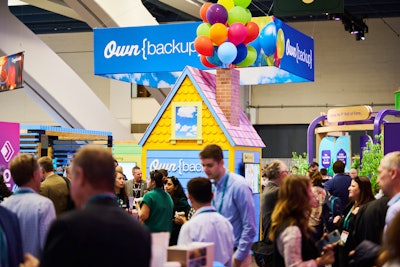 Doug Emslie, the CEO of B2B events company Tarsus Group, recently said that any CEO who doesn't attend their industry event should be charged with malpractice for not watching the window on their industry. The bigger picture of going to events cannot be underestimated.
When I was "voluntold" to work for the U.S. State Department, we did an event with a discussion between Henry Kissinger and Hillary Clinton. What they said was a lightbulb moment for me as it pertains to the importance of our industry. Secretary Kissinger said to Clinton that as secretary of state, you're basically drinking from a fire hose making one decision and spending all of your intellectual capital. He added that taking time to study, to go to conferences, to meet people, and to have time to think builds your intellectual capital. It made me realize that that is what we do, and it is so important.
Build intellectual capital.
With serendipity and Secretary Kissinger's words in mind, I've built some of my own intellectual capital by having conversations, attending events, and staying curious. Here are a few things that I'm hearing...
Rising to the top of the consciousness across our industry is ESG: environmental, social, and governance. Or, you can look at it as sustainability and social impact, which is at the forefront of meetings and events—as is DEI (diversity, equity, and inclusion). These are serious issues that are driving decisions on everything from site selection to programming and everything in between—all with the priority on climate change. We need to be ahead and honest about the impact that large-scale events have on a community. We need to be leaders and not followers on those issues.
There's also the sustainability argument that major events lessen the need for travel because of the efficiency of meeting multiple people at one event. I also recently came from a conference where profs predicted that instead of increased travel to major events, organizers will set up WeWork-type workplaces so teams across the industry can work together. Could it possibly be a new revenue stream?
Human-to-human contact is not going anywhere. As leaders in our industry, we need to be armed with information and have the courage to co-create the future rather than react to it.