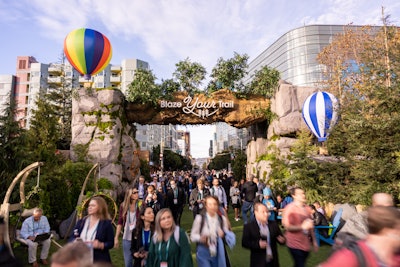 SAN FRANCISCO—Dreamforce, the largest annual consumer-facing event from tech giant Salesforce, returned to San Francisco this year and celebrated 20 years of the event. With a reported in-person attendance of 40,000 (attendees are playfully known as "Trailblazers"), it was the largest trade event in the city since the onset of the pandemic. Dreamforce 2022—held Sept. 20-22 at the Moscone Center and produced by experiential marketing and design company George P. Johnson—spanned more than 1,000 sessions and 60 keynotes, including high-profile speakers like Bono, Jane Goodall, Matthew McConaughey, and Jennifer Hudson.
A little rock 'n roll graced the lineup too: Red Hot Chili Peppers performed at Dreamfest, the event's annual benefit concert for UCSF Benioff Children's Hospitals.
"We knew we wanted to bring our 20th Dreamforce back in a big way," said Erin Oles, the vice president of brand experiences and events marketing for Salesforce. "While this was the first event we hosted at this scale in several years, we focused on bringing incredible experiences to all of our Trailblazers both in person and on Salesforce+. By doing so, we were able to host our most impactful Dreamforce ever."
Salesforce+, the company's online streaming platform, made sure the hybrid event was also engaging for a virtual audience. Through the platform, virtual attendees could stream sessions and enjoy exclusive digital-first content, like Dreamforce Today, a morning show hosted by Soledad O'Brien, reported live from the event each morning that shared the latest happenings on the ground. "Salesforce+ allows us to bring the magic of Dreamforce to all of our Trailblazers around the globe," Oles said.
Day one of the event featured an all-new homecoming celebration outside, down Howard Street, and elsewhere across the campus to celebrate a successful first day. Surprise-and-delight moments included a 15-piece marching band, a 7-piece brass band, and nine color guard performers—all provided by BDEntertainment (BDE)—parading down Howard Street and leading attendees to a stage for a DJ performance. A BDE-provided drum line them led into a headlining performance from Fitz and The Tantrums.
Dreamforce 2022 also marked Salesforce's most sustainable in-person iteration yet, Oles said. "We implemented all of our sustainable best practices, including climate-friendly meals (no beef, pork, or almonds in meal offerings—conserving 10 million gallons of water), compostable packaging, recyclable lanyards and badges, and refillable water stations," she explained, adding that, for the first time, instead of giving out backpacks and water bottles, they gave attendees the opportunity to offset their travel-related emissions.
The event also hosted the Future Executive Summit, a VIP experience for 200 young professionals from Bay Area workforce development organizations Year Up and COOP. Throughout the week, participants heard from speakers like Laverne Cox, Simone Biles, Leah Thomas, and Ryan Coogler.
"When we create Dreamforce, everything we do is with our customers and our Trailblazers in mind," Oles said. "Knowing who your audience is when you set out to create an event like this is critical."
Keep scrolling for more photos and highlights from Dreamforce 2022...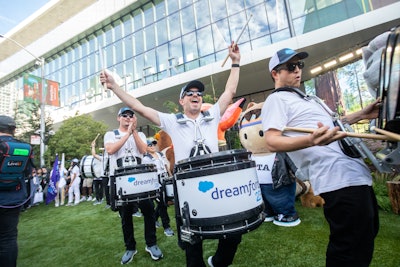 Photo: Courtesy of Salesforce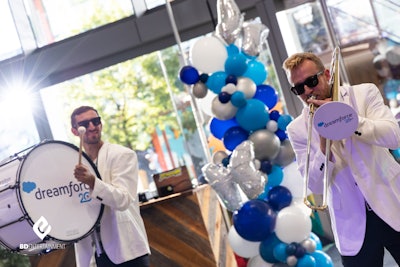 Photo: Courtesy of BDEntertainment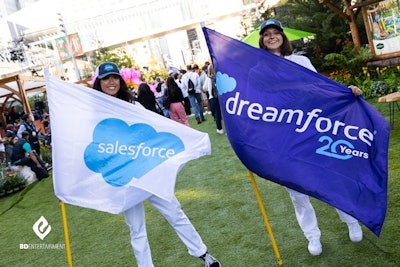 Photo: Courtesy of BDEntertainment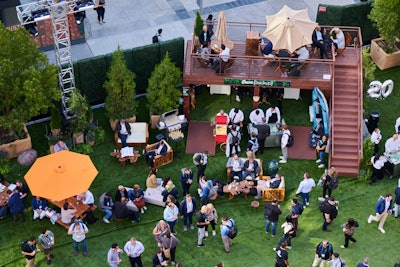 Photo: Courtesy of Freeman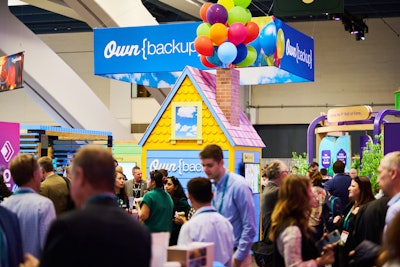 Photo: Courtesy of Freeman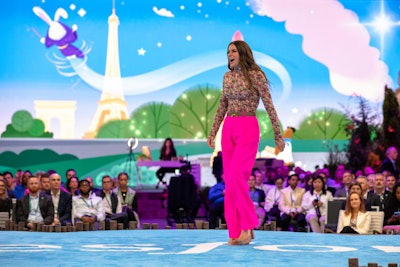 Photo: Courtesy of Salesforce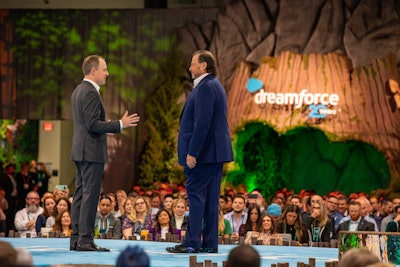 Photo: Courtesy of Salesforce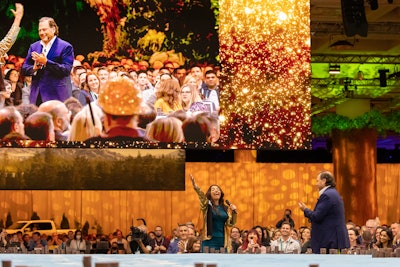 Photo: Courtesy of Salesforce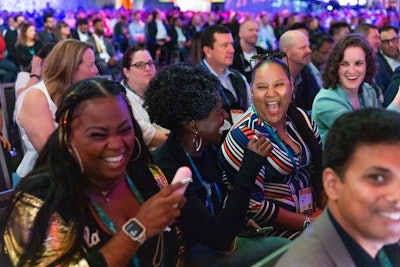 Photo: Courtesy of Salesforce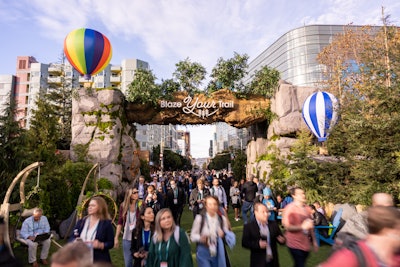 Photo: Courtesy of Salesforce