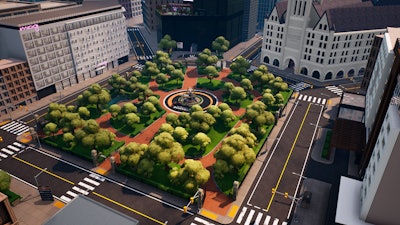 Photo: Courtesy of Marriott Bonvoy
For many young people, there's nothing quite like Fortnite. The wildly popular online video game from Epic Games boasts more than 220 million active monthly players and has become a popular place for brands and celebrities like Nike and Travis Scott to develop their own buzzy, in-game experiences.
And now, the hospitality industry is getting in on the fun: On Oct. 25, Marriott Bonvoy launched Marriott Bonvoy Land, a virtual park with four hotel-themed mini-games. Using a designated game code, players can now portal into a park square via Fortnite Creative, and socialize with each other before "checking in" to virtual representations of four Marriott-branded hotels: Moxy Hotels, Westin Hotels & Resorts, W Hotels & Resorts, and Autograph Collection Hotels.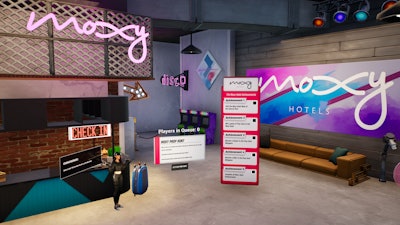 Marriott's objective with the experience is both to tell the story of what makes up Marriott Bonvoy and its various brands, and also to connect with a younger consumer base. "We thought, 'Where is the best place to tell the story of these different offerings, and have people understand the distinct brands and how they might be relevant for them?'" explained Brian Povinelli, Marriott International's senior vice president and global head of marketing and brand, in an interview with BizBash. "We were looking for engagement platforms where people could spend a little more time with us, to give us a chance to introduce people to brands in our portfolio that they maybe don't know—and also introduce them to brands that are geared toward that younger consumer."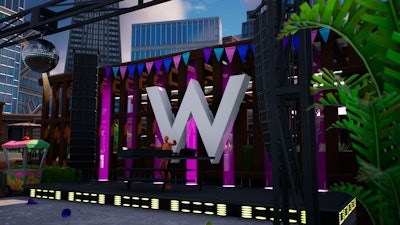 At each space, a virtual concierge greets guests, asking if they want to check into a guest room or unlock the hotel's mini-game. Each of the four mini-games is tied to the different brands' overall personalities. At the playful Moxy hotel, for example, players challenge each other with a prop hunt, having one player transform into items such as flamingos or bananas while the other player tries to expose their disguise—all while uncovering a disco, arcade games, and vibrant art along the way.
At the Westin, meanwhile, players flex their endurance via a race, hopping across yoga mats in the hotel's indoor pool, navigating through the WestinWORKOUT fitness studio, and blazing past an indoor living wall, complete with Westin Run Concierges cheering them on. The futuristic W Hotel, meanwhile, invites players in to search for a code to unlock a labyrinth, challenging them to follow the music and find their way to a DJ performance on the iconic WET rooftop deck.
And at Autograph Collection's hotel, players explore a series of rooms inspired by different destinations, searching for unique items that echo the brand's "Exactly Like Nothing Else" mantra. Players who complete all of the games will be rewarded with a fireworks display set against the park's skyline.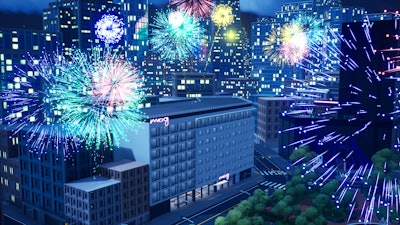 "We've been dipping our toe into gaming over the last several years in a more traditional way—through logo sponsorships in games, etc.—but now we thought, 'How do we have people interact with the experience outside of literally going to a hotel?' And Fortnite provided that opportunity," said Povinelli.
The Marriott team partnered with SuperAwesome—a pioneer in the "kidtech" market that was acquired by Epic Games in 2020—to build the coding and interface, but Povinelli noted they were heavily involved in the creative and how each hotel brand was represented. "A Westin is very different from a Moxy, for example, and we really wanted that to come across."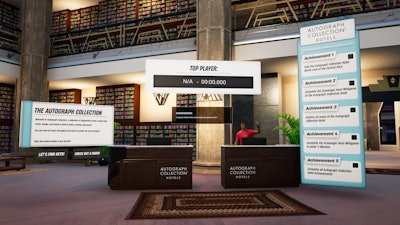 The team also made a point to design the gameplay to tap into existing Fortnite culture. "There are a couple of cheat codes hidden in there, some Easter eggs, and some fun gameplay that not only tells our story, but that is relevant to the activity that's already happening on that platform," Povinelli said. "And hopefully that shows we understand this consumer, and we can also expose them to some experiences that might be what they're looking for when they're traveling and looking for a hotel stay."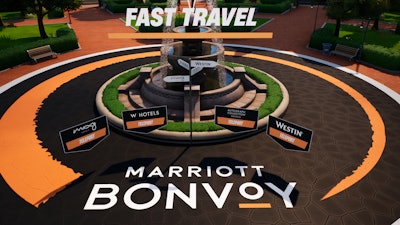 Ultimately, Povinelli explained, it's all about becoming part of the cultural conversation. "Gaming is a big opportunity," he said, adding that the team is also leaning into some to-be-announced music partnerships. "It's about finding those touchpoints of where youth culture is, and thinking, 'How do we naturally integrate where they already are versus trying to force the conversation? And we hope this does exactly that."
So, what's next? Povinelli noted that Marriott Bonvoy Land has the ability to be updated and evolved, but for now, the team is just eager to see the reaction. "We really want to get in there and see how gamers are responding," he said. "We expect to get feedback as to what was interesting and what wasn't. We'll really look at the customer voice to help us decide where to go next."