Chicago Planner Navigates Washington's Maze of Permits to Stage Giveaway Event in Union Station
March 12, 2009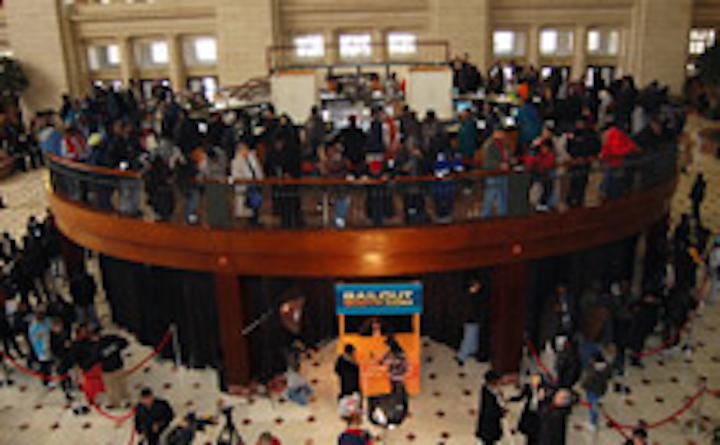 Staging a guerrilla marketing stunt for a company looking to give away money may sound like an enviable task, but when the location is downtown Washington and the lead time is one week, an out-of-town planner can face unexpected hurdles. Still, on February 25, more than 500 people lined up at Center Café at Union Station for an event sponsored by the online classified business BailoutBooth.com and produced by Chicago-based WPI Event Partners. The goal: play up what's happening in the economy, drive viewers to the Web site, and garner maximum press coverage—while giving away $50,000.
The promotion was conceived by the owner of the Web site, an entrepreneur who keeps a secret identity. His BailoutBooth.com site is a combination of YouTube and eBay: Users create a video of items they're putting up sale, as a way to get money quickly, without waiting for the effects of the federal bailout. At Bailout Bill events, people get $50 or more after they tell the entrepreneur why they need the money.
Earlier in the month, BailoutBooth staged a similar event in a vacant storefront in New York's Times Square. Over two days, the company gave away $100,000 in $50 bills. In Washington, Bailout executives wanted a high-visibility, high foot traffic location as close as possible to an iconic building, such as the Bureau of Printing and Engraving or the White House. WPI executive producer Jessica Weinberg made dozens of phone calls before she found a venue that would accept the proposal.  
"Some people we contacted said that it didn't sound legit, but there were also security obstacles and permit issues," said Weinberg. "In Chicago, we can push permitting along more quickly. From a market perspective, we found Washington a little more unpredictable."
Her first choice was a sidewalk area near the National Portrait Gallery but, according to Weinberg, the museum's special events office was not interested. Furthermore, for city space, a vending and special events permit from the D.C. Department of Consumer & Regulatory Affairs is required 30 days prior to the event.  
Sites near the White House need the approval of the Department of Homeland Security, "where we were transferred to numerous divisions within the organization, and by the time the correct contact called us back, the event had already taken place," said Weinberg. Public space further requires the approval of the D.C. Department of Transportation, with a completed application filed within 10 working days of the event and a complete site plan depicting the location and dimensions of proposed structures, as well as the location of properties within 500 feet of the site. A National Park Service permit states that the proposed activity "not impair park values and resources and be consistent with Title 36 of the Code of Federal Regulations." Weinberg could not comply under the time constraints.  
When Weinberg turned to private spaces, she found that owners of empty retail spaces in D.C.'s Chinatown would not turn on the heat for a short-term lease. Some venues never returned her messages. Calls to restaurants led to Union Station's Center Café, in the middle of the Main Hall. "We established a private space within a public venue. The key was to stay within the lease lines of Center Café," said Weinberg. "As long as press, attendees, activities, etc. were within the lease lines of Center Café, we were allowed to do it."
The 12-hour lease was signed with three days to spare, and BailoutBooth and WPI are now looking for spaces in Boston and Philadelphia.
Featured Venues/Suppliers: