Report: 7 Takeaways on How Different Generations Feel About B-to-B Exhibitions
A 2018 CEIR study reveals that baby boomers, Gen Xers, and millennials all highly value B-to-B exhibitions—but what they value differs by generation.
November 19, 2018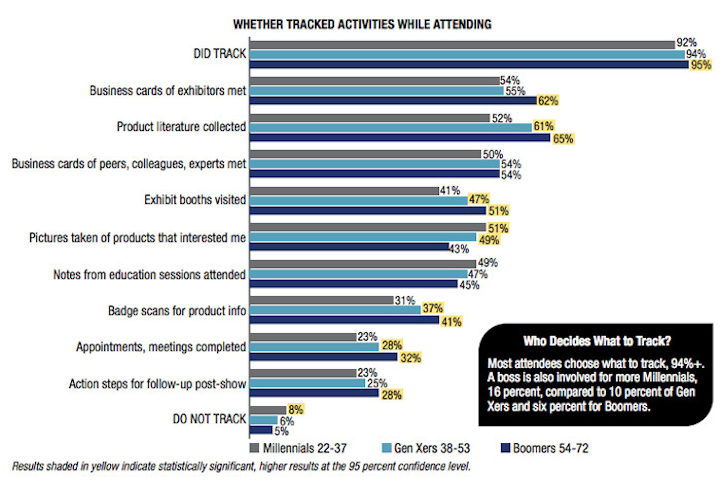 Graphic: Courtesy of CEIR
The three largest generations in today's U.S. workforce are baby boomers (ages 54 to 72), Gen Xers (ages 38 to 53), and millennials (ages 22 to 37), with 41 million, 53 million, and 56 million of them, respectively, in 2017, according to Pew Research Foundation. In Canada, those ages 25 to 54 represent the largest portion of the workforce. It's uncertain whether the millennial workforce will ever reach the U.S. boomer peak of 66 million, which means B-to-B exhibition organizers may be competing to attract a smaller pool of attendees in the future.
Based on these statistics, the Center for Exhibition Industry Research (CEIR) released the fifth report in its 2018 Attendee ROI Playbook series, titled "Generational Differences and Similarities." CEIR found that B-to-B exhibitions are important to boomers, Gen Xers, and millennials—but what they find important to them and how they experience these events differs by age range.
"Segmenting target audiences by age or generation is a worthwhile strategic planning effort. This report provides readers with industry benchmarks that organizers and exhibitors can use to compare their offerings and decide where to make adjustments to align with what their target attendees value most," said CEIR C.E.O. Cathy Breden. "Engaging in these efforts benefits all stakeholders—organizers, exhibitors and attendees."
A random sampling of 21 B-to-B exhibition organizers in the U.S. and Canada generated the sample for the survey, with 3,719 attendees participating. Here's a look at some of the important takeaways from CEIR's latest report, which is sponsored by the P.C.M.A. Education Foundation and I.A.E.E.
1. A majority of attendees are actively involved in deciding to attend a B-to-B exhibition—but the process for getting approval differs by age. The survey found that boomers were the highest percentage of attendees (29 percent) who decide to attend expos on their own, with their own money. A majority of Gen Xers (30 percent) said they recommended attending the event to their boss, who approved the request and gave them the budget to attend. And millennials had the highest percentage (29 percent) of those who attend the events at their boss's recommendation. 
2. Regardless of age, shopping and learning objectives are important to most attendees. When attending an expo, the top four shopping objectives are the same, regardless of generation: seeing and experiencing new tech, seeing and experiencing new product intros, interacting with new products, and being able to talk to experts. For learning patterns, all generations value keeping up with industry trends and professional networking, but learning objectives that help an attendee grow professionally, personally, and betters one's job performance is more important to millennials and Gen Xers. 
3. The purpose of pre-planning varies by generation. Regardless of age, pre-planning is done by most attendees—87 percent of millennials, 91 percent of Gen Xers, and 90 percent of boomers. More millennials and Gen Xers pre-plan for educational purposes, and boomers pre-plan the most for exhibit booths to visit and special activities and invites from exhibitors. The most striking difference was that 24 percent of millennials pre-plan to meet with other attendees, compared to 32 percent of Gen Xers and 35 percent of boomers. 
4. Most attendees engage in tracking activities—but boomers are the most active. Boomers have a higher rate of tracking activity for most activities, such as collecting business cards of exhibitors, visiting booths, completing appointments and meetings, and taking action for post-show follow-ups. One notable difference is that more millennials and Gen Xers use their smartphones to take photos of products they're interested in. 
5. A majority of boomers and Gen Xers have an informal process to determine whether attending the event was worth it—but millennials do not. Forty-five percent of millennials indicated they have no informal process, or no process at all, for determining an event's value. Fifty-one percent of millennials indicated that a boss was involved in evaluating the outcome of attending, compared to 40 percent of Gen Xers and 35 percent of boomers.
6. Millennials value B-to-B exhibitions the most as a primary source for business information and purchasing decisions. While B-to-B exhibitions are the top ranked information source for all generations, the generation with the highest percentage (66 percent) was millennials. Communications with vendors as a source was ranked second for Gen Xers and boomers, while communications with peer networks was ranked second for millennials. 
7. Thirty-five percent of millennials plan to increase the number of expos they attend in the next two years. Millennials reported the highest percentage of those planning to attend more expos in the next two years, while a majority of Gen Xers and boomers plan to maintain the same level of attendance. For each generation, very few attendees plan to attend fewer events.