Speed Up Your Clean Up: 8 Tips for Fast, Efficient Event Break Downs
Removing furniture, fabricated installations, and other pieces after an event or meeting is finished can be tiring—and messy—business. Here's what some industry pros suggest for quicker, more effective ways to clean up.
February 4, 2015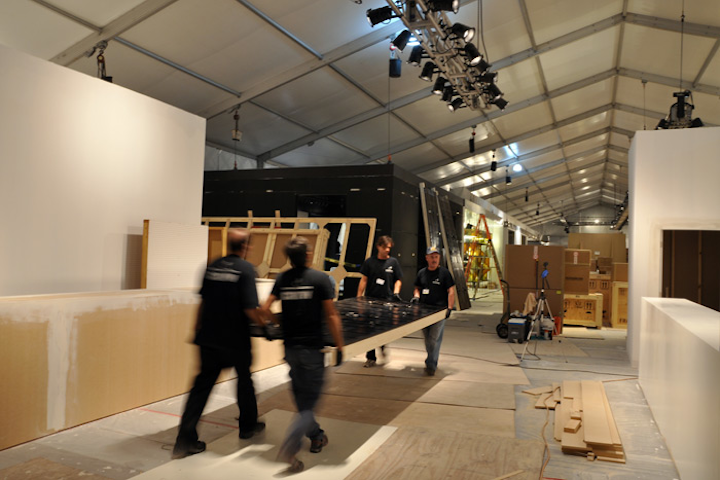 Photo: Bombshell Productions
When it comes to production, event and meeting professionals are only as strong as their weakest link. From planning ahead and proper delegation to simply providing breaks and meals, here's some advice from the professionals on how to efficiently maximize strike time.
1. Start clean, finish clean
As the saying goes, cleanliness is next to godliness. "It's really common in the craziness of event installations, especially if they are very large, to just dump the empty boxes and crates in whatever sliver of space you can find. But going the extra mile to organize these spaces before your event starts shaves hours off of the strike after the event," says David Stark of David Stark Design and Production. "If the team walks into a clean storage space where they can find all of the tools and packing materials that are necessary to break down the event, not only will it reduce the time spent cleaning up and reloading the truck, but it ensures that the items that come back to the studio have a better chance of being packed with care to avoid breakage."
The key is to have an appropriate order of operation set up in a logistical way. "Stagger the call time for the load out," says Meredith Lasher of Bombshell Productions. "We ensure for the load out that there is at least one person there that was part of the load in; that carryover staffer should have rested during the day."
Oftentimes, the single biggest variable is the host and how late the party goes and whether it's extended. "This is not a bad problem to have, but remember that strike time is premium time for whomever is working," says Bronson van Wyck of Van Wyck & Van Wyck, whose second crew lead will typically come three to four hours before the event starts before the full strike crew arrives to transition in. "The hand-off of information is so important," says van Wyck. "A strike is never the exact reverse order from how it's built."
2. Designate a leader
Going into an event, every member of the support staff should know his or her role and who is in charge. "There is a tendency to leave the strike to the more junior people, but there are often big decisions that need to be made. ... You have to dictate; one person has to be responsible for the production timeline," says van Wyck. "You can have several cooks, but you can only have one chef."
"Assign positions, list what needs to happen in what order, and have lots of labor ready to go," says Monica Varner of Big City Events. "Prepack as you go if you can, and make sure third-party vendors are given deadlines and not left to their own timeline."
3. Wheels are your friend
"Invest in a fleet of metro shelves on wheels," Stark says. "We load items directly onto the shelves in the studio, roll them onto our trucks, they become dollies on site and roll back onto the truck after the event." Indeed, wheeled transport systems offer efficiency, strength, and the ability to play multiple roles within the laborious task breaking down an event.
Recently, for a Chloé event at the Bal Harbour Shops in Miami, Lasher's team kept to the event's hard deadline to vacate the store by first placing everything into wheeled hampers and then subsequently packing in the truck. "I advocate for placing scenery on wheels: roll it into place, lock it down, shroud the wheels, and then unlock and load it out," Lasher says. "To me, wheels will always trump forklift. After all, anyone can push."
4. Remain on site whenever possible
As a general rule, reducing external factors and unnecessary transport equates to a more efficient strike. Carine Bauvey, whose MA3 Agency was enlisted by Audemars Piguet to produce the site for the watchmaker's "Strandbeest" installation during Art Basel Miami Beach, found that by building on site, it was much easier to remove the components because the guess work was eliminated. "We lifted the boards right out, stacked them up, and off we went," she says. "By maintaining a constant flow, you also minimize transport vehicle idle time."
While planners tend to want to maximize front-of-house room for guests and V.I.P.s, it's important to allocate room for on-site storage. "Venues with loading docks and/or back-of-house space for storage are the best," van Wyck says. "Nine times out of 10, it's cheaper to rent more space on the same level or floor as the event rather than having to take rolling carts in and out."
"Having as many access points as possible for workers to enter eliminates rubbernecking as well," adds Bauvey.
5. Think long term
If there is a structure that will be traveling, planners and producers should consider how to approach the initial build and post-event wrap. Lasher, who produced architect Peter Marino's exhibition booth at Design Miami, created an Ikea-style, self-contained unit that could easily be taken apart and reassembled at its next destination. "Whoever is handling it next needs to know easily how to reconstruct it," she says. "Some pieces we design so that they nest together and cushion each other."
6. Know the surroundings
When it comes to the environment, professionals know what they can manipulate and what they simply have no control over. For Craig Donahue of the Donahue Group, which has produced the majority of the City of Beverly Hills's high-profile outdoor events, it comes down to man power and day of week. "The city prefers events on Rodeo Drive take place on Sundays to not only allow for the most efficient load in, but also maximize strike time," he says. "Less foot traffic and car traffic equals faster breakdown."
Being flexible and aware of parameters is also key. "Know what you have at your disposal: are you using a generator or pulling power from street poles?" Donahue says.
For a Mercedes-Benz event at the Bellagio Las Vegas, van Wyck was afforded the luxury of access to the venue beforehand. "We rehearsed the strike and let the strike crew practice for two hours in the same venue—which was, much to our advantage, free in the days prior to the event," he says. "Something that might have been an eight- to 12-hour strike ended up taking two hours."
7. There's always an alternative
Being detail-oriented can go a long way to maximizing the strike. "Perfect blueprints to the inch, map out fire lanes, and know the local zoning and building codes in advance," advises Donahue. For last spring's Chanel Tribeca Film Festival dinner at Balthazar, van Wyck's team built a massive floral step-and-repeat, but only had until 10 p.m. that evening to complete the strike. "Rather than push back at the city, we pulled curb lane permits for a side street and had the trucks wait there," he says. "Fortunately, the windows to Balthazar were draped anyway so guests were never disturbed by our strike."
8. Remember crews are human, too
It's easy to forget that support staff can get tired. Someone working 24 hours without sleep is not someone to have on the strike crew. "They need downtime; get a hotel room nearby so they can rest but be on site almost immediately should something urgent arise," Donahue says.
"If you don't have fresh people, they get tired and they break things—which affects inventory," adds van Wyck. "The strike is the graveyard shift and things can get out of hand."
Just as guests attending the event are fed and kept hydrated, so, too, should workers. "Provide coffee, drinks, and a meal or snacks for the break down team," Stark says. "Taking care of your folks goes a long way in teambuilding and providing the energy to make this late-night mission happen not only efficiently but with smiles."
Featured Venues/Suppliers: