Born in the U.S.A.
Billed as the biggest launch in J.C. Penney history, the retailer's event for its new line from Polo Ralph Lauren filled Skylight with iconic American props and imagery.
February 25, 2008
With its all-American aesthetic, the Tuesday-evening launch of J.C. Penney's new American Living line—designed by a division of the Polo Ralph Lauren Corporation—looked a lot more like a party from the iconic fashion company than the mid-range department store. Lauded as the largest launch in the retailer's 105-year history, the crowded affair at
Skylight
drew a diverse mix of guests, from Nick Lachey, NFL quarterback Tim Hasselbeck, and
All My Children
actor Cameron Mathison to
Project Runway
contestants Christian Siriano, Chris March, and Victorya Hong. Hosted by J.C. Penney chairman and C.E.O. Myron E. Ullman III, the night also included a performance by country music group Rascal Flatts.
Under direction from J.C. Penney's director of brand marketing and publicity, Merianne Roth (with some help from PR agencies
M Booth & Associates
and
Loving & Company
),
David Stark Design and Production
produced the event with an eye toward complementing the logo (an eagle with the American flag) as well as the mix of merchandise. With props (some from the ad campaign shot by Bruce Weber, others destined for retail displays), vignettes, and plenty of product, Stark and his team created a cohesive design that was, as Stark put it, "a little bit country, a little bit rock 'n' roll.""It was a massive undertaking to communicate the clarity of this brand and what it should be," Roth said about the launch. "And it's great when everything comes together and communicates your brand.... It's the hallmark of a strong brand when you can look at it as a [whole] collection in the context of an event like this."
Filling the northern end of the event space, a tiered platform held several mini environments for the range of looks in the collection. Across four levels, Stark placed beach umbrellas, standing lanterns, luggage, a lifeguard stand, a white picket fence, and arrangements of hydrangeas, daisies, and delphiniums around clothed dress forms and other accessories. Beyond this, picnic tables painted red with red-and-white-checkered runners sat beneath a canopy of candlelight. Rigged to the truss overhead, the candles created a warm glow, intended to reference fireflies and stars, an idea enhanced by
Bentley Meeker
's dappled projections.
The vignette showing off the bedding collection included a wall covered in a patchwork of linens and pillows next to a pickup truck—the type you might see on a farm—holding a makeshift bed. The main bar also used some subtle references to iconic American style, with the front covered in wainscoting. Not so indirect was the hallway wall, which was pinned with dozens of American flags, ranging in size from eight feet long by five feet tall to six-inch-long versions.
Callahan Catering
served hors d'oeuvres including
smoked salmon pigs with wasabi caviar blankets
and mini cheeseburgers with fries in paper cones decorated with the American flag. Even the drinks had a down-home feel: The signature cocktail was a spiked watermelon lemonade served in a hollowed-out lemon with old-fashioned lemon candy straws as stirrers. Waiters dressed in khakis and polo shirts also passed desserts, which included cotton-candy lollipops.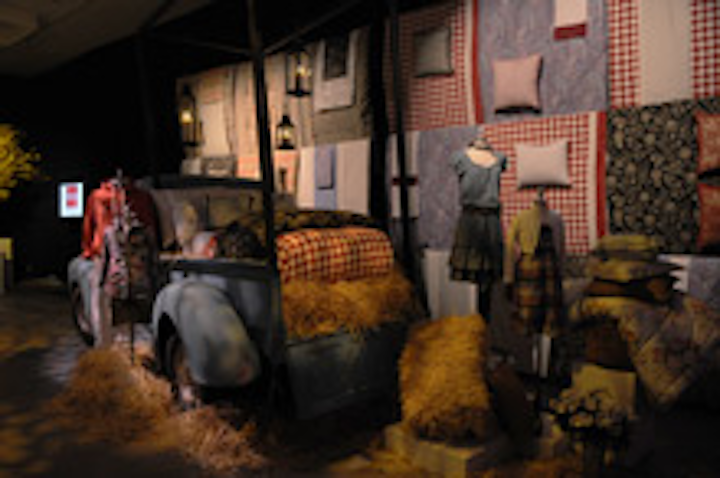 Photo: Getty Images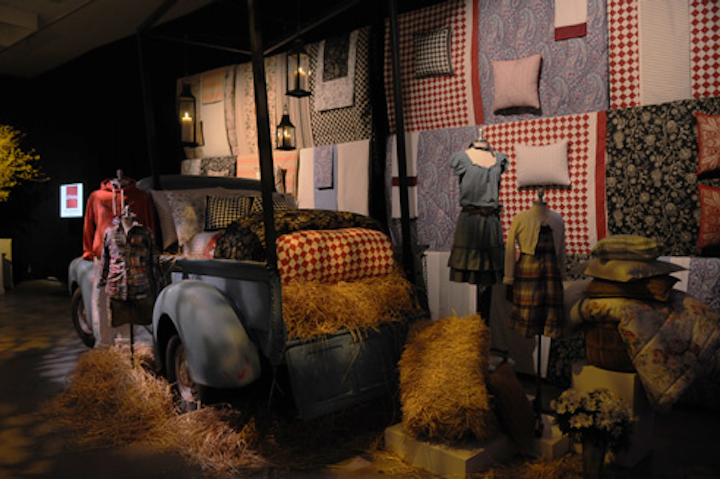 Photo: Getty Images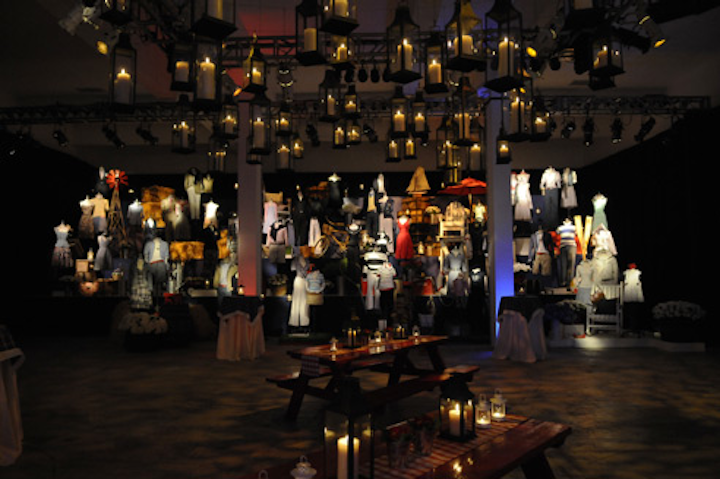 Photo: Getty Images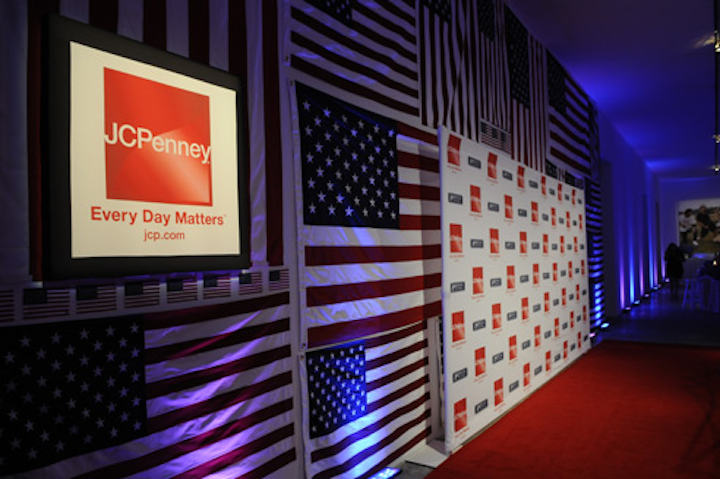 Photo: Getty Images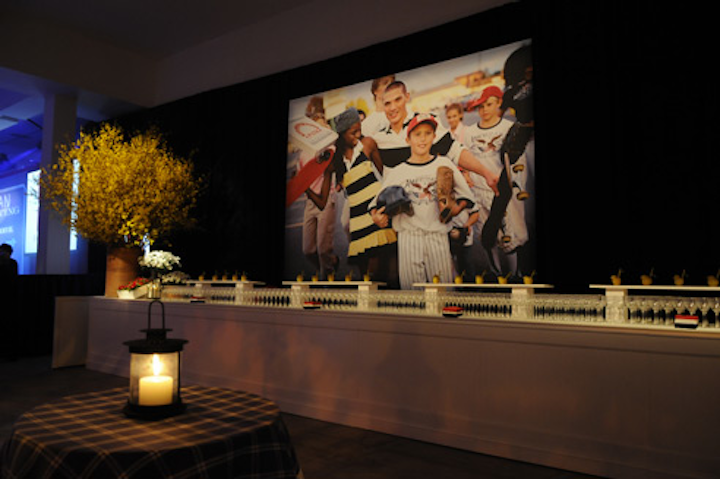 Photo: Getty Images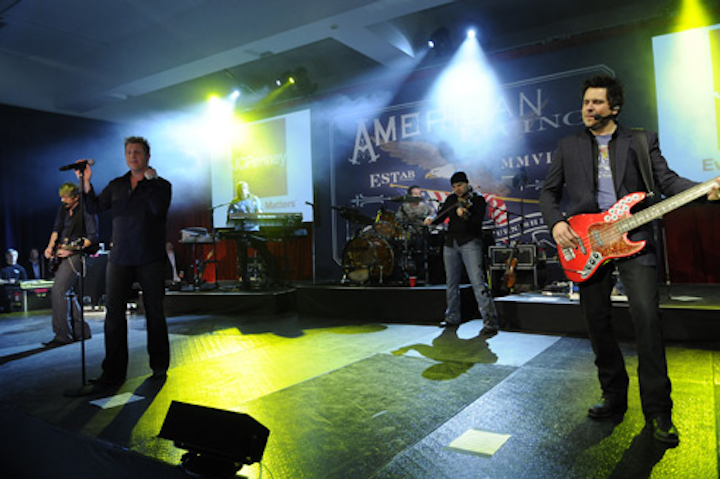 Photo: Getty Images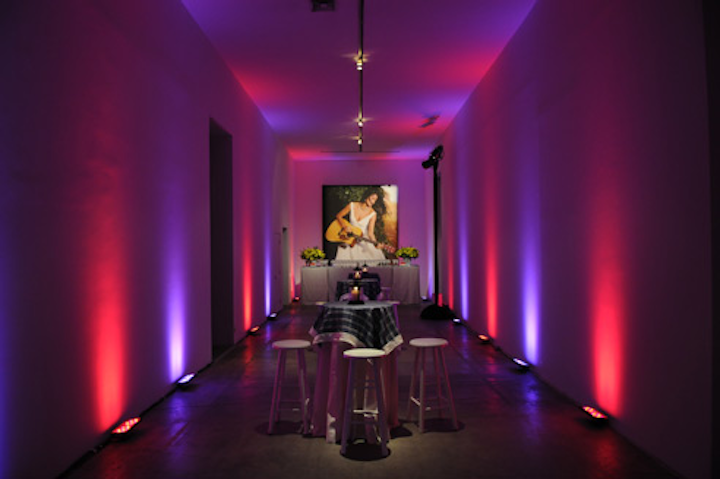 Photo: Getty Images
Featured Venues/Suppliers: