What Planners Want to Rent Now
Tech-friendly items join modern decor pieces as the most popular rentals requested by today's event planners.
April 9, 2014
Modern is the word of the day when talking about what planners rent most. Whether referring to futuristic furnishings or items designed to work in today's digital age, event planners want rentals that will give event guests the ultimate in comfort, class, and connectivity.
Here's what rental companies say are the most popular items requested by event planners.
"The photo booth has become a technical must-have for events, both social and corporate," says Patricia Tumminello, sales manager at Something Different Party Rental. "Our photo booth captures memories, allowing guests to have immediate social media exposure." The Something Different Photo Booth provides custom photo strips or postcards to event guests, emails photos to guests, and provides direct uploads to social media sites. The New York, New Jersey, Connecticut, and Philadelphia rental price range is from $1,500 to $2,500 without an attendant (pricing is contingent upon other rental factors). Delivery, tax, and attendant are extra.
"Lucite has been a growing trend for the past few years and it continues to be our most popular event rental item," Tumminello adds. "The versatility in design implementation is endless, and the way they pick up the colors of the decor is breathtaking." Something Different's Lucite chairs include the Clear Reception Chair, Mirage Chair, and Infinity Chair. Prices range from $8 to $25. The Lucite collection is available in New York, New Jersey, Pennsylvania and Connecticut.
"The U-Sofa is probably one of our most popular items because of how it can easily be matched with any event theme or color schemes," says Daniel Gonzalez, events representative at Bubble. It can be combined many different ways, with the armless section combined with a right or left arm section, or both. It can seat five at a small gathering or as many as 40 when combined endlessly. A color insert can be added as well. The right/left arm and armless sections are $200 each, and the complete U-Sofa is $260.
"The very popular and timeless white color makes the versatile White Tufted Banquette great for lounge seating, room decor, dining seating, and much more," says Mary Gall, director of sales at Suite 206. Made of white faux leather, the eight-foot-long banquette seats four. Available nationwide, it rents for $400.
"In spite of the changing times, I have to say that one of our most popular items is still our giant pop-out cake," says Richard Gagnon of Eclectic/Encore Properties Inc. "It does not fail: we have two cakes—one pink and one blue—and they are still being used over and over. Talk about low tech!" The two-tier birthday cake measures 40 inches in diameter and 45 inches tall and comes on a rolling platform with a paper breakthrough top for $450.
"The beauty of it by itself makes the Sonoma Bar Chrome the most requested item this spring," says Henrique Saldanha, director at Chrome Event Furnishing. The 6- by 2- by 42-foot Sonoma Bar is made out of reclaimed wood and features a chrome toe kick and back shelf in black. Available nationwide, it rents for $420.
At Superior Events Group, the interactive, digital Air Graffiti wall is one of the most popular rentals, says Lee Cohen, manager of Superior Events Group & Luxe Modern Rentals. Guests take pictures in front of the green screen, then alter and decorate their images with digital spray cans, creating realistic-looking graffiti. Available in Canada, prices start at $1650 Cdn.
At Luxe Modern Rentals, illuminated bars and towers that can be customized with graphics or logos are very popular, Cohen says. The company prints, applies, and removes the branding sent by the client. Available in Canada, prices start at $150 Cdn.
"The endless combinations of the SuperLever line continue with the recent trend of event producers and designers integrating projection and video mapping into their sets," says Chloe Rich, marketing manager at Atomic. With a Lego block mentality, designers can build backdrops, curved walls, columns, and chandeliers, either ground supported or rigged to pipe and base or truss. All panels in the line mix and match, snapping together with a user-friendly connector. Available worldwide, prices start at $25 per panel.
At Cort Event Furnishings, items that help guests use or charge their electronic devices are popular. The company's Power Banquette System allows planners to provide custom seating with a techie twist. The white vinyl round banquette features AC and USB plugs built into the center cone, allowing guests to charge as many as five devices at once. The company's portable, adjustable-height Mobile Tablet Stands are also popular rentals for presentations at events, meetings, and conferences. Tablet stands, available in black and white, can be rented with a charging shelf and support both AC and USB plugs and charge as many as five devices at once. Both are available nationwide, and pricing is available upon request.
Items that help attendees connect digitally also are popular rentals at Fresh Wata. The Connect 4 SmartDesk can be used for engagement and entertainment and is practical for point of sale, product demos, and listening stations. "Up to four people can take a seat and take immediate action—become immersed with a piece designed to create an unforgettable experience," says Melissa Dot, creative and social catalyst. The SmartDesk can be customized with color, branding, and device integration.
Also popular is Fresh Wata's sleek white LCD Kiosk, which houses a 37- to 46-inch monitor and has a customizable exterior. "With social media feeds, digital photo booths, and video content growing in popularity, the kiosk is quite impactful in exhibit space and during events," Dot says.
Another popular item is Fresh Wata's compact, glowing Charging Station. Guests at events can easily spot a place to charge their devices at the LED-lit tower, which charges any phone and has USB ports to plug in extra devices. Personalized 9- by 9-inch covers are available to hide the cords.
All are available for rent nationwide from Fresh Wata. Pricing is available upon request.
Although not a digital item, Dot adds that the eight-foot-long Galaxy Bar with 3-D-texture frontage is popular at Fresh Wata, as well. "Tech companies take a liking to this piece for product launches because of its modern and space-age impression," Dot says. The bar's customizable top is real estate for branding, product displays, or guest registration. Available for rent nationwide, pricing is available upon request.
"We've certainly seen a change in the way our rental furniture is being used at events due to social media and technology trends," says Elle Carr, senior vice president of marketing and special events at Taylor Creative Inc. "Companies are using our lounge furniture to create cool and functional gaming and social media lounges at events, and there is a growing need for multiple computer stations for check-ins that still keep in line with the overall design concept."
"Our sleek white faux leather Hudson and Balance sofa and chair collections both have a low-profile and a roomy seat that works well for social interaction and flow," Carr says. The Hudson collection sofas ($425 each), chairs ($225 each), and benches ($150 each), are available along the mid-Atlantic region and the West Coast. The Balance collection sofas ($325 each), chairs ($200 each), and benches ($175 each), are available along the mid-Atlantic region. Trucking is additional for both collections.
"Trade show clients are looking to keep attendees on the show floor as long as possible and as such are integrating cyber cafés into their event design," Carr adds. "Our Tate Highboys work well as a computer station and can be branded for added visibility." The 40-inch-tall and 24-inch-square aluminum-frame Tate Highboys from Taylor Creative have milk plexi inserts that can be lit with wireless LEDs or customized with logos or graphics by outside vendors and are also available in black, mirror, and gold plexi. Prices are $150 each, and they are available along the mid-Atlantic region and the West Coast. Trucking is additional.
"The Zak Collection, created with different suites, is perfectly crafted to coordinate with the many unique event spaces in New York City, making this a versatile go-to event furniture collection," says Carly Roncaglio-Marotta, event manager at Zak Events. The popular Mirror Suite is sleek and modern and includes dining tables, bars, sofas, chairs, cocktail tables, and lounge tables with beveled mirror panels and tiles designed to sparkle in candlelight and reflect floral arrangements. Available exclusively through Classic Party Rental New York, the Mirror Collection's Deco Bar is $695.
"Our most inquired about lounge vignette is a unique option for clients with modern taste," says Tiffany Johnson, production manager at Yeah Rentals. The vignettes typically include a sofa or daybed, a medium or large rug, a coffee table, two side tables, two side chairs, and a pouf or stool. Available throughout California and to neighboring states, the items start at $700 a day, plus tax and delivery.
"One of our most popular items is our Ella Table, which people always love," says Kaitlyn Cole, production assistant at Ronen Rental. "Lately, a lot of clients have been renting and using it as a display piece." The 24- by 66- by 42-inch table has a steel powder-coated frame in white or black with a white acrylic or oak top. Available to rent anywhere in Florida, prices for the piece start at $150.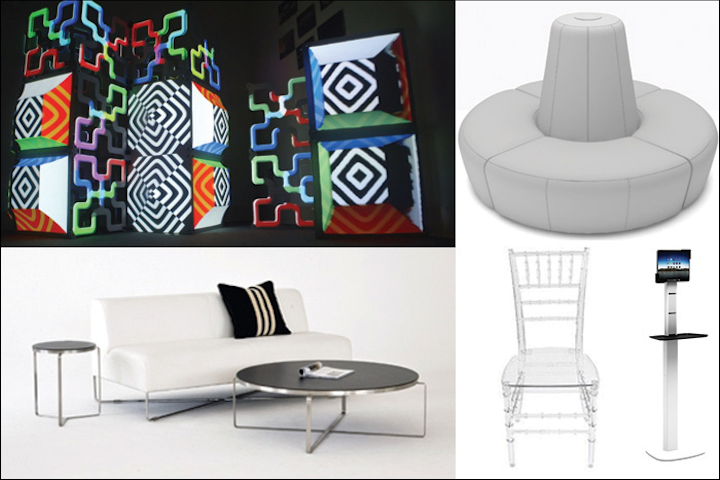 Photos (clockwise from top left): Courtesy of Atomic Design, Cort, Something Different, & Taylor Creative
Featured Venues/Suppliers: