Shake Up Your Next Gala With a Progressive Meal
June 26, 2018
Over time, galas have become synonymous with rubber chicken dinners, never-ending grip-and-grin moments, and glazed-over eyes. So it's time to take the traditional gala show flow and shuffle things up. What's one way to do that? Progressive dinners.




Progressive dinners are defined as a "dinner party in which each course is eaten at the residence of a different participant." Imagine a quaint cul-de-sac of thatched-roof houses in rural England. Guests sit down at the first house and are served a seasonal soup paired with the perfect wine. Once the last spoon is set down, guests are surprised with a clue. Upon solving the clue, they know which house to visit for their next course. Every house provides one course until all houses on the street have been christened by this charming meal. Wouldn't that be an evening to remember?




ILEA Toronto took this very idea and applied it to its annual gala held at Ricarda's Atrium in downtown Toronto. With more than 8,000 square feet of space, it took nearly eight months to fill the room. In the end, ILEA Toronto designed an evening that was filled with surprise and delight.




If you're considering making this change, you want to ensure you have enough room for two sit-down meal services when sourcing your venue. Because surprise is such an essential part of the event, you don't want guests to know what is next. That means the venue needs to offer multiple rooms or you need to create well-disguised barriers between the two spaces. The important part is that guests don't know that they will be moving.




Another thing to consider when planning a progressive meal is the table settings. If you are working with sponsors, you need to accept the fact that you will be requesting twice the amount of rentals to accommodate the different setups. To negotiate this, ILEA Toronto decided to cut its attendance in half. This made it easier for sponsors to commit because the sponsorship ask never changed. Five-hundred seats equals 500 seats, even if there are only 250 guests in attendance. This dramatic modification allowed ILEA Toronto to sell out the event in advance and created a sense of FOMO to help next year's ticket sales.




And finally, the most important part is to plan your reveal(s). Whether you do this through clever scenic construction or a dramatic Kabuki drop, the choice is yours. ILEA Toronto decided to use entertainment acts to reveal its multiple locations. Mirrors were placed between the first and second locations, and ballerinas used them as props to uncover the main course. Flamenco dancers invited guests upstairs to enjoy dessert from above. A pop-up ice act guided guests out the door at the end of the evening. Combining these elements allowed the ILEA Toronto Gala to shine, surprising guests every step of the way.




So shake it up. Say no to rubber chicken. Turn the grip-and-grin into an interactive moment. Replace those glazed-over eyes with eyes wide with wonder. Consider redesigning your gala today.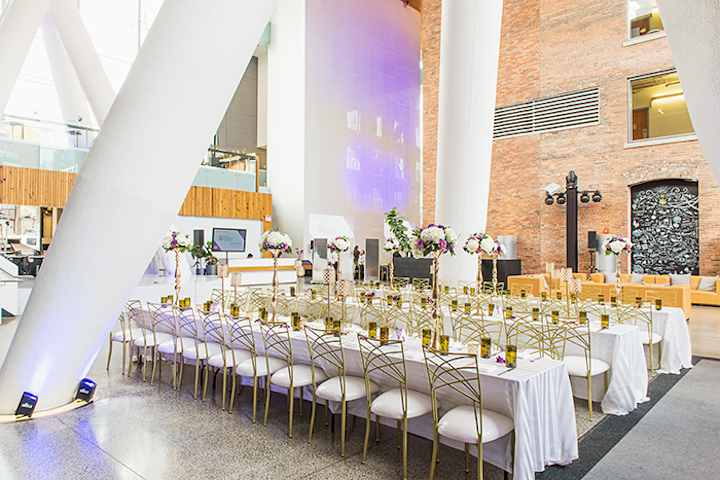 Photo: George Matthew Photography
Featured Venues/Suppliers: