This Week in Los Angeles: Volkwagen's Drive-In Movie, 'Teen Vogue's' Preferred-Gender Buttons, Kevin Hart Out as Oscars Host
West Coast bureau chief Claire Hoffman recaps the week's biggest event news.
December 7, 2018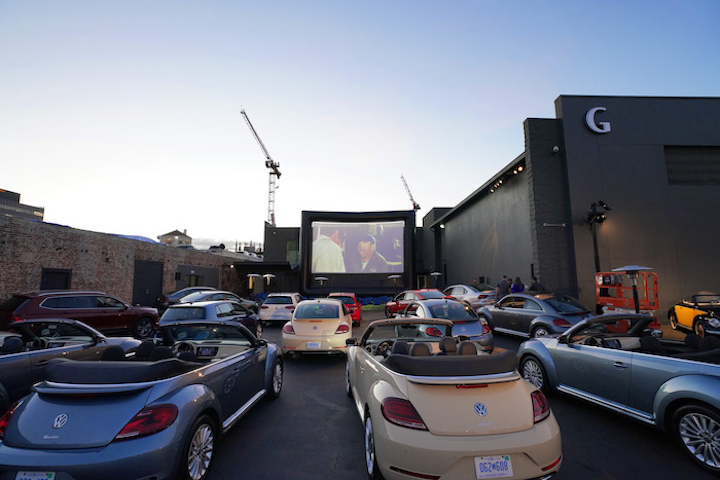 Photo: Jennifer Graylock/Getty Images for Volkswagen AG
Welcome to BizBash's new Los Angeles-based column, where West Coast bureau chief Claire Hoffman recaps the week's biggest local news. Got a tip? Get in touch!
In Case You Missed It
We took a look inside Freeform's truly unconventional dinner party, which took place in a moving truck underneath the Hollywood sign. We also checked out local artist Alexa Meade's immersive new holiday-theme exhibit and learned culinary consultant Caryl's Chinn's favorite venues in Los Angeles and around the world. 
In the News
Killing Eve's Sandra Oh and Brooklyn Nine-Nine's Andy Samberg will co-host the 76th annual Golden Globes on January 6. The Hollywood Reporter: "Time was getting tight for the deal, which just closed this week. Talks with other talent in recent months went nowhere. Not helping the search was the fact that NBC's new rights deal with the HFPA took longer than expected, an eight-year pact not formally coming together until September. There was even a point where many suggested that the 2019 Golden Globes have no host at all, as was the case in all but one telecast prior to 2010." https://bit.ly/2QbK7cN
Los Angeles city councilmembers are hoping to phase out all single-use plastic straws by the year 2021. LAist: "Councilmembers voted unanimously to instruct the Bureau of Sanitation to report back on how to achieve that goal—and whether it can be done without impacting people who have disabilities and need plastic straws to eat or drink." https://bit.ly/2QA4a48
The Academy Museum of Motion Pictures is now slated to open in late 2019 with a retrospective on Japanese director Hayao Miyazaki. Variety: "The museum at the corner of Wilshire Boulevard and Fairfax Avenue has been in development for seven years, and under construction since early 2016. The Academy has raised $281 million toward a goal of $388 million." https://bit.ly/2KUBWLX
Moves & Milestones
Spike Lee will receive the Career Achievement Award at the 30th annual Palm Springs International Film Festival's Film Awards Gala. The awards take place January 3 at the Palm Springs Convention Center.
Venue Buzz
H.wood Group's new country club-inspired sports lounge, 40 Love, is now open. The space is decorated with dark wood, lush greenery, and white brick, and it offers large booths, more than 25 flat-screen TVs, and a sun-filled patio. A semiprivate room has a 12-seat table; the entire venue holds 125 for buyouts.
Overheard
"I have made the choice to step down from hosting this year's Oscars ... this is because I do not want to be a distraction on a night that should be celebrated by so many amazing talented artists. I sincerely apologize to the L.G.B.T.Q. community for my insensitive words from my past."
—Kevin Hart in a tweet last night. The comedian and actor has stepped down as host for the 91st Academy Awards after previous anti-gay comments surfaced.
On the Scene
The second West Coast edition of the Teen Vogue Summit, which was held last Saturday at 72andSunny, provided buttons for attendees to display their preferred gender pronouns.  
What's Next 
Tonight kicks off GQ's annual Men of the Year issue celebration at Neuehouse Hollywood. The event includes public, ticketed panels with the likes of Jonah Hill, Ryan Murphy, and Ezra Koenig of Vampire Weekend.
Also this weekend is the 10th annual Santa Monica Pub Crawl on Saturday, which offers food and drink specials at 30 of the city's bars and restaurants. The event, which is expected to draw more than 6,000 people dressed in holiday attire, raises money for the Westside Food Bank. Since its inception, the crawl has raised over $135,000 for more than 250,000 pounds of food.
And the Echo Park Craft Fair will take place Saturday and Sunday at Mack Sennett Studios. This latest edition of the fair will spotlight more than 25 new artists at the E.P.C.F. Connection, an outdoor area located a half-block from the venue that will feature ceramics, homewares, and family goods.
Featured Venues/Suppliers: