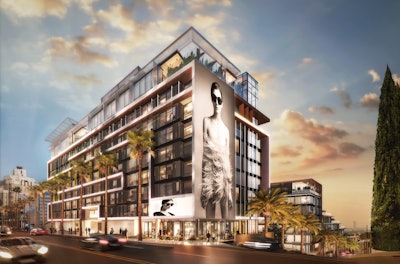 Rendering: Courtesy of Pendry West Hollywood
Looking for a new venue for your post-pandemic events? Here are the most anticipated event venues, hotels, convention centers, stadiums and museums slated to open in 2021. These new and renovated spots throughout the country can accommodate groups for private and corporate events, conferences, meetings, weddings, business dinners, team-building activities, cocktail parties and more.
A note regarding COVID-19: At BizBash, we're still committed to bringing you ideas and inspiration for when (yes, when!) events are back up and running. Some of the venues listed here may be delayed as the situation evolves, or may temporarily operate at a lower capacity.
NORTHEAST
Jacob K. Javits Convention Center
Slated to debut this spring, the $1.5 billion renovations and upgrades to New York's Jacob K. Javits Convention Center will add more than 1 million square feet of new space on Manhattan's west side, including a new 53,000-square-foot room for events, and a 1,500-person rooftop pavilion and terrace overlooking the Hudson River. A 1-acre rooftop farm with 100 solar panels is designed to grow vegetables.
Legoland New York Theme Park & Resort
Legoland New York, located 60 miles northwest of New York City in the town of Goshen, is slated to open sometime in 2021. The massive amusement park spans 150 acres—making it the largest Legoland location in the world—and has seven Lego-themed lands, 50 family-friendly attractions and a 250-room hotel. It's the third Legoland park in the United States and the ninth in the world.
Aman New York
The ultraluxe Aman New York is slated to open this spring in Manhattan's 100-year-old Crown Building, formerly the home of the Museum of Modern Art. Designed by Jean-Michel Gathy, the new hotel will feature a subterranean jazz bar, a wraparound garden terrace overlooking Central Park, and Italian and Japanese eateries. A 2,400-square-foot, three-story spa will have a 65-foot swimming pool surrounded by fire pits and day beds.
Live! Casino & Hotel Philadelphia
In February, the $700 million Live! Casino & Hotel Philadelphia will debut its new 1.5-million-square-foot development in South Philadelphia. The project includes a full-service casino with more than 2,000 slot machines and 150 table games, plus multiple dining establishments and a 12-story upscale boutique hotel with more than 200 rooms. There's also 15,000 square feet of event space, with the largest room holding as many as 1,000 guests.
Pendry Manhattan West
Pendry Hotel & Resorts' first New York City location is slated to open in July at Hudson Yards. The 164-room property will have a glass curtain-inspired facade, and it will feature nine meeting and event spaces, including a ballroom that holds 227 and 3,000 square feet of outdoor space. There's also a signature restaurant, an urban plaza garden and 250,000 square feet of retail anchored by Peloton and Whole Foods.
MGM Music Hall at Fenway Park
Currently under construction at Boston's Fenway Park is the new MGM Music Hall, with an estimated opening this fall. The indoor performing arts space, located next to the Red Sox stadium, has an estimated capacity of 5,000—which will make it one of the largest entertainment venues in the city.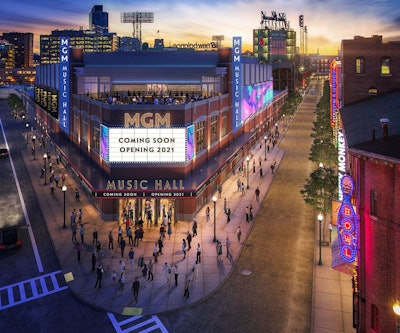 SOUTHEAST
Walt Disney Swan & Dolphin Reserve
The Walt Disney Swan & Dolphin Reserve will be the third tower in Orlando's existing Walt Disney Swan & Dolphin resorts complex when it opens this summer. The 14-story hotel has 349 guest rooms, including two presidential suites and 149 other suites designed for six to eight people. There will also be a signature restaurant and bar, a lobby lounge, a health club and a pool. On the top floor will be a dedicated event space with floor-to-ceiling windows and views of the theme parks; overall, the hotel will boast 22,000 square feet of event space.
Cambria Hotel Washington, D.C. Capitol Riverfront
Planned for a February opening is Cambria Hotel Washington, D.C. Capitol Riverfront. The 154-room property will offer 3,600 square feet for business events, conferences, weddings and other gatherings. Spaces include the Delores Mack meeting room for 50, a pre-function space that holds 80 and a rooftop terrace with sweeping views of the city that holds as many as 300. Also on-site: RowHouse restaurant and Perch SW, a rooftop bar.
W Nashville
Opening in May is the new W Nashville, a 346-room property located in the city's upscale Gulch neighborhood. In addition to two restaurants from chef Andrew Carmellini of NoHo Hospitality Group, the new property will have a 9,700-square-foot pool deck featuring luxury cabanas, a yoga area and a bar. There's also 21,000 square feet of flexible event space spread over 10 rooms, including a 6,100-square-foot great room.
Nobu Atlanta
With a phased opening beginning this summer, Atlanta's new Nobu Hotel & Restaurant is located in a mixed-use development in Phipps Plaza, alongside a 90,000-square-foot Life Time Athletic entertainment venue, a 12-story office building and multiple dining experiences. The hotel will have 150 rooms, a rooftop pool, conference space and a spa, while the restaurant, known for its Japanese cuisine from celebrity chef Nobu Matsuhisa, is expected to span 10,000 square feet.
Charlotte Convention Center
The $126.9 million expansion of the Charlotte Convention Center in North Carolina is expected to debut this summer. The revamp adds 50,000 square feet of meeting and event space, bringing the center's total to 600,000 square feet. There will be 14 new meeting spaces, including two 10,000-square-foot rooms, plus an over-street pedestrian walkway leading to the 700-room Westin Charlotte hotel.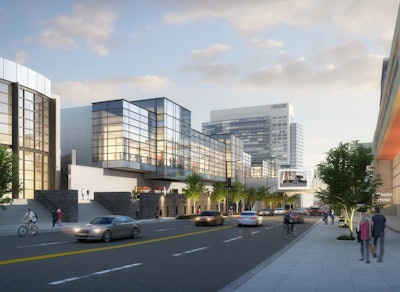 Protective Stadium
Protective Stadium, a new $174 million open-air stadium in Birmingham, Ala., is on track for a 2021 opening; the 45,000-seat venue is already slated to host the opening and closing ceremonies of the 2022 World Games. The multiuse stadium, the future home of the University of Alabama at Birmingham's football team, is part of the Birmingham-Jefferson Convention Complex, which is home to two large exhibition halls, three entertainment venues and the state's largest hotel, the 757-room Sheraton Birmingham.
The Ray
Opening this summer from the Curio Collection by Hilton, The Ray is located in the Pineapple Grove Arts District in downtown Delray Beach, Fla. The tropical, 141-room hotel has four food and beverage outposts, plus a 20,000-square-foot pool deck with lounge areas and cabanas; the deck can be booked for as many as 500 guests. There's also a 6,000-square-foot courtyard with lush greenery, plus a unique private event space: an elevated, glass-enclosed cube that will accommodate up to 300.
WEST
Virgin Hotels Las Vegas
While its scheduled January opening was recently delayed due to COVID-19, the Virgin Hotels chain still plans to debut its highly anticipated new Las Vegas location this year. In addition to more than 1,500 chambers and suites designed by Studio Collective, the property will include three towers, a 60,000-square-foot Mohegan Sun Casino, a 5-acre pool area and event lawn, a 4,500-square-foot theater, and 12 food and beverage options.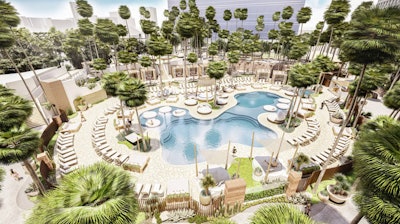 Pendry West Hollywood
Slated to open in March is the Pendry West Hollywood, a 149-room property located on L.A.'s iconic Sunset Strip. The hotel will feature eateries from celebrity chef Wolfgang Puck, plus a rooftop pool and bar, a 25-seat screening room, a multipurpose entertainment venue that holds 120 and more. Also on-site? A 2,840-square-foot bowling alley and a ballroom that holds 180 people.
Resorts World Las Vegas
On track for a summer opening, Resorts World Las Vegas is a new $4.3-billion, 3,500-room resort on the Strip. The integrated property will feature three premier Hilton brands—Las Vegas Hilton, Conrad Las Vegas and Crockfords Las Vegas—making it Hilton's largest multibrand deal in history. Highlights will include a 5,000-seat theater, a 100,000-square-foot event center, and a variety of nightlife and entertainment spaces from Zouk Group.
Academy Museum
After a series of COVID-19-related delays, Los Angeles's highly anticipated Academy Museum will now open in September. Dedicated to the art and science of movies, the six-story property—located in the former Saban Building on Wilshire Boulevard—will feature exhibition spaces, the 288-seat Ted Mann Theater, and several studios and event spaces. An eye-catching spherical venue, connected via glass bridges, will boast a 1,000-seat theater and a rooftop terrace with views of the Hollywood Hills.
The Ritz-Carlton Paradise Valley
Opening in late 2021 just outside Phoenix is the 20-acre The Ritz-Carlton Paradise Valley. The 215-room hotel, which offers views of Camelback Mountain, features 20,000 square feet of event space plus a 400-foot-long pool (billed as one of the longest in the country). Rooms include luxury suites and detached casitas with private entrances; there's also an on-site garden and citrus orchard that supplies produce for the hotel's restaurants. The venue is part of the $2 billion Palmeraie community, which will include 70 boutiques and restaurants when it opens this year.
Montage Big Sky
Billed as the first ultraluxury hotel development in the state of Montana, the Montage Big Sky plans to open in winter 2021. It's located within the Spanish Peaks enclave and will feature 5,800 skiable acres, an 18-hole Tom Weiskopf-designed golf course, and 150 guestrooms and suites. Also planned? Over 12,800 square feet of meeting space and an 11,000-square-foot spa.

GIla River Hotels & Casinos' Wild Horse Pass
This fall, Gila River Hotels & Casinos will unveil a $143 million expansion to its Wild Horse Pass property in Chandler, Ariz. The revamp will take the form of a brand-new 11-story tower, which will connect to its existing tower and add 205 guestrooms. Highlights of the new venue will include a rooftop restaurant, two pools, a new lounge, and 18,000 square feet of indoor meeting space and 4,000 square feet of outdoor meeting space.
CENTRAL
West End Stadium
Slated to open in March is Cincinnati's new West End Stadium, the new home of Major League Soccer team FC Cincinnati. The $250-million stadium will have 26,000 seats and 2.7 miles of LED lights; other highlights include a 150-foot video board, a 360-degree roof canopy and 2,000 parking spots. There will be four premium club areas that hold as many as 4,500 people, and 53 suites including five oversize suites for events.
Hotel Drover Ft. Worth
Opening in March is Hotel Drover, an Autograph Collection hotel that's part of the Fort Worth Stockyards' ongoing $200 million redevelopment. Highlights of the 200-room property include 97 West Kitchen & Bar, a 200-seat eatery from local chef Grant Morgan that serves contemporary Texas fare, plus 40,000 square feet of event space including a rustic-chic barn featuring 150-year-old reclaimed timber.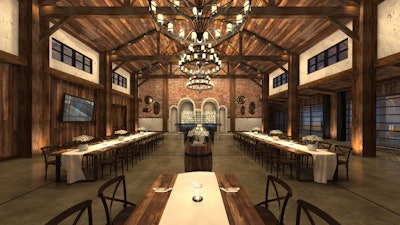 Thompson San Antonio
Opening in February on the River Walk is Thompson San Antonio, a new 162-room hotel located in the Arts Residences mixed-use development. The property has 10,000 square feet of meeting and event space spread across nine venues, including an expansive pool deck, a full-service spa and a restaurant that holds 300 people. A 20th-story rooftop bar offers views of the city and river; its indoor event space accommodates 100, while an outdoor terrace holds 50.
Pendry Chicago
Pendry Chicago is slated for a spring opening in the Loop. The 364-room hotel is located in the iconic 1929 Art Deco Carbide & Carbon Building, named a Chicago landmark in 1996. Expect ample options for events to accommodate both large and small meetings from 10 to 500 guests, including private boardrooms, dining rooms, a ballroom, a series of galleries, breakout spaces and rooms along Michigan Avenue with a terrace.
POST Houston
The upcoming mixed-use development POST Houston, slated to open this spring, has announced plans for a unique rooftop event space. Billing itself as the "world's largest rooftop park and farm," the five-acre space will include multiple dining options, an event venue, recreation areas and open spaces. There's also a sustainable organic farm called Skylawn, from which culinary tenants will source ingredients. The 6,000-square-foot, customizable event space can host as many as 300 people. Tents, in-house audiovisual services and lighting options are available.