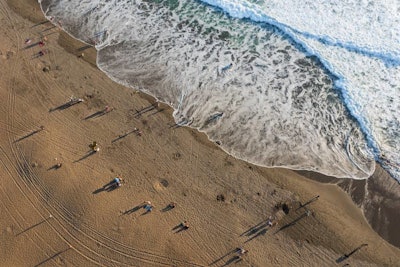 Photo: Death to Stock Photo
As the Zika virus spreads, its effects can be seen at mega events like the Rio Olympics—where some athletes, journalists, and spectators have stayed away—to tropical weddings and corporate events. Puerto Rico and Florida have reported the most Zika virus cases in North America, according to the Centers for Disease Control. As of Monday, Puerto Rico has an estimated 1,690 people infected by Zika virus. In the Miami area, authorities have identified about 25 cases (mostly in the Wynwood neighborhood), while more than 500 people in Florida are believed to have contracted the virus while traveling out of state.
The issue needs to be front-of-mind for event planners, and not just those based in affected areas, says Chris Weinberg, C.E.O. and founder of Miami-based Chris Weinberg Events. "It's a global issue," she says. "There's a way for our industry to combat it in a calm and educated way. Be prepared for anything at any moment's notice."
Here are five tips for event planners when planning events that could be affected by the outbreak.
1. Educate clients.
In Puerto Rico, where the epidemic has pushed the U.S. government to declare a public health emergency, the industry has confronted the situation proactively. Meet Puerto Rico, which promotes the destination for meetings, conventions, trade shows, and incentive groups, is addressing the issue with prospective clients.
"When the Zika situation hit, we immediately put into action a strong meeting professional/attendee-centered strategy that included a fact-driven education and communication program addressing the concerns of our clients," says Meet Puerto Rico president and C.E.O. Milton Segarra. "We listened to them and provided the most accurate and up-to-date information on Puerto Rico concerning Zika, and it paid off. As a result, our clients trusted us, our team in the field, and our members."
Instead of avoiding the topic, Meet Puerto Rico distributed Q&As with facts from official health organizations and offered real-time testimonials from clients who hosted events in Puerto Rico in the midst of the outbreak. The organization has reported a 7 percent increase in meetings and conventions business booked for June to August, compared to the same time period in 2015. Since March, it has added 57 new bookings, such as conferences and other events, that will take place through 2017.
2. Provide incentives.
Hotels in Miami, which typically have a drop in business during the summer, are offering incentives that extend to the fall, such as discounts on hotel services, free overnight stays, and complimentary valet parking. On Saturday, the monthly Wynwood Art Walk festival took place for the first time since the Wynwood Yard area was shut down from August 2 to August 10 for pesticide spraying. According to the Miami Herald, the event had a "bustling" turnout of local residents and tourists. Businesses in the area received a significant boost because of a "Love for Locals" campaign, which had more than 25 Wynwood businesses—including Wynwood Diner, Coyo Taco, and Zak the Baker—giving discounts or freebies.
[PULLQUOTE]
3. Get legal protection.
Contracts with venues, suppliers, and others should address the Zika virus. Cancellations, refund policies, and other considerations should be addressed beforehand. Venues and event planners are still sorting out whether a force majeure clause in contracts would apply to Zika concerns. The answer could depend on the location of an outbreak in relation to the venue, for instance. The Zika virus "is not an act of God, like a hurricane," says Weinberg. "But it's hard for businesses to protect themselves, even if the C.D.C. is targeting a specific area and your event happens to be five miles away."
4. Offer alternatives.
For concerned clients, planners can move outdoor events inside to minimize exposure, or even relocate events to locations where cases are not as widespread. "I think California is going to see some of that business," Weinberg says. "It depends on the size of the group and the budget. While destinations like California are very appealing, I can also very easily see millennials frequenting more places like New Orleans, Chicago, and New York."
5. Stay informed.
Facts about the spread of the epidemic are changing constantly, so keeping track of the latest developments is crucial for event organizers. Marquee events like Art Basel Miami Beach, slated for December 1 to 4, are monitoring the situation carefully. "Art Basel is closely following all reports from health officials regarding cases of the Zika virus in Florida, as well as the aggressive counter-measures taken by Miami-Dade County officials, including increased spraying and mosquito abatement efforts in the impacted area," the organization said to BizBash in a statement. "We remain confident that the city is taking precautionary steps to confront the virus and ensure Miami is a safe environment for visitors to the show in December, and for its residents year-round."