At Rammy Finalists Conference, Top Chefs Dish on Private Dining in a Recession
March 25, 2009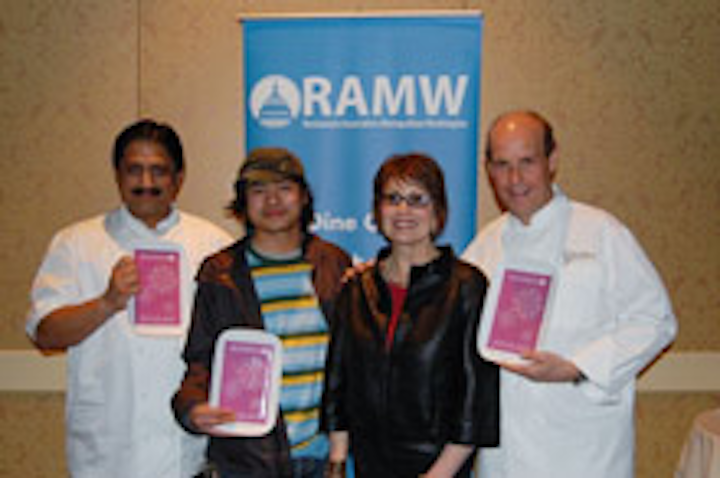 Photo: BizBash
An anxious and boisterous crowd of more than 400 members of Washington's restaurant community and press filled the ballroom of the Ritz-Carlton Washington last night for the announcement of the finalists for the 2009 Rammy industry awards, produced by the Restaurant Association of Metropolitan Washington. This year's Rammy gala is scheduled for June 7 at the Omni Shoreham.
Finalists for Chef of the Year include Jamie Leeds of Hank's Oyster Bar and
CommonWealth
, Todd Gray of
Equinox
, Massimo Fabri of Posto and Ristorante Tosca, Vikram Sunderam
of
Rasika
, and Robert Wiedmaier of
Marcel's
,
Brasserie Beck
, and
Brabo
. In the category of Power Spot,
BLT Steak
,
Central Michel Richard
,
Charlie Palmer Steak
,
the Source
, and
Teatro Goldoni
each received a nod. New Restaurant finalists are
Adour
,
Art and Soul,
CommonWealth
,
PassionFish
, and
Cork
. A full listing of the nominees is
here
.
With so many noted chefs in the room, we asked a few for cost-conscious tips for groups booking private dining rooms. Chef of the Year finalist Todd Gray said, "If the space lends itself, instead of a traditional three-course seated dinner, do a stand-up appetizer, seated entrée, and a dessert buffet. The price structure will be better, and for the guests it's more fun."
Cutting the dessert course was the suggestion from Jeff Tunks, chef and co-owner of the Passion Food Hospitality restaurants, including DC Coast and finalist PassionFish. "So many times, people leave before it's served, anyway." To encourage more private dining business in a rough economy, he added that in some cases, his restaurants waive room fees and let guests bring their own special occasion cakes.
Family-style service was the suggestion from Cesare Lanfranconi of restaurant Spezie. "With family style, there is less labor cost," said the chef. "Let's say you ask the restaurant to serve the appetizer on platters instead of plating, you might save $3 to $6 per person."  
Rammy finalists and winners are chosen by the public and a panel of judges from the restaurant community and culinary schools.
Featured Venues/Suppliers: