Podcast: How to Create Events With Impact (Episode 145)
Washington-based event designer and producer André Wells shares his event philosophy.
April 30, 2019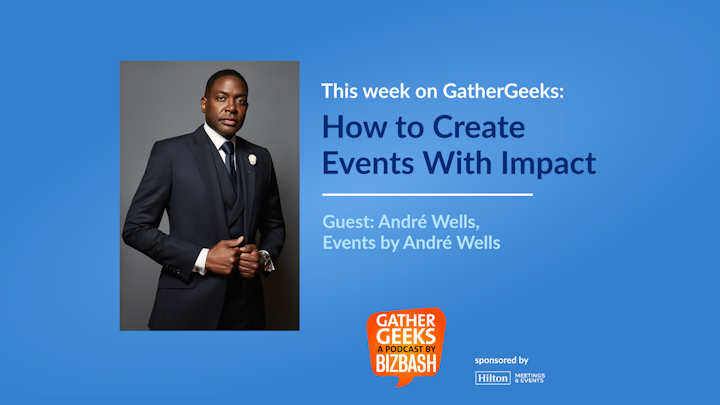 Photo: Courtesy of Events by André Wells
Hosts: David Adler, Alex Carter
Guest: André Wells
In the latest edition of GatherGeeks' "Sparking Change" series of episodes recorded at the Meridian International Center in Washington, BizBash C.E.O. David Adler and Zkipster's Alex Carter chat with André Wells, the owner of Events by André Wells. He discusses his event philosophy, sharing the questions he asks clients, the importance of a carefully curated guest list, and how to know when an event has impact. He also explains how to make every guest feel like a V.I.P., how to create effective fund-raising ideas, ways decor can further an event's mission, and more. 
Sponsored by Hilton Meetings & Events. Running time: 34:58
Show Notes
Roundtable Discussion: Why evening events in Washington should never start before 6:30; best practices for sit-down dinners; the importance of follow-up after an event; the fashion, restaurants, music, and more that inspire him
Further Reading:
Top 40 Event Designers 2017: André Wells https://bit.ly/2VqGNwi
Follow Wells on Instagram instagram.com/eventsandrewells
This Episode Is Sponsored By:
Hilton Meetings & Events
Planning an event and wondering how you can give your attendees the best experience possible? Take advantage of customized meetings with Hilton that make it easier than ever to incorporate health, wellness, entertainment, and waste reduction. From Yoga & Yogurt morning starts to Puppies & Ice Cream afternoon breaks, Hilton will help you build an extraordinary meeting that attendees will remember. To book your next meeting or event, go to meetings.hilton.com.