Podcast: How Cannabis Legalization Will Change—and Challenge—the Event Industry (Episode 169)
United Entertainment Group's Dan Brice shares how event pros can prepare for marijuana legalization in Illinois and beyond.
October 22, 2019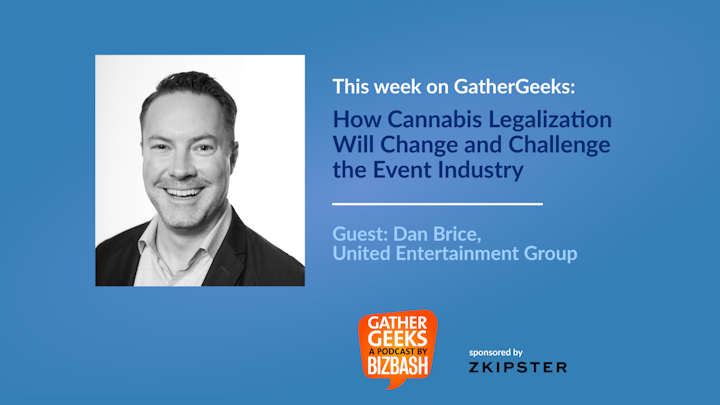 Hosts: David Adler, Beth Kormanik
Guest: Dan Brice

In this episode of GatherGeeks, BizBash C.E.O. David Adler chats with Dan Brice, the Chicago-based senior vice president of brand experience for United Entertainment Group. Brice discusses Illinois's changing cannabis laws, which will allow recreational usage starting in January, and how they will affect the event industry. He shares what the cannabis industry can learn about marketing from the alcohol and tobacco industries, how event pros can educate themselves on local county laws, best practices for brands who want to use cannabis at events and activations, and more. 
Show Notes
Roundtable Discussion: how brands can start incorporating CBD and marijuana into events, what event pros can learn from California and other states that already have these laws, does the stigma towards cannabis still exist? 
Further Reading:
How Marijuana Is Transforming the Event Industry https://bit.ly/2OEva0X
Joint Gatherings: How Event Planners Are Adapting to Cannabis Legalization in Canada https://bit.ly/324sYnc
4/20 Friendly: How This Chef Caters Cannabis Dinner Parties https://bit.ly/2M6dgT6
This Episode Is Sponsored By: Zkipster
Building a memorable experience for your guests means planning every detail right. Zkipster is the guest management platform designed to help you create perfect experiences, from impressive online invitations to seamless check-in at the door. Get started at zkipster.com with a free test event.