Podcast: How to Accommodate All Gender Identities at Events (Episode 173)
TD Bank's Andrea Boulden shares practical tips for making trans and non-binary event attendees feel welcome.
November 19, 2019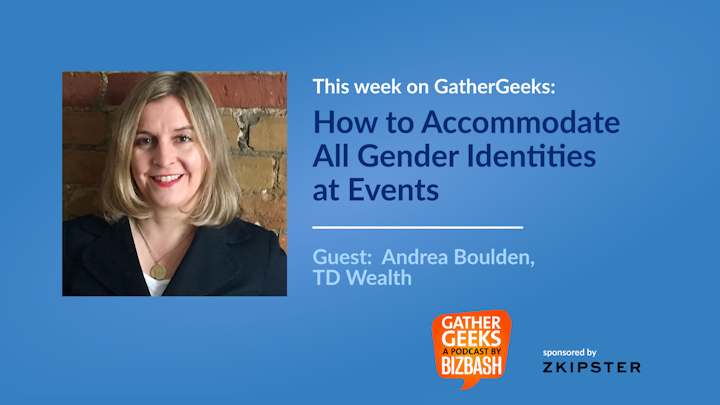 Hosts: David Adler, Beth Kormanik
Guest: Andrea Boulden 
In this episode of GatherGeeks, BizBash C.E.O. David Adler and editor in chief Beth Kormanik hear from Andrea Boulden, senior manager of the TD Wealth event team in Toronto. She discusses gender diversity and inclusion at events, diving into how planners and hosts can accommodate trans and non-binary guests. Boulden shares practical tips for registration forms, name badges, bathrooms, and other small details that can make all guests feel welcome. She also discusses how to choose inclusive venues, ways to educate speakers on these issues, and more. 
Sponsored by Zkipster. Running time: 25:33
Show Notes
Roundtable Discussion: why you should avoid the phrase "ladies and gentlemen," how to educate speakers on these issues, the importance of inclusive venues and host cities, how to encourage team members to speak up about diversity and inclusion
Further Reading:
Why More Venues are Planning Gender-Neutral Restrooms https://bit.ly/2NWekK4
6 Ways Events Can Be More Inclusive, Welcoming Spaces for All Attendees https://bit.ly/2Odt8mJ
How to Create More Diversity at Events https://bit.ly/2KhIAwE
Podcast: What Event Professionals Can Do to Help Stop Human Trafficking https://bit.ly/33H4WiW
Connect with Boulden on LinkedIn https://www.linkedin.com/in/andreaboulden
This Episode Is Sponsored By: Zkipster
Building a memorable experience for your guests means planning every detail right. Zkipster is the guest management platform designed to help you create perfect experiences, from impressive online invitations to seamless check-in at the door. Get started at zkipster.com with a free test event.