Podcast: How Event Vendors Can Become More Strategic (Episode 177)
Kushner Entertainment's Andy Kushner, host of popular podcast The Wedding Biz, shares how creative partners should help curate the entire event experience.
December 17, 2019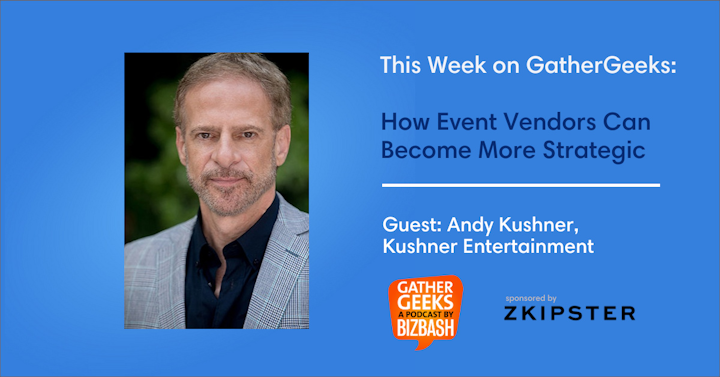 Hosts: David Adler, Beth Kormanik
Guest: Andy Kushner
In this episode of GatherGeeks, BizBash C.E.O. David Adler and editor in chief Beth Kormanik hear from Andy Kushner, C.E.O. and founder of Kushner Entertainment and host of the popular industry podcast The Wedding Biz. Kushner discusses how vendors—which he prefers to call "creative partners"—can become more strategic, helping craft an experience rather than just providing a service. He also gives his take on the state of live music in the event industry, the hottest trends in entertainment today, and how performers can appeal to multigenerational audiences. Kushner also shares why podcasts are such an effective marketing tool, why he's not afraid to interview his competitors on his show, and more insights.
Sponsored by Zkipster. Running time: 39:28
Show Notes
Roundtable Discussion: why he doesn't like the term "vendors"; how wedding bands can avoid being "cheesy"; current trends in event music; tips for managing budgets; the craziest thing he's seen on a rider
Further Reading: Subscribe to Kushner's podcast at theweddingbiz.com.
This Episode Is Sponsored By: Zkipster
Building a memorable experience for your guests means planning every detail right. Zkipster is the guest management platform designed to help you create perfect experiences, from impressive online invitations to seamless check-in at the door. Get started at zkipster.com with a free test event.