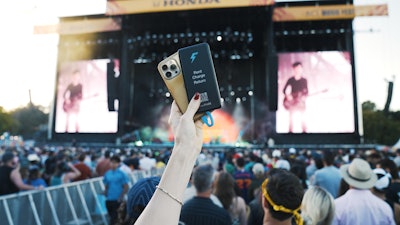 Photo: C3 Presents
In the ever-evolving landscape of live events, where connectivity shapes the essence of the experience, chargeFUZE emerges as a revolutionary force in event charging. Offering more than just a power solution, chargeFUZE transforms the landscape, ensuring no device goes uncharged and no moment slips away unnoticed.
Key to chargeFUZE's success is strategic alliances with industry titans like Live Nation and ASM Global. In partnership with Live Nation, a global entertainment giant, chargeFUZE became the official charging solution, seamlessly integrated into events, amplifying fan excitement and overall experience. The collaboration with ASM Global solidifies chargeFUZE's standing, making it an integral part of event infrastructure from sports arenas to convention centers.
What sets chargeFUZE apart is not only its widespread adoption but also its unwavering commitment to innovation. The sleek design and unmatched efficiency redefine the standards for event charging, ensuring attendees stay connected and powered up, creating memorable moments. Beyond charging, chargeFUZE enhances engagement with paid or free charging executions, dynamic digital screens, and brand interactions through custom branding and sponsorships.
As chargeFUZE expands globally, addressing the universal demand for reliable event charging, it pioneers a new era of connectivity in key international markets like Canada and Europe.
chargeFUZE isn't just a charging solution; it's a movement with a mission—to lead the charge, redefine connectivity, and elevate the overall event experience. Collaborations with Live Nation and ASM Global underscore chargeFUZE's role in propelling the future of event technology.
In its journey, chargeFUZE brings stories of transformed events and empowered audiences. It's not just about leading the charge; chargeFUZE sets the standard for what event charging solutions can and should be. Each event becomes a testament to chargeFUZE's commitment to being the driving force behind electrifying experiences, defining live events in the 21st century.
Collaborations with global brands like the PGA Tour, USTA, USGA, and more highlight chargeFUZE's credibility. With charging stations strategically positioned nationwide, including coverage in virtually all stadium arenas, chargeFUZE solidifies its position as an industry leader, marked by major rollouts and placements in iconic venues such as MSG and Brooklyn Mirage.