The Secret to a Successful Auction? No Surprises, Say Pros
March 12, 2009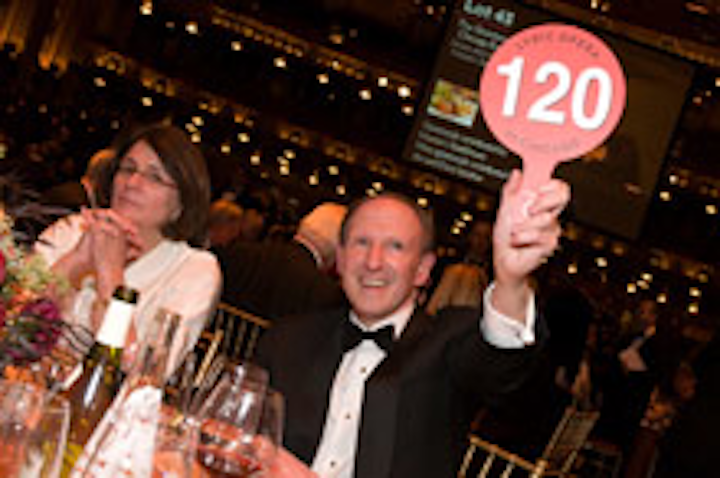 Photo: Cheri Eisenberg/Lyric Opera of Chicago
Leslie Hindman, founder of Leslie Hindman Auctioneers, has a message for planners incorporating an auction into an upcoming event: Let guests know about it in advance. If your attendees don't expect to bid, they're unlikely to—especially at a time when many people's personal finances don't allow for big spending on a whim.
According to Hindman, planners often make the mistake of assuming that "they can get a few things donated, and then have an auctioneer get up and sell them magically, for a lot more money."
Instead of relying on auctioneer superpowers, Hindman suggests planning ahead. "Auctions that are very successful have been promoted prior to the event," she said. She added that it's particularly important for organizations to publicize the big-ticket items that will be on offer. "If there's a $20,000 trip that's going to be auctioned off, people need to anticipate that," she said.
Hindman and Michael Davis, vice chairman of the Hart Davis Hart Wine Company, served as auctioneers at the Lyric Opera of Chicago wine auction on Friday. The triennial event raked in $1.2 million and was "run very professionally," Hindman said on Monday. Organizers sent out comprehensive wine catalogs before the auction and published all the lots on the Lyric's Web site to allow for online bidding that began in January.
Davis said that the auction's online component made the evening's "overall bidding more aggressive." By the time Friday night hit, he already had bids from all over the U.S. and places as far flung as Hong Kong. Ultimately, this helped raise the auction's stakes by "giving people a platform to bid against when they were in the room," he said.
When asked if the success of the online bidding could have to do with its relatively anonymous format, Davis said: "That could be part of it. People are a bit more guarded about [spending in public] lately. But it's also convenient. It allows people to bid at 1 a.m. if they choose." Also, while a live auction is frenetic by nature, checking the items out online is appealing to people "because it gives them time to make their decisions [about what to bid on]," Davis said.
But planners don't necessarily need to spend months on publicity or set up an intricate Web site to make an auction a success. "People just need to say 'There will be an auction, and this is what's in it.'" Hindman said. "The longer in advance the better, but even a week's notice will help."
Featured Venues/Suppliers: