Q&A: Inaugural Mobile World Congress Americas Prepares for Debut
More than 30,000 people are expected to attend the huge wireless-communications industry event next week in San Francisco.
September 7, 2017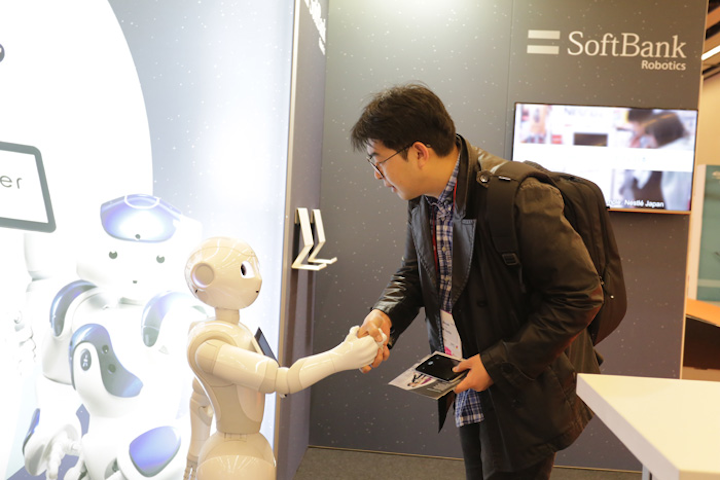 Photo: Courtesy of G.S.M.A.
Two of the world's largest mobile technology associations are partnering to create a new trade show based in the United States.
C.T.I.A., which represents the U.S. wireless communications industry, and London-based G.S.M.A., which represents mobile operators worldwide, will host the first Mobile World Congress Americas September 12 to 14 at the Moscone Center in San Francisco. The event will replace C.T.I.A.'s former trade show, Super Mobility, and will be an extension of the M.W.C. brand, which is best known for its annual event that began 31 years ago and has been in Barcelona, Spain, for the past 12 years. C.T.I.A. and G.S.M.A. are equal partners in the new event, with G.S.M.A. leading the production and management.
In addition to the original Mobile World Congress in Europe, G.S.M.A. added an Asian event, Mobile World Congress Shanghai, in 2007. M.W.C. Americas will include a trade show with 1,000 exhibitors and an educational program with keynotes, sessions, and summits. Sponsors for this inaugural event include Sprint, American Express, Paypal, and many more. 
We asked Reed Peterson, head of Mobile World Congress Americas, to tell us why the organization chose to partner with C.T.I.A. to create this new event, and what it will offer the more than 30,000 people expected to attend.
First, can you tell us why you believe this is the right time to expand the Mobile World Congress brand to North America and how you settled on this location?
We worked with C.T.I.A. over the years on quite a few projects for our joint membership. We starting talking about doing a joint show and knew the time was now right to host a global event of this scale in the Americas based on the leading technologies and companies out of the region, specifically the West Coast. Also, many of our members were asking us for this event. As the United States' wireless industry trade association, C.T.I.A. has successfully hosted nationally focused shows for more than 30 years. In an increasingly global world, C.T.I.A. sought an equal partner to broaden the show's reach to a more global audience. The 2017 event location was pre-selected by C.T.I.A. before we formed this partnership because it is an excellent location in the heart of Silicon Valley.
Describe who your attendees will be.
For our launch event in 2017, we expect that more than approximately 30,000 attendees will attend Mobile World Congress Americas from across 110 countries. Companies participating in Mobile World Congress Americas represent the adjacent industries from the vast mobile ecosystem such as content and media, autonomous vehicles, start-ups, and healthcare, to name a few. Our keynote program includes C-level executives from companies including AT&T, Mozilla Foundation, Nokia, Pandorabots, PayPal, Qualcomm, San Francisco 49ers, UPS, and Verizon Wireless. Mobile World Congress Americas is a business-to-business event with people in a wide range of roles attending, ranging from area and country directors to global senior vice presidents, and to C.T.O.s and C.E.O.s.
In what ways will this event be similar to, as well as different than, M.W.C. in Barcelona?
Our flagship event, Mobile World Congress in Barcelona, is a truly global event, with representation from more than 200 countries around the world, bringing together the broad mobile ecosystem along with adjacent industry sectors. This year the event drew record number crowds at just about 108,000 attendees. Mobile World Congress Americas and Mobile World Congress Shanghai are also both "global" events, though they do have more specific regional focuses as well. Mobile World Congress Americas attendees will come primarily from North, Central, and South America. Like Mobile World Congress, the Americas event will also convene the mobile ecosystem and enterprises from many industries, but with an emphasis on the innovation driven out of Silicon Valley. Mobile World Congress Shanghai is much more of an Asia-focused event, and it differs from both M.W.C. and M.W.C. Americas in that it welcomes not only mobile-industry professionals but also consumers from the greater Shanghai area. No other G.S.M.A. event has a direct consumer focus.
What are the challenges in translating an existing, reputable event into a new location?
Moving to a new location requires new relationships and agreements with government, city, and business leaders across venues, hotels, transportation, logistics, etc. It requires a new team working on a new event in a new city with an entirely new venue—all with the great expectations of G.S.M.A.'s world-class event platforms. So this has been quite the undertaking, but the teams have been absolutely wonderful in sorting through the logistical details to make this event a reality.
In Barcelona, you've used technology in innovative ways, for example the N.F.C.-enabled information kiosks. Can you share some examples of how you will be incorporating technology into the attendee experience at M.W.C. Americas?
Mobile World Congress Americas will be full of innovative, leading-edge technologies and demonstrations. A great example is the G.S.M.A. Innovation City exhibit, which offers a comprehensive view of how mobile-connected products and services are improving the daily lives of citizens and businesses around the world in diverse areas, such as home, automotive, health, utilities, industrial, and more.
Can you give us a preview of what you expect will be the highlights? 
In addition to our robust keynote program, part of the conference offers several G.S.M.A. Summits, such as Latin America Investment, Women4Tech, Augmented Reality and Virtual Reality in the Enterprise, and China-U.S. Innovation and Investment. On the show floor in Innovation City, in Moscone South, AT&T, Google, KT, MasterCard, and TIM Brasil will showcase how their companies are impacting technologies around G.S.M.A. programs such as the Internet of Things, Identity, Future Networks, and Mobile for Development. In Moscone West, NEXTech includes the Graphene Experience Zone, IoT Pavilion, NEXTech Pavilion, AR/VR Zone, and other displays to highlight next-generation technologies. The 4 Years From Now (4YFN) Startup Event enables Americas region startups, investors, corporations, and public institutions to connect and launch new ventures together and includes an exhibition, conference sessions, workshops, investor meetings, pitching competitions, "pitch the press" sessions, networking activities, and the "4YFN Americas Awards 2017."
Will this become an annual event in the United States?
Yes. The G.S.M.A. has a 10-year partnership with C.T.I.A., and we are building on the strong United States foundation established by C.T.I.A. with the Super Mobility event—but we are focused on creating a true "Americas" event with representation from all of North, Central, and South America. Going forward, the combination of the G.S.M.A.'s world-class event organization, management capabilities, and track record in connecting the broader mobile ecosystem, and C.T.I.A.'s excellent member relations and United States public policy and regulatory expertise, position us to build an even stronger Americas event in Mobile World Congress Americas.
Featured Venues/Suppliers: