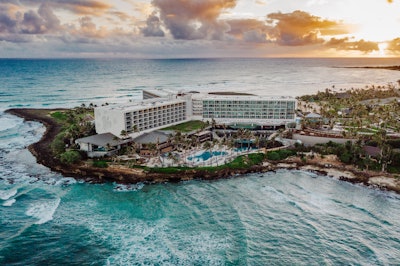 Photo: Courtesy of Turtle Bay Resort
In the last quarter of 2022, bleisure was a hot topic that arose as shifted mindsets caused professionals to want to combine their business travel with leisure. However, by Q1 of 2023, "set-jetting" has taken the limelight.
The concept is where travelers visit destinations featured in movies and TV shows. "It's definitely not new," said Jason Cutinella, founder and CEO of Honolulu-based media company NMG Network. However, it's only now being given a name. And it makes sense, considering the binge-worthy content that was fawned over for the better parts of 2020 and 2021 due to the pandemic.
According to research by Expedia, "streamed movies and TV shows are now the top sources of travel inspiration (40%), outpacing the influence of social media (31%)." The online travel company also reported that "68% of travelers considered visiting a destination after seeing it in a show or movie on a streaming platform, and a whopping 61% booked a trip."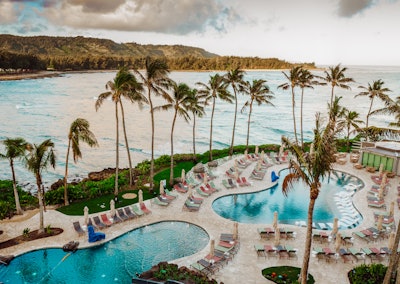 Cutinella said that in his home-base of Hawaii, it's nearly impossible to talk about set-jetting without mentioning HBO's anthology series The White Lotus (the first season was filmed at Hawaii's Four Seasons Resort Maui and was released in July 2021). Previously, Cutinella said Hawaii "was two things—a honeymoon destination, or a destination you worked your whole life to be able to bring your whole family to, once." He recalled working at Waikiki's Hard Rock Cafe during college and meeting people who fit this bill.
"It's a completely different energy now," he added, noting that the island has become more affordable—although "it's still not cheap by any means"—and there are more frequent flights in and out of Hawaii from national and international cities alike.
And while Cutinella pointed out that The White Lotus has been "a topic of conversation," he noticed travelers referring to other shows filmed in Hawaii—like Hawaii Five-0, Dog the Bounty Hunter, and CSI Hawaii—for the past decade. He said he would hear tourists saying things like, "OMG, that's the hotel where that was filmed," or, "Hey, that's where Hawaii Five-0 had that crime scene."
Hawaiian visitors who also happen to be fans of Forgetting Sarah Marshall, Mike and Dave Need Wedding Dates, Pirates of the Caribbean: On Stranger Tides, Hunger Games: Catching Fire, or Jumanji will want to make their way to Turtle Bay Resort, where they're sure to recognize the hotel's beach cottages, wedding pavilion, Kuilima Cove snorkeling site, or Kawela Bay shoreside, just to name a few.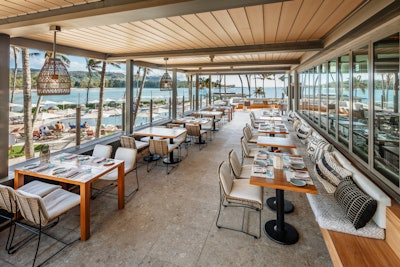 Unsurprisingly, Turtle Bay's chief commercial officer, Robert Marusi, told BizBash that the resort is no stranger to set-jetting. In fact, the property's on-site restaurant, Alaia, has even capitalized on it, "paying homage to the most iconic production filmed on the property, Forgetting Sarah Marshall" with a namesake cocktail that features Whaler's dark rum, Campari, plus pineapple and lime juice.
Marusi also pointed to Turtle Bay's "The Case of the Missing Movie Scripts" experience, a 2.5-mile "scavenger and treasure hunt with movie trivia as clues."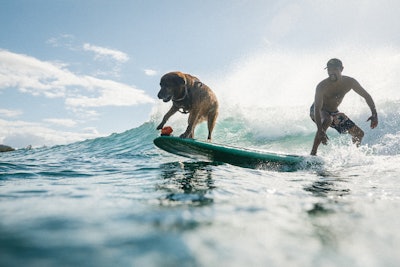 Set-jetting isn't unique to Hawaii. BizBash caught up with Santi Sawangcharoen, director of the Tourism Authority of Thailand (TAT) New York office and acting director of the TAT Toronto office, who said that Thai islands "Khao Phing Kan and Khao Tapu became widely referred to—both separately and collectively—as 'James Bond Island' after appearing in the 1974 James Bond movie The Man with the Golden Gun."
He said tourist guides have taken the name and run, as seen on tours listed on Tripadvisor and Viator, and the islands have "remained one of Thailand's most visited locations" thanks to the set-jetting trend even before it was given a name.
But it didn't stop there—the 2000 film The Beach starring Leonardo DiCaprio shot Thailand's Maya Bay to stardom, so much so that it closed in June 2018 for environmental renewals and facility renovations.
A few other noteworthy destinations to inspire your next set-jet? Sawangcharoen pointed to Bangkok, where The Hangover Part II was filmed; or Khao Lak, where Naomi Watts and Tom Holland filmed The Impossible. Although cryptic, National Geographic's recent release of The Rescue (available on Disney+), as well as director Ron Howard's debut of Thirteen Lives (available on Prime Video), have made travelers want to visit the site where 12 young boys and their soccer coach were rescued from Thailand's Tham Luang cave in 2018.
---
What other travel trends do you predict will come to the forefront in 2023?
Cutinella: "There's a lot of emerging hotels that are bespoke and boutique that are connecting with the local community. Travelers are looking for a more localized experience instead of just staying at a huge monster corporation.
Travelers are also making more conscious decisions. I think people are changing their style of travel—there's more leisure to it. A lot of business travel has been eliminated because you can just hop on Zoom. I think leisure will just continue to grow and grow on a daily basis."
Marusi: "Traveling for a greater good is something that we've seen guests take interest in. Guests are looking to help the planet, whether that be eating green with produce that is sourced at our on-property farm, Kuilima Farm, or participating in the beach cleanups we coordinate.
We've also seen a rise in 'multiverse seekers,' or guests looking for a destination that allows them to have several different vacations in one. For example, guests can spend one day relaxing poolside and participating in more laid-back offerings, like the Shaka Kukakuka Birdwatching Tours, and spend the following day participating in more adventurous activities like the Jamie O'Brien Surf Experience, or a heartracing helicopter tour."
Sawangcharoen: "Sustainability remains a priority for Thailand, and we do anticipate green travel will continue to be a priority for travelers to the destination in 2023. As more people become aware of the impact of tourism on local communities and the environment, they are seeking out destinations, hotels, restaurants, and activities that prioritize responsible and sustainable practices."