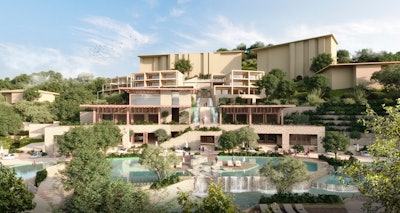 Rendering: Courtesy of Waldorf Astoria
We're rounding up the biggest venue news of the month—in one convenient place. Got a tip? Get in touch!
In Case You Missed It
On BizBash this fall, we've been rounding up exciting new event spaces around the country, including in Atlanta, Austin, Boston, Chicago, Dallas/Fort Worth, Houston, Las Vegas, Los Angeles, Miami, Nashville, New Orleans, New York, Orlando, Philadelphia, Phoenix, San Francisco, Seattle, and Washington, D.C.—along with Eastern Canada and Western Canada and a slew of gorgeous international destinations. Phew!
We also recently learned how Toronto's historic Casa Loma transforms its castle for Halloween, how Washington's Hamilton Hotel teamed up with Glamour to celebrate its centennial, and why event production company Trademark launched its own venue sourcing service. Our editors also chatted with California's Monterey Bay Aquarium about its unique approach to CSR—including why the venue will only host groups that support its sustainable, plastic-free, and highly accessible initiatives.
Here are five more things you should know this month...
1. In 2023, travelers will be more focused on deeper, more engaging experiences.
That's according to Hilton's new trends report, which argues that "in 2023, people will focus on travel as a way to create deeper connections with friends, family, colleagues, customers, cultures, and the earth. There will be a rising interest in unique and engaging experiences, design, and food and beverage programs, especially ones that connect the traveler to the local communities." In fact, 49% of survey respondents want to be immersed in local culture and products while traveling, and another 40% want personalized access to unique experiences or activities such as performances, events, spa treatments, or classes.
The report also notes that travelers and event attendees are reconsidering what wellness means—taking a more holistic approach covering mindfulness and emotional wellbeing, a trend we've also spotted—and that there's an increased interest in both tech and human solutions that can make travel easier, more efficient, and more personalized. Check out the full report here.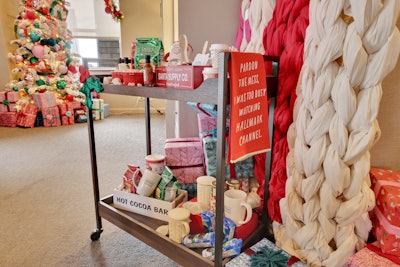 2. 'Tis the season for holiday hotel experiences.
Sure, it might feel like summer just ended—but hotels and other event venues are already knee-deep in holiday cheer. And with occupancy rates and group bookings on the rise, the properties are leaning into out-of-the-box experiences to make an impact.
A couple that caught our eye? Circa Resort & Casino in Las Vegas is launching "Winter Swim" at Stadium Swim, its pool amphitheater space. Billing itself as "the world's largest hot tub party," the venue features an après-ski environment with six heated pools, a seasonal cocktail menu, and 30 heated cabanas, each of which offers a 65-inch TV, a dedicated server, and plush robes. For events in the space, hosts can also book the 965-square-foot Owner's Suite.
In another fun option, Hilton is debuting a series of holiday suites themed around fan-favorite Hallmark Channel Christmas movies. Hilton Chicago's "Cozy Christmas" suite, for example, offers a custom crochet Christmas tree and knit accent wall, knit-wrapped presents, a hot cocoa bar, gingerbread decorating, and even guests' own personal tree-lighting ceremony. Additional Christmas-themed suites include the "SoCal Christmas" suite at the Hilton San Diego Bayfront and the "Glam Christmas" suite at Hilton Las Vegas at Resorts World.
And in New York, The Hideout at Gallow Green, located at the McKittrick Hotel, is a whimsical winter rooftop space inspired by a mountainside chalet. Small groups can reserve private yurts—complete with blankets, natural wood and pine elements, and plush sheepskin accents—and enjoy a French Alps-inspired menu and handcrafted cocktails.
And don't miss BizBash's coverage of 10 more holiday pop-ups to check out this season—including a Santa-themed suite in Dallas, igloo dining in New York, and a gingerbread-house competition in North Carolina.
3. Venues continue leaning into "bleisure"-inspired accommodations.
We recently chatted with the Accor team about the rise of "bleisure" travel—which combines the concepts of business and leisure travel, with professionals wanting to attend a conference, but also wanting to bring their loved ones along with flexibility in the itinerary to relax, explore, and have family time.
In keeping with the growing trend, Marriott International recently announced its expansion into apartment-style accommodations with the launch of Apartments by Marriott Bonvoy, which is first launching at the brand's upper-upscale and luxury properties. The spaces will feature a separate living room and bedroom, full kitchen, and in-unit washer and dryer—but will be differentiated from Marriott's existing extended-stay brands by not providing certain traditional hotel services such as food and beverage, meeting spaces, and retail.
"Travelers planning vacations and long business trips today are seeking more choice in accommodations, and the introduction of Apartments by Marriott Bonvoy responds to those trends, while offering developers a premium product backed by our trusted name and distribution platform," said Stephanie Linnartz, president of Marriott International, in a press release.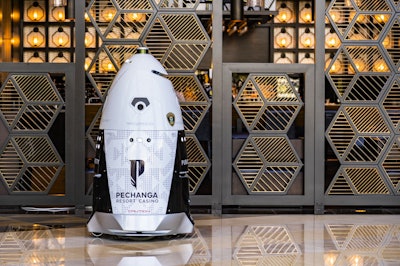 4. The service robotics industry is set to reach $216 billion by 2030.
That's according to data and analytics company GlobalData, which recently launched its "Robotics in Travel and Tourism" report. Data shows that as technology improves, robots are increasingly being used for room service deliveries, cleaning services, translation services, check-in assistance, security, and more.
"The COVID-19 pandemic has made hygiene a priority for travelers. Robots can ensure that high-risk areas are kept constantly clean, freeing up staff time, at a time where the hospitality industry is experiencing global staff shortages," said Sarah Coop, analyst at GlobalData, in a recent interview with Hotel News Resource. "In cheaper hotels, robots can provide operational efficiency and improve margins, keeping room prices low. In luxury hotels, robots can provide a unique guest experience."
5. Destinations International has launched a new agreement template to protect both destinations and event hosts.
Last month, Destinations International—the world's largest resource for destination organizations and convention and visitors bureaus—introduced its new Destination Booking Agreement (DBA), along with the launch of a toolkit that establishes mutually agreeable terms to protect both the destination and the business events strategist. Among other things, the document outlines both the commitment and liability associated for both the booking organization and the host destination in the event of a cancellation or booking displacement.
"DBAs allow destinations to clearly articulate and itemize dates, rates, space, and any incentives or concessions offered to clients to secure their business," said Junior Tauvaa, chief sales officer of Visit Anaheim, in a press release. "Destinations International has contributed to standardizing these documents while allowing each destination organization to localize it based on their respective destinations."