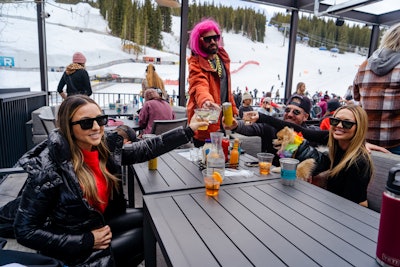 Photo: Courtesy of Copper Mountain
Last week, a groundhog in Pennsylvania predicted six more weeks of winter, but that doesn't mean workers need to stay stuck inside on Zoom and bundled up by their space heaters. Instead, book an epic spring ski retreat for your dream team this season.
Ski town temperatures are much more tolerable during the spring months, which lends to more events and programming, ensuring your group can do more than just hit the slopes, indulge in après, and huddle up by the fire. Below, find the 10 best 2023 spring ski town retreats that cater to groups in the U.S., Canada, and even Europe...
1. Frisco, Colo.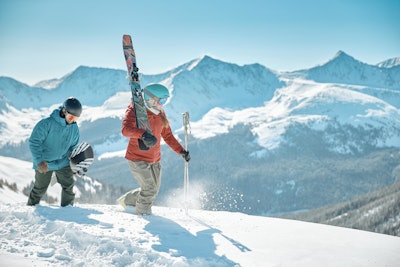 Just a 75-minute drive from Denver, there are three Colorado ski resorts within a 10-mile radius of Frisco, which is a lively ski town even on its own. Encircled by the Arapahoe National Forest and bordered by the Dillon Reservoir, it is equal parts picturesque and pedestrian friendly. Main Street is furnished with 50 locally owned restaurants, bed and breakfasts, coffee shops, bookstores, boutiques, and bars, and Frisco Adventure Park is known for group-friendly snow tubing, snowshoeing, and Nordic skiing.
Slightly southwest sits Copper Mountain, known for its clear bluebird spring ski conditions, après scene, and outdoor socializing. Thanks to plenty of beginner, intermediate, and expert terrain options, the slopes welcome all. Plus, there's a Rocky Mountain Coaster ride, a tubing hill, the Copper Snow Maze, and the 19,400-square-foot Woodward Barn, an all-ages indoor playground with foam pits, trampolines, and more.
Want to host a powwow after a few laps? The Copper Conference Center is conveniently located in Copper's Center Village between two major chairlifts. "You can host a morning meeting, and then your guests can literally exit out the front door of the conference center, walk directly to the lift, and get some turns," shares Kyle Peterson, senior manager of conference services at Copper Mountain. "If you reconvene in the afternoon, we can offer a nice après ski break set out for your attendees before they return to the meeting room. It is a great bonding opportunity when you are able to talk about all of the great terrain you experienced during the day."
Famed Breckenridge is just southeast of Frisco, and the mountain is known for having one of the longest-running ski seasons of any major U.S. ski resort. It tends to operate through May, or as long as the snow lasts—which means you can access the slopes at the quieter end of the season after the rush. Heads up: there's no beginner terrain open during the final days of operation, but newbies can hang back on historic Main Street or discover the 200 bars and restaurants around town.
Finally, just west of Frisco is Keystone, which offers group lessons in a learning area with sweeping views of the Ten Mile Range. LeBonte's Beach is paved with steep groomers for intermediate and advanced skiers, and as the name suggests, you can soak up the sun with a cocktail and some hearty barbecue. Non-skiers can enjoy mountaintop tubing, and groups who book during Keystone's Springtastic Closing Weekend can team up for the costume contest and Slush Cup competition.
2. Topnotch Resort and Stowe, Vt.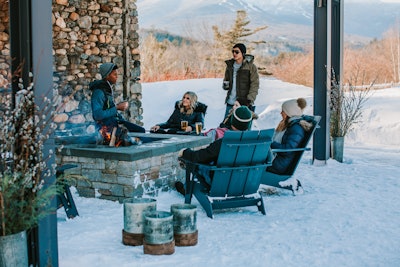 Stay at Topnotch Resort and access a spring ski wonderland and the village of Stowe just 4 miles away. Topnotch staff can organize plenty of team-building and networking events around town, as well as downhill skiing and riding followed by après specials and group ice skating at Spruce Peak village with private cabana rentals and hot chocolate service.
There's also a cross-country skiing and snowshoeing excursion available at nearby Trapp Family Lodge, which includes a presentation and luncheon at the Austrian-inspired Bier Hall—complete with Vermont craft beer. Umiak Outdoor Outfitters offers guided snowmobiling tours, dog sledding, and snow tubing. Groups can also join the "A Taste of Vermont" experience, which includes a scenic drive and stops at the Ben & Jerry's Factory and Cabot Cheese Farm, along with trips over stunning bridges for dinner at Flannel Restaurant. Here, groups can also expect gorgeous mountain views, dessert, cocktails, and classic candlepin bowling at StoweBowl. For some relaxation, the grand finale is a trip to Topnotch Spa, which can book groups of up to 20 for various spa treatments.
3. Deer Valley, Utah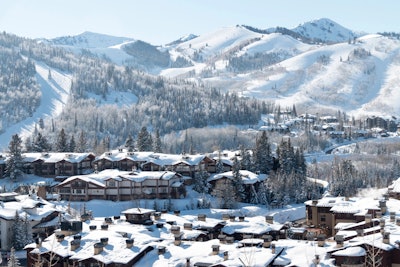 Three premium lodges—Empire Canyon, Silver Lake, and Snow Park—offer loads of space for lodging, meetings, and springtime banquets in Deer Valley. When it comes to shredding on the mountain, there's group ski school, discounted group lift tickets, and group ski rentals, making the entire booking experience seamless.
For a memorable excursion, groups of six can "ski with a champion" aka an Olympic snowsport athlete. And after last chair, there's corporate snowmobiling. Private mountain tours include history lessons, and trivia games and group racing packages put teamwork to the test. To make this retreat even more memorable, you can design custom corporate merchandise and schedule a photo shoot in an all-around, postcard-perfect setting.
4. Whistler and Blackcomb, B.C.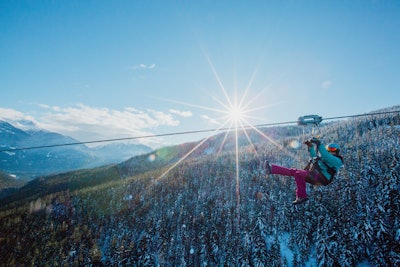 "Whistler is an ideal destination for a Canadian spring ski retreat," says Preston Miller, director of conference sales and services for Tourism Whistler. "Longer, sunnier days mean an almost endless list of activities—a true 'choose your adventure' that would appeal to the diverse tastes among groups."
And group-friendly activities abound. Book a tour to visit the famous black bears as they emerge from hibernation, take a night walk and experience the multimedia Vallea Lumina light show, ride an ATV to the top of Blackcomb Mountain, zip line across the canyons, or take an off-road buggy tour (beginners included).
Satiate your group's appetite on the walkable Whistler Tasting Tour with lunch, dinner, and dessert packages. Believe it or not, golf even kicks off late April into early May. Conveniently, Whistler's conference facilities are situated within the pedestrian-only village, and great walkability also means easy commutes to museums, spas, shops, restaurants, and bars. Plus, Miller says spring retreats mean value for accommodations, with midweek stays offering even more savings bundled with a favorable U.S. exchange rate to stretch your company budget further.
5. Palisades Tahoe, Calif.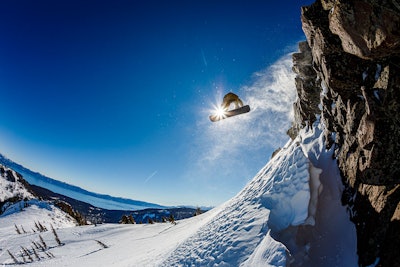 Springtime at Palisades Tahoe spotlights everything the resort has to offer: the terrain, the community, the free-spirited attitude, and the great snow—minus some of the seriousness that comes with winter powder days. The locals say spring in the high Sierra is something to celebrate, and Palisades Tahoe offers Lake Tahoe's longest ski season.
Groups will find the perfect spring conditions from the groomers to the slushy corn snow to the bumps. Visit the Snow Beaches at both mountains where you can find lawn chairs, cornhole, and fire pits just steps away from the bars. Plus, in the spring, the motto truly is après all day, which is complemented by an ongoing soundtrack courtesy of the Spring Music Series.
After active days on the slopes, groups can reserve tickets to an array of springtime events, including the Winter Wondergrass festival, the annual Snow Golf tournament, and the human pond-skimming contest known as Cushing Crossing.
6. Lake Placid, N.Y.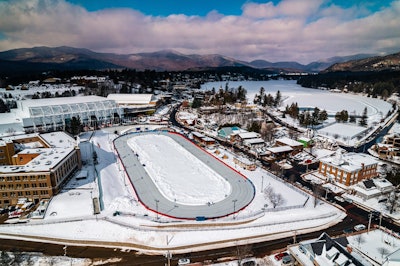 This two-time Winter Olympics host is home to the Olympic Center, the Olympic Jumping Complex, Whiteface Mountain, and Mount Van Hoevenberg. It offers a fully accessible home base for groups with varying interests. Corporate retreats in Lake Placid are welcome (with discounts available for groups above 20 people). Short-track speed skating is a test of balance, while synchronized skating becomes a team-friendly competition in front of a panel of judges.
Groups can also work together to hop in a bobsled, learn the art of curling courtesy of an expert instructor, or test out their multi-skills in a biathlon challenge. On Whiteface, Gore, and Belleayre Mountains, design a customized ski program that can include group ski or snowboarding lessons. Wind down with some group bonding on a sleigh ride on Country Dreams Farm.
7. Crystal Mountain, Wash.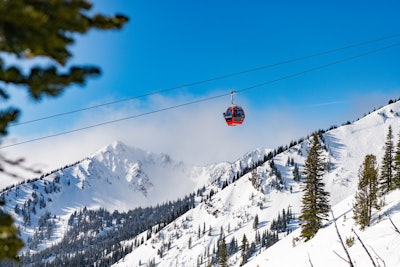 Washington's largest ski resort with 2,600 acres of skiable terrain, Crystal Mountain is known for its expansive variety for beginners and experts alike. Quality time together is only enhanced with never-ending views of iconic Mount Rainier. Adult group lessons offer an engaging environment so everyone can learn a new skill together. The program is designed to set your group up for success and put ski-side confidence to the test.
After a long day at work on the snow, it's time to kick back and relax. Fridays and Saturdays call for après party time from 3-5 p.m. at Rafters Smokehouse, which features local artists and live music. Then, take the Mount Rainier gondola to Summit House for a special group dinner with spectacular views of the peaks and surrounding Cascades.
8. Snowmass, Colo.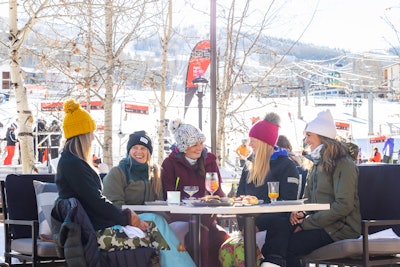 A renowned winter playground just 9 miles from the famed town of Aspen, Snowmass Village offers endless views of mountain vistas when exploring its 2.8 million acres of wilderness. Along with plenty of ski-in, ski-out lodging—groups can mix and match options which range from high-end hotels to condominiums to affordable mountain lodges—and more than 30 restaurants, there's great shopping, music, and special events year-round.
The group can enjoy massive mountain ter­rain at Snowmass, as well as three sister mountains (Aspen Mountain, Aspen Highlands, and Buttermilk) on the same Aspen Snowmass lift ticket, all short rides away on free shuttles. Off the slopes, take advantage of snowcat dinner rides, slopeside bowling, and plenty of the mountain-town fun that put this region on the map.
9. Tremblant, Qué.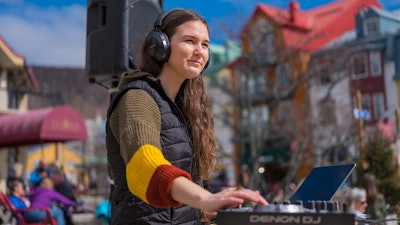 For groups seeking a trip to Eastern Canada, Mont Tremblant is internationally recognized for the quality of its spring skiing. It also offers a festive atmosphere paired with plenty of sunshine, patio après-ski activities, and lively events. When it comes to "taking care of business," as Station Mont Tremblant publicist Felix Burke. calls it, groups are welcome in the heart of the village or on the outskirts of the majestic surrounding golf courses.
Thirteen hotel options offer work-friendly settings to maximize productivity, as well various Wi-Fi-capable meeting rooms with catering options. Once it's time to head outside, there are 40 group-friendly activities in a natural environment that promotes team-building, from ice fishing and alpine touring to dog sledding and dune buggy rides. There's even a casino.
"Québec is home to a unique history and culture and is recognized for its fun-loving population, or 'joie de vivre' as we call it," shares Burke. "Tremblant harnesses this heritage in everything we do, including our group retreats. Welcoming people to our home is really what we do best."
10. Ski Arlberg, Austria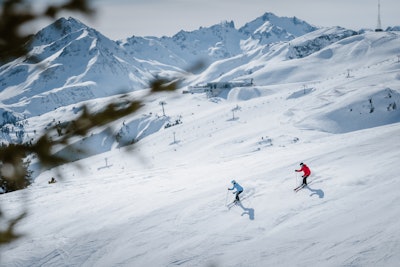 Take an excursion across the pond for an Austrian spring ski adventure—or sun ski as it is called there. Ski Arlberg is one of the top-five largest ski areas in the world, clocking 185 miles of groomed slopes and 125 miles of high-alpine, deep-snow runs. Ski Arlberg guarantees snow, also called "firn" (which means soft-as-butter fun) until the end of April. Thanks to the altitude, there's a safe snow situation even in the spring, and the end of the season also brings sun ski savings.
During sun ski, Ski Arlberg is extra inviting with its mild temperatures, fresh air, and the scent of spring already at work in the valleys and through the glistening slopes. The village of Lech is known for its gourmet cuisine, including restaurants with bright and sunny terraces, as well as high-class service with a homey feel. Along with plenty of outdoor fun, groups can bookmark the celebratory end-of-season, two-week Tanzcafé Arlberg music festival in April, as well as Skyspace-Lech, an installation from American artist James Turrell, where sky meets earth in an Austrian alpine paradise.