This Week in Los Angeles: a Choir of Satanic Nuns, a Balloon-Filled Kardashian Birthday, the Magic Castle's New Chef
West Coast bureau chief Claire Hoffman covers the week's biggest event news.
April 26, 2019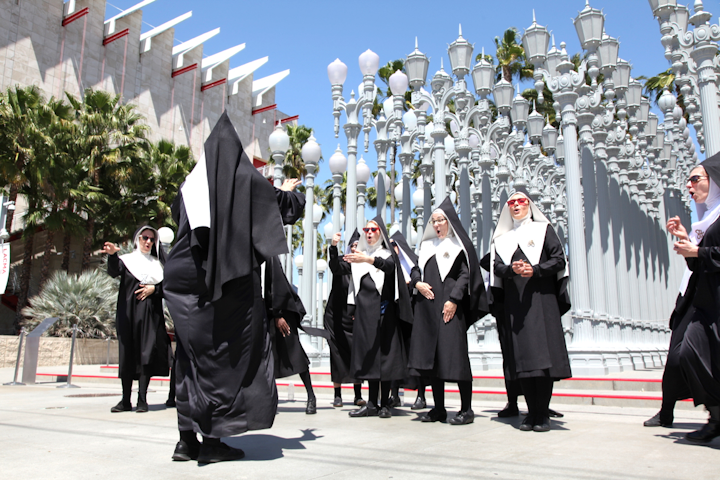 Photo: Hal Kirkland
LOS ANGELES— Welcome to BizBash's Los Angeles-based column, where West Coast bureau chief Claire Hoffman covers the week's biggest local news. Got a tip? Get in touch!
Moves & Milestones
Vaughn Pierre Davis has been named general manager for the two-year-old Dream Hollywood hotel. He most recently served as manager of 50 Bowery in New York. 
Chef Jason Fullilove, owner of the Barbara Jean pop-up restaurants, is the new executive chef at the Magic Castle in Hollywood. 
Daphne Barahona is the new senior account manager at Modern Currency PR. She has previously handled travel and hospitality clients at Murphy O'Brien Public Relations, the Brandman Agency, Finn Partners, and more.
In Case You Missed It
If you experienced some Coachella FOMO, we've got you covered: First, peek inside the coolest parties and brand activations, and then get inspired by some of the emerging design trends we spotted in the desert.
In the News
The premiere for Avengers: Endgame took place Monday night. KTLA: "Marvel and Walt Disney Co. held the premiere in a fittingly massive setting, taking over the Los Angeles Convention Center and constructing a 2,000-seat movie theater, including a large format screen and Dolby sound, inside. ... The event was a who's who of Marvel and Hollywood, with actors and directors from MCU films past and present turning out to see the film, including the likes of Natalie Portman, Gwyneth Paltrow, Bradley Cooper, Jon Favreau and even Matt Damon."
Newly announced presidential candidate Joe Biden will hold a fund-raiser in Los Angeles in May at the home of former HBO executive James Costos. Variety: "A number of campaign bundlers have met with the parade of Democratic contenders as they have visited L.A., but they had been waiting for Biden to enter the race to throw his support behind his candidacy. Still, fund-raisers say they are hesitant to make exclusive picks, a contrast to previous cycles. 'I think people will narrow down their choices quickly, but it will be for two to four candidates,' says one prominent bundler."
The Academy of Motion Picture Arts and Sciences won't exclude Netflix from best picture consideration for 2020's Oscars ceremony. At its annual April rules meeting, the Oscars board voted to keep Rule Two, Eligibility, which requires a film to screen in an L.A. County theater for no more than a week to qualify for best picture. The Hollywood Reporter: "In the aftermath of Netflix's success with Roma at the 91st Oscars ... some in the Hollywood community, including directors branch governor Steven Spielberg, expressed a desire to make it harder for films that do not receive sizable theatrical runs to compete for the Academy's top honor. But many key players in the Hollywood community, including indie filmmakers and filmmakers of color, rose up in defense of Netflix."
Venue Buzz
New Mediterranean restaurant Le Grand opened yesterday in downtown L.A. Helmed by chefs and brothers Alex and Chris Manos, the eatery focuses on fresh seafood and homemade pasta, and it offers over 1,000 bottles of wine. The 3,906-square-foot venue was designed by Megre Interiors with lush greenery and an indoor-outdoor feel; it has a mix of bar, dining room, and patio seating options, plus a room for private events. 
Woodley Proper, Scratch Restaurants' two-year-old cocktail bar in Encino, closed this week. After a complete renovation, the space is scheduled to reopen in the fall as a new restaurant concept overseen by executive chef Sam Nuckols. 
Surprise Event Metric of the Week
4,000—the estimated number of attendees at the Milken Institute's Global Conference, which takes place April 28 to May 1 at the Beverly Hilton. The annual event will draw a diverse lineup of world leaders and public figures to speak on the topic of "Driving Shared Prosperity." This year's speaker roster includes acting chief of staff Mick Mulvaney, actress Laura Linney, athlete Alex Rodriguez, Secretary of the Treasury Steven Mnuchin, directors Anthony and Joe Russo, and many more.
Overheard
"We also decided to do this ten minutes before my set started. We had 0 soundcheck, 0 rehearsal. U were singing with the back tracking like most cameos do. People are bored. People don't know how it feels to be under such scrutiny. The world was happy to have u on stage again."
—Coachella headliner Ariana Grande defending Justin Bieber against accusations of lip syncing. Bieber made a surprise cameo during Grande's weekend-two set, his first public performance in two years. 
On the Scene
For her daughter True's first birthday, Khloe Kardashian and event producer Mindy Weiss worked with Wild Child to create an oversize display of cascading pastel balloons. 
What's Next
In addition to the M.L.B. Food Fest (which we previewed in last week's column), this weekend will see Goldenvoice's Stagecoach Festival take over the Empire Polo Club in Indio with headliners Luke Bryan, Sam Hunt, and Jason Aldean. On Saturday is the first Stagecoach edition of Neon Carnival, the popular dance party that takes place annually during Coachella.
This week also kicks off the Los Angeles Times' three-year-old Food Bowl, a monthlong series of almost 200 food events celebrating local cuisine. The festival kicks off on April 30 with Mesamérica L.A., a panel discussion between chef Enrique Olvera and L.A. Times food editor Peter Meehan that will explore the culinary and cultural similarities between Mexico City and Los Angeles. 
And in industry news, Cross Campus in Santa Monica is hosting an event industry showcase on April 30. Look for rentals by Fresh Wata; music by DJ Ritchie Rich; food by Gastro Garage, Red O, and Sweetfin Poke; and more.