This Week in Los Angeles: Nautica's Summery Centerpieces, Alaska Airlines' Tinsel Chandelier, Taco Bell's Pop-Up Hotel
West Coast bureau chief Claire Hoffman covers the week's biggest event news.
May 17, 2019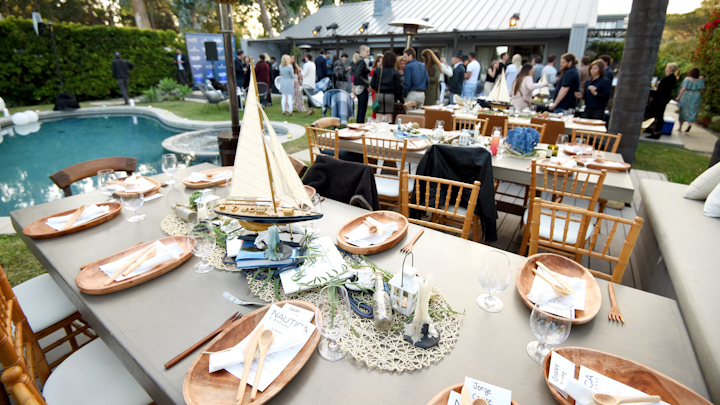 Photo: Noel Vasquez/Getty Images for Nautica/Authentic Brands Group
LOS ANGELES—Welcome to BizBash's Los Angeles-based column, where West Coast bureau chief Claire Hoffman covers the week's biggest local news. Got a tip? Get in touch!
Moves & Milestones
The Academy of Motion Picture Arts and Sciences has appointed and confirmed DeVon Franklin, Rodrigo García, and Janet Yang to the organization's 54-person board of governors. The trio was appointed by outgoing Academy president John Bailey as a result of the organization's push for diversity.
PR Dept's Alana Yankowitz has joined Pfeiffer Consulting as director of events and publicity for Los Angeles. In other publicist news, Arianne Antonio is a new account executive at DKC; she previously worked at 42West.
Kimpton the Rowan Palm Springs has announced a new executive chef, Troy N. Thompson, and new lead bartender, Mary Valdez.
In Case You Missed It
We published our annual list of Southern California's Top 100 events! See which convention stole the top spot in its category, which award show debuted on the list after a 27 percent increase in ratings, and much more. 
We also chatted with L.A.-based event pro Kate Mazzuca and local DJs Michelle Pesce, Daisy O'Dell, and Ana Calderon about how they've teamed up to fight sexual misconduct at festivals and other large gatherings. 
In the News
By 2020, Downtown Los Angeles may have more than 9,000 hotel rooms within walking distance of the convention center. Mayor Eric Garcetti says the hotels are necessary to keep the city competitive, but not everyone is happy with the tax breaks being afforded. Curbed: "To meet the goal, the City Council has doled out subsidies totaling more than $600 million to the developers of six of eight hotels that have opened in the area since 2010 ... The Los Angeles Tenants Union has argued that amid the region's housing crisis, city money would be better spent preserving existing affordable housing."
Taco Bell will open a pop-up hotel in Palm Springs in August. Los Angeles Magazine: "Everything at The Bell will be Taco Bell-ed to the max. Sure, there will be room service offering a menu of your favorite items and poolside cocktails which may or may not be made with Mountain Dew Baja Blast. But this goes deeper than that. There are also pool floats in the shape of hot sauce packets, 'Bell' hops, a gift shop full of Taco Bell geegaws, and a salon where you can get on-theme fades, braids, and nail art."
Popular South Bay event venue Terranea Resort will pay a $2.1 million settlement to 400 of its workers and their lawyers for violating California labor laws. Eater: "The lawsuit detailed several specific allegations. The first was that Terranea required employees to show up to a distant parking lot 30 minutes prior to a work shift without compensating them for this time. The suit also claimed that Terranea did not offer proper meal and rest breaks, as required by California law. And finally, Terranea required certain employees to start 15 minutes before shifts began to dress in uniform, without allegedly compensating them for this time."
Venue Buzz
The Garland hotel in North Hollywood has completed a $1 million renovation to its ballroom. The 5,100-square-foot Garland Balloon now features a design by Forchielli Glynn that uses neutral tones and custom finishes such as gold ring pendants, a gilded cork wall, and a 1970s-inspired geometric carpet. Additional doors to the courtyard were added, as well as enhanced audiovisual capabilities, noise-canceling partitions, and 11 rigging points for lighting and projectors. The Garland offers 13 event spaces, including a 130-seat theater and a new 5,200-square-foot outdoor space. 
Sunday Hospitality Group, most known for its popular Sunday in Brooklyn restaurant in New York, will handle all food and beverage for Downtown L.A.'s upcoming Hoxton hotel. 
Overheard
"I wanted to find a way to demystify a museum."
—Brooke Kanter, founder of the Hammer Museum's annual Kids Art Museum Project (K.A.M.P.). The annual fund-raising event, which takes place Sunday, allows kids to do art projects with professional artists. All money raised supports the museum's year-round free arts education programs; K.A.M.P. has brought in $1.4 million in its 10 years.
On the Scene
For an Alaska Airlines dinner at Alt Summit in Palm Springs, artist Rachel Burke created a tinsel chandelier using the brand's colors. The event was designed by Slaack Productions with linens by La Tavola Fine Linen and florals by the Blooming Gypsy.
What's Next
It's a big weekend of events, including the much-anticipated return of the Museum of Contemporary Art's annual benefit Saturday evening. The 2017 event raised more than $3 million, but it was canceled the following year due to complaints about a lack of diversity among honorees. This year's event has a brand-new approach: Held inside the Geffen Contemporary satellite campus in Little Tokyo, it will have a more scaled-back, community-minded feel. There's no corporate sponsor, and half the seats have reportedly been given away to artists for free. 
Also on Saturday is the L.A.'s Zoo's Beastly Ball fund-raiser, which honors marine biologist Sylvia A. Earle and features desserts curated by Food Network star Duff Goldman; it's expected to draw 1,000 people.
In public events, the Infatuation's EeeeeatsCon takes over Barker Hangar on Saturday and Sunday. The festival, which expands to two days this year, features food from local restaurants plus live performances and panels from the likes of Cameron Diaz, Dan Levy, and Awkwafina. 
And on Sunday is the Venice Family Clinic's annual art walk and auction, taking place at Google's Venice headquarters; look for studio tours, live music, hands-on art workshops, and an auction highlighting more than 200 artists.