This Week in Los Angeles: Nickelodeon's 'Good Burger' Pop-Up, Louis Vuitton's Colorful Exhibition, 'The Lion King's World Premiere
West Coast bureau chief Claire Hoffman covers the week's biggest event news.
July 12, 2019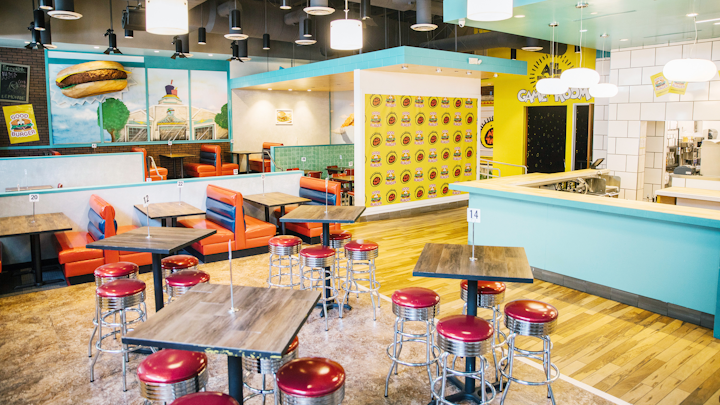 Photo: Nathaniel Wood
LOS ANGELES—Welcome to BizBash's Los Angeles-based column, where West Coast bureau chief Claire Hoffman recaps the week's biggest local news. Got a tip? Get in touch!
Moves & Milestones
Charlie Gold is the new executive chef at the 580-room Hyatt Regency LAX, where he has introduced new menus for catering and events.
Cort Events, a rental firm with offices in Beverly Hills, Sherman Oaks, and nationwide, has launched a new website with a Pinterest-style format where visitors can access product details directly from event images.
In Case You Missed It
Last week, we shared four tips for creating better conferences, packed with insights from P.C.M.A. EduCon in Los Angeles. And yesterday, we took a look inside a carnival-inspired birthday party hosted by local philanthropists Christine and Gabriel Chiu. (Come for the caviar-topped tater tots, stay for the custom claw machine filled with Gucci products!)
In the News
The premiere of Louis Vuitton X, the brand's new traveling exhibition that launched in Beverly Hills last week, showcases the Paris-based label's increasing commitment to the Southern California market. Los Angeles Times: "Michael Burke, Louis Vuitton's chairman and chief executive, cites Los Angeles' contemporary arts and culture scene as attracting the design house's strong interest in the market. 'L.A. has become the culture capital of the world,' said Burke. ... For its new exhibition, palm trees and a neon pink and orange decor set the scene at 468 North Rodeo Drive, which has a 12,171-square-foot ground floor and a 10,080-square-foot mezzanine. ... After the free exhibition closes on September 15, the building will reportedly be turned into a Cheval Blanc luxury hotel."
The ESPY Awards, hosted by Tracy Morgan, took place on Wednesday night at the Microsoft Theatre. People: "Just hours after their ticker tape parade in New York City, Megan Rapinoe, Alex Morgan, Rose Lavelle, and the other superstar women on the [United States women's national soccer] team followed up their World Cup victory with an appearance at the 2019 ESPY Awards, accepting the trophy for best team from actress Sandra Bullock. Said Bullock as she read the winners' card, 'All those in favor of equal pay say aye!'"
The upcoming Academy Museum, slated to open in 2020, has raised 80 percent of its $388 million fund-raising goal—partly through its Pillar Campaign. The Hollywood Reporter: "Led by actress Laura Dern and Oscar-nominated producer Kimberly Steward, the Pillar Campaign offers column naming rights for a minimum pledge of $1 million. It already has brought in $35 million from naming 28 pillars (some donors gave more than a million; 35 more pillars are still available). 'I'm excited to watch our community of pillars grow and can't wait to see who steps up next,' says Dern."
Venue Buzz
The Cayton Children's Museum opened on June 30. The 21,000-square-foot Santa Monica venue has 35 discovery-based exhibits; for events, the museum offers two rooms that hold 35 and 40 guests, respectively, or the entire museum can be rented for large parties. In-house catering is available. 
The JW Marriott, Anaheim Resort, is on track to open in early 2020. The first JW Marriott to open in Orange County, the 466-room hotel will have 15 meeting rooms and 43,000 square feet of event space.
Surprise Event Metric of the Week
350,000: The number of attendees over four days at the Anime Expo, which ran from July 4 to 7 at the Los Angeles Convention Center. The massive celebration of Japanese animation, now in its 28th year, featured some 400 exhibitors, 500 artists, and hundreds of hours of programming.
Overheard
"Sorry, but this is probably the second-best trophy we won this week."
—USWNT star Alex Morgan, accepting the trophy for best female athlete at Wednesday night's ESPY Awards.
On the Scene
The world premiere for Disney's live-action adaptation of The Lion King took over the Dolby Theatre on Tuesday night. Stars including Beyoncé, Donald Glover, and Seth Rogen walked the red carpet, which included a recreation of the movie's Pride Rock created by Big Martini Productions. The event was designed by Greg Lucas and Walt Disney Studios, with production, scenic build, and execution by Joe Lewis Company. Wolfgang Puck Catering catered the after-party. 
What's Next
The 10th edition of VidCon kicked off on Wednesday at the Anaheim Convention Center. The show runs through Sunday and expects to draw 75,000 fans, video creators, and industry attendees for Q&As, screenings, and workshops. Check out our coverage of last year's colorful, Gen Z-focused brand activations. 
This weekend also kicks off the historic Orange County Fair in Costa Mesa, which runs from today through August 11. Last year's event set attendance records with a whopping 1,470,636 visitors, a 10 percent attendance increase from 2017.
And Saturday is the Concern Foundation's annual block party, which raises grant dollars to support cancer research worldwide. The 2018 iteration drew 4,000 people and raised $1.8 million; the 45th annual event will be held at Paramount Studios and have a "California Dreaming" theme with more than 75 food and beverage vendors.
Don't forget to register for BizBash Live: Los Angeles, taking place July 24 at the California Market Center. Find all the details at bizbashlive.com/losangeles. Hope to see you there!