This Week in Los Angeles: Bombay Sapphire's Crowd-Sourced Mural, 'It: Chapter 2's Spooky Red Carpet, the La Brea Tar Pits' Big Makeover
West Coast bureau chief Claire Hoffman covers the week's biggest event news.
August 30, 2019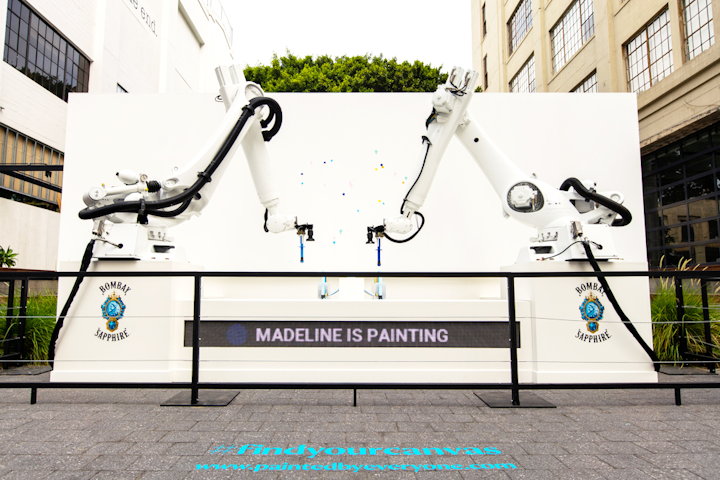 Photo: Courtesy of Bombay Sapphire
LOS ANGELES—Welcome to BizBash's Los Angeles-based column, where West Coast bureau chief Claire Hoffman recaps the week's biggest local news. Got a tip? Get in touch!. 
Moves & Milestones
SAG-AFTRA president Gabrielle Carteris has been reelected for another two-year term. 
Hospitality PR agency Modern Currency celebrates its second anniversary on September 1.
Event professional Louis Robert Berman, who began his career at Abbey Party Rentals before co-founding Regal Rents in 1979, has passed away at age 94. A celebration of his life is being planned for September.
In Case You Missed It
We interviewed some local event profs for two stories earlier this week. First, producers and designers explored how to use balloons in environmentally responsible ways. And yesterday, local planners shared the movies that most influenced their career paths. 
In the News
The Music Center plaza reopened on Thursday after a 20-month, $41 million renovation. Curbed: "[The renovation] added a host of new features, including glass-covered elevators on both sides of the main staircase off Grand Avenue, a wine bar, a welcome center, a coffee shop, and permanent restrooms. The makeover also flattened and widened the space, doubling its capacity for events from 2,500 to 5,000. ... The Music Center also announced that it had secured $14 million to go toward public programs in the new plaza, thanks in large part to a private gift."
The Los Angeles City Council has voted against a bill that would extend the hours alcohol can be served. Los Angeles Magazine: "Penned by San Francisco Senator Scott Wiener, the so-called 'last call bill' would launch a pilot program in 10 major California cities—including Los Angeles, Long Beach, and West Hollywood—that would allow them to decide whether to push their 'last call' for alcohol sales from 2 a.m. to 4 a.m."
D23 Expo attendees got a glimpse at Disney California Adventure's upcoming Marvel-theme land, slated to open in 2020. Time Out: "You'll find familiar faces across the land including Iron Man, Black Widow, Ant-Man, the Wasp, Star-Lord, Gamora, Groot, Black Panther and the Dora Milaje, Thor, and Loki. In addition, Doctor Strange will be posted up in some sort of sorcery-inspired experience, housed in the ruins of one of the Masters of the Mystic Arts' Sanctums. On the food and drink side, you'll be able to dine at Pym Test Kitchen, where they're using Ant-Man's Pym Particles to grow and shrink food. On the D23 show floor, this meant a prop of a massive pretzel—but we're not quite sure how exactly that'll transfer over to your dinner plate."
Venue Buzz
Yesterday, Sandbox VR opened the first of four Southern California locations at the Village Westfield Topanga in Canoga Park. The virtual-reality arcade—which has themed experiences around Star Trek: Discovery, among others—is available for private events and team building.
The 12-acre La Brea Tar Pits site is getting a makeover, and earlier this week the three competing architectural plans were released. The proposals are on display at the museum and on tarpits.org through September 15; the public is encouraged to give feedback. Curbed: "One of the plans would dramatically alter the Page Museum, wrapping it in glass and 'lifting' it up on stilts. ... Another would replace the museum with a glass box encircled in a pinwheel of overlapping landscaped 'plates,' making it look as if it's partially submerged in the ground. ... The third would keep the museum entirely intact, adding a swooping new wing along Sixth Street."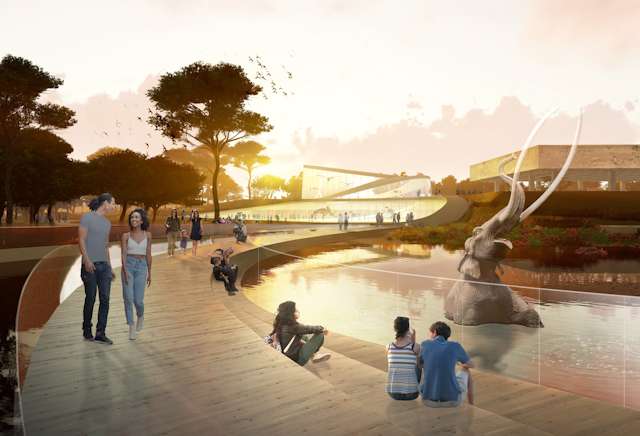 A rendering of New York-based architecture firm Weiss and Manfredi's vision for the La Brea Tar Pits.Rendering: Weiss/Manfredi Architecture/Landscape/Urbanism

Overheard
"Variety continues to advocate for women's rights, including issues of healthcare and gender disparity in the entertainment industry, and we stand with Planned Parenthood and our longstanding partnership with Women In Film."
—Variety editor-in-chief Claudia Eller and group publisher and chief revenue officer Michelle Sobrino-Stearns, discussing the publication's decision to cancel its annual Emmys party this year in favor of a donation to Planned Parenthood. In 2018, Variety and Women in Film celebrated female nominees at Cecconi's in West Hollywood.
Surprise Event Metric of the Week
3 percent: the amount Disneyland attendance has reportedly dropped since the opening of Star Wars: Galaxy's Edge in May. Disney C.E.O. Bob Iger blames attendees' fear of overcrowding. "Some people stayed away just because they expected that it would not be a great guest experience," he said. Despite the attendance issues, though, the park reports a 7 percent increase in revenue thanks to higher ticket prices.
On the Scene
The premiere for It: Chapter 2 in Westwood Village featured a spooky red carpet and an immersive fan experience. Production was handled by JG2 Collective and 15/40 Productions.
What's Next
This weekend is Los Angeles Times' The Taste, the paper's nine-year-old food festival that draws about 8,000 people to the Paramount Pictures Studios backlot. Proceeds benefit the Collins College of Hospitality and the L.A. Regional Food Bank. 
Today also kicks off the Los Angeles Country Fair, which runs in Pomona through September 22. After a slight attendance drop in 2017, the fair began offering more discounts on tickets and food items. The efforts paid off, as the 2018 event saw a five percent increase in attendance, drawing about 1.25 million people. The fair first bowed in 1922, when it drew fewer than 50,000 visitors. 
We hope everyone has a great Labor Day weekend. See you next week!