This Week in Los Angeles: Sephora's Inclusive Mosaic Wall, Pandora's Neon-Lined Freight Elevator, Updates on Hollywood Park
West Coast bureau chief Claire Hoffman covers the week's biggest event news.
September 13, 2019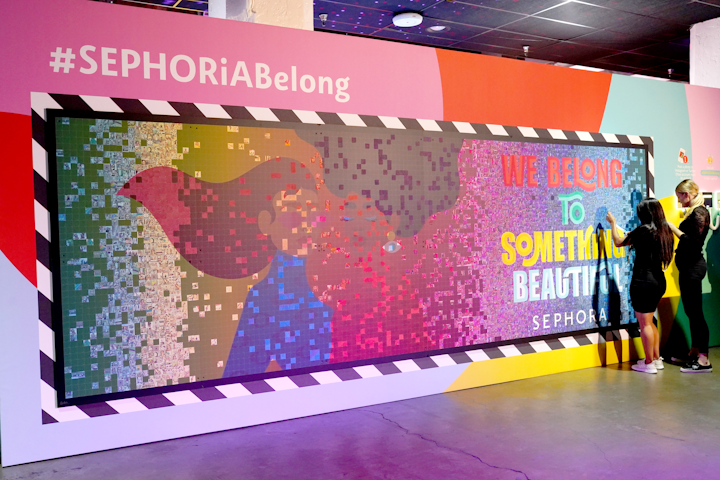 Photo: Presley Ann/Getty Images for Sephora
LOS ANGELES—Welcome to BizBash's Los Angeles-based column, where West Coast bureau chief Claire Hoffman recaps the week's biggest local news. Got a tip? Get in touch!
Moves & Milestones
Experiential and event production company ROCK+PAPER launched this week. Founded by production and design veterans Jacob Brooks-Harris, Holly Smith, and Bahar Shahpar, the Los Angeles-based firm aims to "create moments that turn spectators into devotees, and lift a brand's promises off paper into practice." 
The Kimpton Goodland in Goleta has appointed Sylvie Monsivais director of sales and marketing.
In Case You Missed It
We previewed the decor and catering for the Emmy Awards' official Governors Ball after-party, which will have a "brilliance in motion" theme.
In the News
The 2019 Adcolor conference took place last weekend, and topics centered around gun safety, activism, and other issues important to marketing today. AdWeek: "Adcolor's annual gathering, which has grown from its initial 300 participants to some 1,300 attending this year, picked the theme, 'Take a Stand,' and in its event manifesto challenged members to be willing to make sacrifices and take risks for their beliefs."
HGTV has completed a renovation of the home used for exterior shots in The Brady Bunch. LAist: "The actual house's guts now (nearly) match its television insides. Naturally, there's a show documenting the changes, A Very Brady Renovation, and it debuted Monday night. ... [HGTV is also hosting a contest] offering a Brady Bunch dream: the chance to live in the house for six nights, from December 9 to 15. For those not in the area, they get roundtrip airfare for themselves and, befitting the show, six guests."
Louis Vuitton's colorful Beverly Hills pop-up is being extended until November 10. WWD: "The exhibition, which opened on June 28 and was originally slated to run until September 15, is a colorful showcase of the luxury French house's 160-year history of collaborations with artists. ... Across two floors on 468 North Rodeo Drive, the pop-up showcases more than 180 items, a variety of objects and accessories—from early-20th-century trunks to familiar 'Monogram Bags'—as well as ready-to-wear pieces by Marc Jacobs, Kim Jones, Nicolas Ghesquière, and Virgil Abloh, artistic director of Louis Vuitton's men's collections since 2018."
Venue Buzz
The Los Angeles Airport Marriott is close to completing a $50 million property-wide renovation. The hotel has refreshed its 47,000 square feet of meeting space, including the 12,320-square-foot Marquis Ballroom, which holds as many as 1,700 people. The 18th-floor M Club Lounge, featuring panoramic views, was also renovated, as was the resort-style pool, spa, and fitness center. New dining concepts include the Social Market & Eatery, JW's Steakhouse, and Hangar 18 Bar & Kitchen. 
V DTLA, an all-day eatery located below the Seven Grand Whiskey Bar downtown, opens its 5,600-square-foot venue today. The stylish, Europe-inspired space, which takes over the historic Brock Jewelry store, includes street art, original mahogany display cases, and restored ceilings. Brock's jewelry vault now serves as a small dining space, and the bar is a recreation of the original jewelry counter.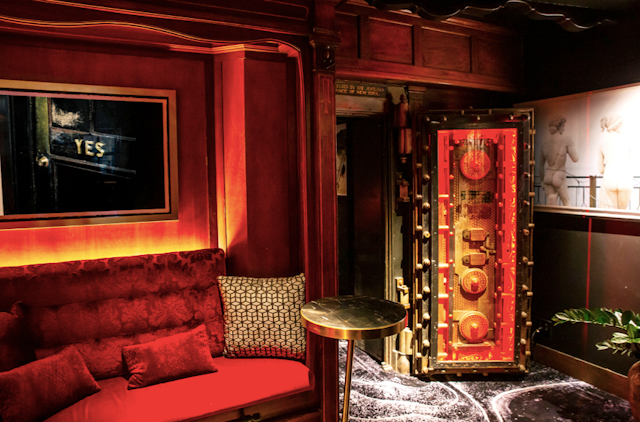 An old jewelry vault at V DTLA is now a small dining space.Photo: Courtesy of V DTLA

Overheard
"How can we create something that's never been seen before in the entertainment capital of the world?"
—Jason Gannon, managing director of the L.A. Stadium and Entertainment District at Hollywood Park, during a media breakfast at IMEX America in Las Vegas. Gannon was discussing the 300-acre Hollywood Park development in Inglewood, the future home of the N.F.L.'s Rams and Chargers that includes a 70,000-seat stadium, a two-and-a-half-acre event-friendly plaza, a 6,000-seat theater, and a variety of other event spaces for as many as 100,000 people. The venue is slated to open in summer 2020 and will host Super Bowl LVI in 2022 and the Summer Olympics opening and closing ceremonies in 2028.
Surprise Event Metric of the Week
17,920 pounds: The amount of ice that will be used for the Emmy Awards' 8,300-guest after-parties. The three events also are projected to use 12,761 wine glasses, 78,960 bamboo plates, and 600 servers.
On the Scene
Jewelry company Pandora celebrated its rebranding on August 28 with a pretty-in-pink event produced by Abel McCallister Abel. A pink neon-lined freight elevator transported guests to the event at Hudson Loft. 
What's Next
Tomorrow at Row DTLA, Seth Rogen and Lauren Miller Rogen will host the first Hilarity for Charity County Fair. The fund-raiser for Alzheimer's care, prevention, research, and support will feature rides, games, and interactive stations run by the likes of Bill Hader, Casey Wilson, and Nick Kroll. 
Also tomorrow is L.A. Loves Alex's Lemonade, a fund-raiser for childhood cancer research. The annual event draws 2,500 people, including 100 chefs and mixologists, to the Royce Quad at U.C.L.A.
And on Sunday, Focus Features is hosting a "grand high tea experience" at the Grove to celebrate the release of the Downtown Abbey film. The event, produced by Allied Global Marketing, will be open to the public from noon to 6 p.m.