BBQ Chic
The Food Network South Beach Wine & Food Festival kicked-off Thursday night with the sold-out Amstel Light Burger Bash, hosted by Rachael Ray.
February 21, 2009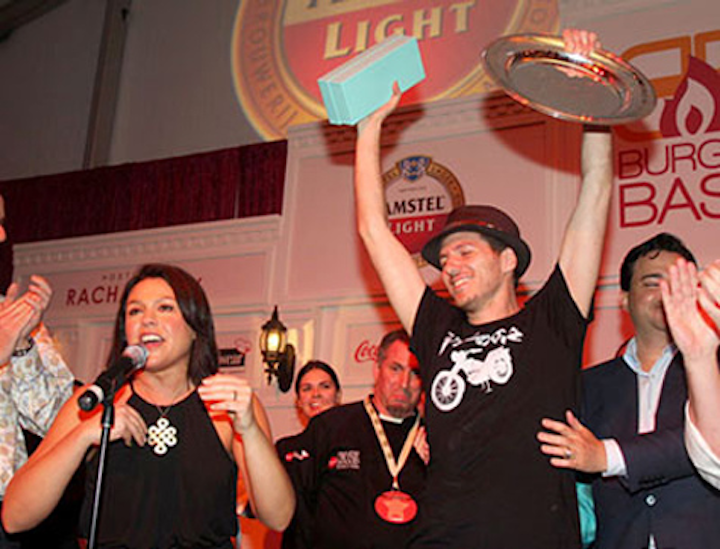 MS&L Worldwide
Presented by Allen Brothers and hosted by Rachael Ray, the burger competition drew more than 1,800 hungry guests to the sands behind the Ritz-Carlton, South Beach on Thursday, signaling the start of the Food Network South Beach Wine & Food Festival.

Though many high-profile tickets falling under the marquee of the four-day festival were still available through yesterday, Thursday's Amstel Light Burger Bash had a strong response back in October when tickets were first available.

"Incredibly this event sold-out by 8:30 a.m. on the first day," said Randy Fisher, the lead event manager for the event.
Fisher along with Randi Freedman of Logistics Management Group was again responsible for this year's execution. With the aid of Deco Productions, the event once again took on a "barbecue chic" decor scheme with linens in deep red, Heinz Ketchup bottles converted into simple centerpieces, and virtually the same logistical format as was done in previous years, including the vendors. The marked difference between 2008 and Thursday's event however was the addition of four restaurants and sponsorship growth.

"We're seeing sponsors extend the power of their branding opportunity from logo visibility to actually allowing guests to sample their products," said Fisher. 

Again, Rachael Ray took to the floor after a short introduction (and thanking of the sponsors) with her husband to try each contestant's burgers, placing her vote via voting chips just as the rest of the attendees did throughout the night.

In the end, Spike Mendelsohn of the Good Stuff Eatery in Washington, D.C. and former contender on Bravo's Top Chef season four walked away with all three top honors: People's Choice, the Judges' Award, and Best Dressed Burger.

Other favorites included the bites from Bobby Flay's Bobby's Burger Palace, SW Steakhouse inside the Wynn Las Vegas, and local hotspots like Kobe Club, Michy's, and Michael's Genuine Food & Drink.
Featured Venues/Suppliers: