South Florida's Top Benefits 2010
March 29, 2010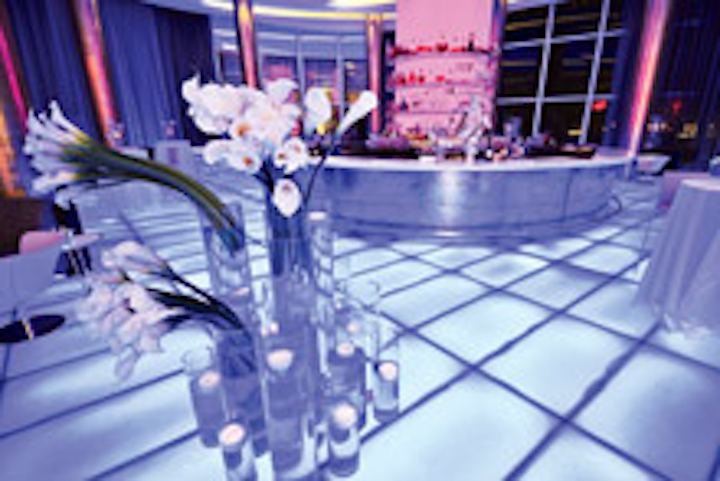 Photo: Elizabeth Renfrow for BizBash
1. InterContinental Make-a-Wish Ball
Recognized as the kickoff to Miami's social season, the 15th annual gala took pace at the InterContinental Miami on November 7. Celebrity auctioneer Pamela Anderson helped raise more than $1 million for the charity from 800 attendees. The 2010 ball will take place November 6.

2. International Red Cross Ball
The 53rd annual gala took place January 30 at Donald Trump's Mar-a-Lago Club in Palm Beach. One of the most anticipated events of the Palm Beach social season, the gala saw a 35 percent increase in attendance and fund-raising compared with 2009.
3. Best Buddies Gala
The nonprofit for the mentally disabled hosted this ball on Miami's Watson Island in November for 800 people. The Americana-themed benefit raised $1.3 million and attracted 50 sponsors. The 2010 event is scheduled for November 19.

4. Destination Fashion
The Buoniconti Fund to Cure Paralysis and event producer Barton G. took over the Bal Harbour Shops in Miami on March 7, 2009, for this biannual fund-raiser. Headlined by a Michael Kors fashion show, Seal, and the Pointer Sisters, the event drew more than 1,500 and raised $3.8 million.

5. Vizcayans Ball
The Vizcaya Museum and Gardens hosts this November gala to raise money for the restoration and upkeep of the house and gardens. The 2009 event attracted nearly 400 people. The 2010 ball is scheduled for November 20.

6. Miami Children's Hospital Foundation's Diamond Ball
The charity's largest fund-raiser, this benefit sold out in 2009, for the third straight year. A capacity crowd gathered at the Biltmore Hotel and raised $2.5 million. The 2010 ball will take place October 16.

7. Blacks' Gala
Hosted by local philanthropists Roy and Lea Black, this star-studded gala raises more than $1 million each year, with all proceeds benefiting the Bay Point Schools. The 14th annual gala was held February 27 at the Fontainebleau hotel.

8. Déjà Vu Ball
Big Brothers Big Sisters of Broward County's costume ball returned to the Bahia Mar Beach Resort and Yachting Center in October for the sixth year. The event sold out its 400 tickets nearly two weeks in advance and raked in $300,000—$100,000 more than in 2008—through table sponsorships alone. The ball will return to the Bahia Mar on October 9.

9. Diabetes Research Institute Foundation's Love and Hope Ball
As the organization's largest fund-raiser, the 2009 gala at the Westin Diplomat Resort and Spa raised nearly $1 million and welcomed more than 800 guests. The ball returned to the Westin on February 13.

10. Baptist Hospital Ball
The hospital's largest fund-raiser took place November 21 at the Doral Golf Resort & Spa, where it garnered 550 guests—10 percent fewer than in 2008. Despite the decreased attendance, the event raised about $350,000, the same as in 2008. The 32nd annual ball is planned for November 20 at the Doral.

11. Zo's Summer Groove
Former Miami Heat basketball player Alonzo Mourning and teammate Dwyane Wade host this five-day fund-raiser for their namesake charities. The event consists of a golf tournament, a comedy show and concert, a block party, and an all-star basketball game, plus a benefit dinner that attracted nearly 1,000 people in 2009. The 2010 event is scheduled for July 14 to 18.

12. An Affair of the Arts Gala
The National Foundation for Advancement hosts this fund-raising ball to support young artists, art education, and arts in America. The January 16 event took place downtown at the Gusman Center for the Performing Arts and the Alfred I. Dupont Building, where 600 guests (almost twice as many as in 2009) raised more than $550,000.

13. Miami Art Museum Ball
This gala during Art Basel attracted nearly 500 people in 2009—down by 150 compared with 2008, which organizers attribute to the economy. Recognized as one of the art fair's top social events, the ball at the Fontainebleau raised $550,000 in 2009. This year's event will take place December 4.

14. MOCA's Bohemian Bash
The Museum of Contemporary Art's 2009 fund-raiser attracted 800 attendees and raised $250,000. This year's event was held February 20.

15. Deliver the Dream Denim & Diamonds Gala
This charity for families facing serious illness or crisis, held its fifth annual gala at the Marriott Harbor Beach Resort & Spa in Fort Lauderdale in October. About 450 people attended, raising $120,000. The event will return to the Marriott on October 30.
 
16. Florida Marlins' Fish 'N Chips Fund-Raiser
In 2009 the Florida Marlins Foundation lowered ticket prices from $250 to $100 per person for this casino night and nearly tripled attendance. Held at the Fairmont Turnberry Isle in Aventura in August, the event netted $45,000. This year's party is scheduled for September 2.

17. Pawpurrazzi
This fund-raiser for the Humane Society of Greater Miami brings together philanthropists and their pets. Local benefactors Pat and Milton Wallace co-chaired the 2010 event, which took place at Jungle Island on January 22 and raised more than $500,000—a 30 percent jump—for the Human Society's Adopt-a-Pet program.

18. March of Dimes Signature Chefs and Wine Extravaganza
This nonprofit's 12th anniversary food and wine event took place October 22 at Jungle Island in Miami. The fund-raiser had food stations from 28 local restaurants and chefs and nearly 700 guests, who raised $170,000 for the March of Dimes. This year's event is planned for October.

19. Wild About Kids Gala
This fund-raiser for the Boys and Girls Club of Miami-Dade county raised more than $100,000 in 2009. The gala committee locked in higher-level sponsors than in 2008 and saw big names like Bacardi, State Farm, and artist Romero Britto return as contributors. The 2010 gala is scheduled for November 13.
Featured Venues/Suppliers: