Who's Speaking at the 2015 Event Innovation Forum and Workshop Series in Florida
The education conference and morning workshops at BizBash Live: The Expo are back, bringing new speakers and new topics to the Fort Lauderdale Convention Center on April 29.
March 18, 2015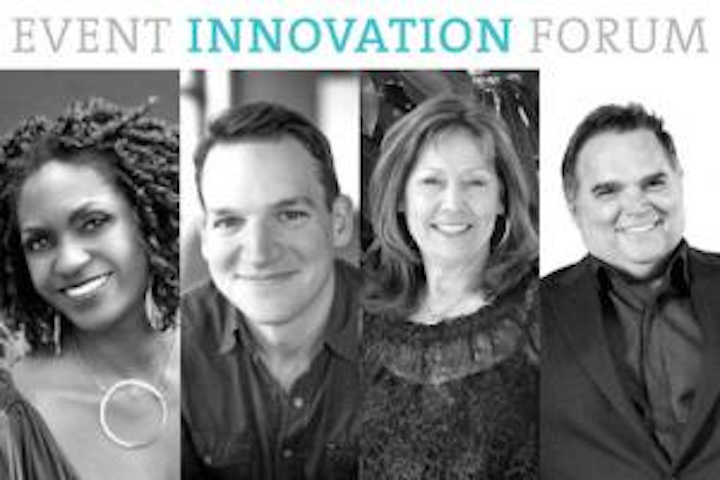 Photos: Courtesy of speakers
Next month the Event Innovation Forum and the Workshop Series returns to the Fort Lauderdale Convention Center with a new line up of industry thought leaders and innovators to discuss the latest ideas and strategies challenging the industry today. Part of BizBash Live: The Expo South Florida, held April 29, the Forum is a single-track education conference divided into two 90-minute sessions, and the Workshop Series is a selection of hands-on, hour-long seminars that take place in the morning.
Speakers at both the Forum and the workshops will cover a variety of topics, from planning events in Cuba and how to rethink fund-raisers to unlocking the power of social media and wearable technologies. Registration for the Event Innovation Forum and the Workshop Series includes admission to the trade show floor.
A sample of the topics and presenters is below. Interested? Register here.
EVENT INNOVATION FORUM
The New Rules of Social Media
Nicole Phillips, director of strategic planning and business development, Switch
Social media has forever changed the event landscape, and planners and marketers can now reach millions with a click of a button. Facebook, Twitter, and other social channels can be highly effective platforms to engage an audience and build long-lasting, loyal relationships. But how do you know if your message is really cutting through the clutter? Social media continues to evolve fast. Every day a new release has the potential to disrupt initiatives and programs that were previously successful. In this session, Nicole Phillips, director of strategic planning and business development at Switch, will divulge the new rules of social media and share ways event and meeting organizers can stay ahead of the game. Phillips will also discuss how integrating social media before, during, and after events helps maximize your return on investment, extending a brand's experience beyond the hashtag.
The Top Mistakes Events Make With New Technology
Lee Billington, creative director/co-founder, Frog/Beak Labs
Technology is everywhere, from apps that measure emotional responses and R.F.I.D.-enabled wristbands linked to social media accounts to virtual reality headsets offering immersive digital environments and drones that deliver food. But how much thought is given to whether these unique tools are appropriate for a particular event or meeting and its audience? Are planners putting a premium on experimentation rather than experience? In this session, Lee Billington, creative director at Frog and co-founder of Beak Labs—a company that has created interactive digital art experiences for brands like Nike, Spotify, and Twitter—will explore how ignoring the storytelling can cripple the success of integrating new technology at events, as well as the common mistakes he sees, and steps that can be taken to avoid making them.
The Secret to Building an Innovative Team
Tony Conway, founder and C.E.O., Legendary Events
Every brand, company, and individual today is looking for new ideas and strategies to shake up the norm. But innovation doesn't come naturally to most and rarely does it occur in a bubble. Teams need the opportunity to be thinkers, not just doers, and explore experiences outside their typical day-to-day duties. In this Q&A session, Tony Conway, who, as founder of Atlanta's Legendary Events has produced events for names such as Oprah, Elton John, and Coca-Cola, will share how he encourages innovation at his 250-person company. Conway will also show how education can change the way his team looks at events through methods that include hosting guest speakers at the office and encouraging employees to switch roles for a day.
What Event Pros Need to Know About Planning in Cuba Now
Renee Radabaugh, president, Paragon Events/Cuba Explorations
As travel restrictions relax between the United States and Cuba, industry professionals are increasingly looking into opportunities the Caribbean island offers for events and meetings. But planning trips to Cuba still requires an understanding of the regulations in place. Travel is allowed within 12 approved categories, and each category comes with very specific requirements. In this session, Renee Radabaugh, president and managing director of Paragon Events and founder of Cuba Explorations, will share her experience planning group travel to this hot destination. Radabaugh will share lessons learned, including ensuring activities are within guidelines, dealing with challenges planning in more rural areas, and what you need to consider before you go.
The 7 Deadly Sins of Fund-Raisers
Suzan McDowell, president and C.E.O., Circle of One Marketing
Hosting a fund-raiser means more than just raising funds. But are traditional benefit galas the most effective way to engage and create loyal donors, tell the story of a nonprofit's mission, and inspire more support? Are there better ways to make the live event a more personal and enjoyable experience and remain successful? In this session, Suzan McDowell, president and C.E.O. of Circle of One Marketing, will share why she thinks conventional galas need a shake-up and the mistakes—or deadly sins—that nonprofit planners make with their events.
WORKSHOP SERIES
Finding Inspiration: Where to Look for Your Next Big Idea
Shai Tertner, president, Shiraz Events
Jason Harder, West Coast director, Shiraz Events
Thais Venturini, senior production manager, Shiraz Events
Whether attending another event or looking through pictures online, we've all thought, "Where did they get that idea?" From art to nature to blogs, there are countless resources to discover new ideas—but where do you start? In this session, Shai Tertner, Jason Harder, and Thais Venturini of Shiraz Events will discuss the outlets their team turns to for inspiration. Learn new channels for discovering ideas, how to make them your own, and ways to implement them, creating a successful event experience.
Technically Thinking: the Future of Events Is Now
Steve Alexander, founder and president, MVRK
Forget everything you know about event technology: traditional audiovisual production is a thing of the past. Experiential technology is revolutionizing the world of events with the introduction of tools such as iBeacon, wearables, and augmented reality. In this workshop, Steve Alexander of MVRK will delve into the technologies that you need to know now, dissecting buzzwords, top trends, and what's next in the event and experiential space. Alexander will examine the anatomy of the most innovative activations from the past few years, exploring ways in which new technologies can be used to improve future meetings and events.
Sponsorship Activation Secrets: Are Your Delivering What Your Client Wants?
Dionne Anderson, managing partner, the Design Group
The world of sponsorship and event activations can be challenging to navigate, especially when multiple clients have differing expectations. In this workshop, Design Group managing partner Dionne Anderson—who has worked with top brands and agencies that include Grey Goose, the Clinton Foundation, and Art Basel—will divulge her industry secrets and insights on sponsorship. Anderson will share the steps she takes to exceed client expectations, effectively communicate, improve sponsor return on investment, and translate a sponsor's message to a targeted audience.
The Social Media/Event Mash-Up
David Adler, C.E.O. and founder, BizBash
Alex Bimonte, director of social media, the Buzz Agency
Raul Rodriguez, owner, 2R Productions
Social media is one of the reasons events consume 25 percent of all marketing budgets. Now an integral part of the planning process, incorporating a social media strategy and creating key social moments have revolutionized the event experience. In this workshop, BizBash C.E.O. and founder David Adler, along with industry experts, will examine the intersection of social media and events, sharing examples of what gets the attention of guests and how that influences social media sharing.
Featured Venues/Suppliers: